Census 2020 of Population & Housing
- Voting District Project

November 2017. Now is the time for individual states to mobilize resources to develop voting district/election precinct boundaries/geography that will be used as tabulation geography for Census 2020. Many states do not have statewide election precinct boundary files -- or even election precinct boundary files by county. Unavailability of election precinct boundary files limits the ability to analyze small area voting data and demographic data more in general with regard to election precincts as they relate to congressional districts and state legislative districts ... among other politically defined areas.

The Census Bureau Census 2020 Voting District Project/program provides states the opportunity to submit to the Census Bureau their voting district boundaries (election precincts, wards, etc.). In addition, states can submit suggested legal boundary and other geographic area updates. These actions allow states to construct some of the small area geography they need for legislative redistricting. See more about Voting District Geography & Demographics.

The voting district (VTD) geography provided by states will become a part of the Census 2020 TIGER/Line files as the voting district tabulation geography and and used as a basis for the Census 2020 P.L. 94-171 redistricting data file tabulations. Participation in this program is conducted through the non-partisan liaison designated by each state. There are three parts. The first two parts are an initial identification of the updates needed with a verification stage to ensure the suggested updates were accurately applied. The third part is a second round of verification for participants who have participated in the first two stages. See the Federal Register Notice announcement of the voting district project/program.

VTD Schedule
• Initial provision of voting districts -- December 2017 through May 31, 2018
• Verification of voting districts 1 -- December 2018 through May 31, 2019
• Verification of voting districts 2 -- December 2019 through March 31, 2020

Voting Districts & Related GeoDemographics
The following view uses the same Fairfax County, VA GIS project to examine voting districts/election precincts in context of neighborhood economic prosperity. This view shows median household income by census tract. Using the GIS layer editor, different types of demographic-economic subject matter (such as educational attainment, housing value, language spoken at home ...) could be used.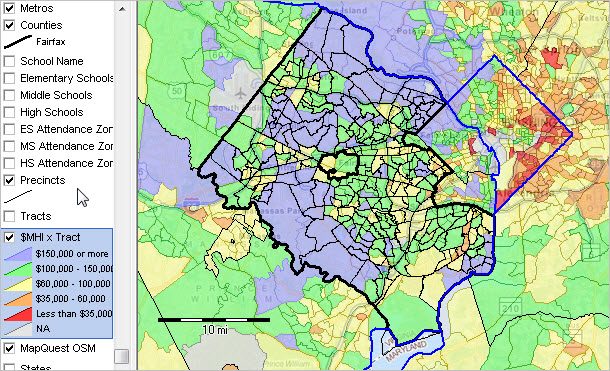 ... Click graphic for larger view. View developed using CV XE GIS. Map your own districts of interest.

Voting District Drill-down Demographics
The following view uses the same Fairfax County, VA GIS project to examine census block demographics by voting district. The graphic (ff3.gis project) shows a zoom-in view focused on the Sherwood voting district. Using the CV XE GIS site analysis tool, all census blocks are selected within the Sherwood VTD (cross-hatched). A subset of blocks could have been selected to examine just part of the VTD. The table to the right of the map shows the aggregated total population and housing units for this VTD. As of Census 2010 there were 1,380 population in this VTD. Other demographic attributes, such as population by age, gender, or race/origin could be integrated into the shapefile using data sourced from Census 2010 Summary File 1


... Click graphic for larger view. View developed using CV XE GIS. Map your own districts of interest.

There are 27 census blocks that comprise the Sherwood VTD. Using the View File button in the above operation, these 27 census block records can be viewed using the CV XE GIS tool. A partial view of the records is shown below. This file can be exported for use with other software.


... Click graphic for larger view. View developed using CV XE GIS. Map your own districts of interest.

ProximityOne User Group
Join the ProximityOne User Group to keep up-to-date with new developments relating to metros and component geography decision-making information resources. Receive updates and access to tools and resources available only to members. Use this form to join the User Group.

Support Using these Resources
Learn more about accessing and using demographic-economic data and related analytical tools. Join us in a Data Analytics Lab session. There is no fee for these one-hour Web sessions. Each informal session is focused on a specific topic. The open structure also provides for Q&A and discussion of application issues of interest to participants.

Additional Information
ProximityOne develops geodemographic-economic data and analytical tools and helps organizations knit together and use diverse data in a decision-making and analytical framework. We develop custom demographic/economic estimates and projections, develop geographic and geocoded address files, and assist with impact and geospatial analyses. Wide-ranging organizations use our tools (software, data, methodologies) to analyze their own data integrated with other data. Follow ProximityOne on Twitter at www.twitter.com/proximityone. Contact us (888-364-7656) with questions about data covered in this section or to discuss custom estimates, projections or analyses for your areas of interest.