This section provides information on CVGIS Projects and their content and use.
You can develop CVGIS Projects using CVGIS tools.
Access the project files installed with the CVGIS installer using the main menu File>Open>Favorites (Level 2 and 3):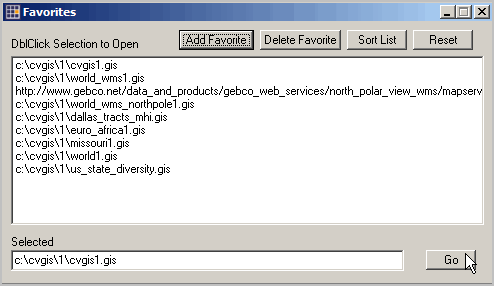 These project filesets are included with CVGIS Level 2 and 3.
CVGIS1 "Primary Project"
c:\cvgis\1\cvgis1.gis
World WMS1
c:\cvgis\1\world_wms1.gis
Dallas County, TX census tracts "Primary Project" illustrating geo-drilldown
c:\cvgis\1\dallas_tracts_mhi.gis
Missouri
c:\cvgis\1\missouri1.gis
World1
c:\cvgis\1\world1.gis
Europe-Africa variation on the World1 project
c:\cvgis\1\euro_africa1.gis
U.S. State Diversity
c:\cvgis\1\diversity2015.gis
Access other ready to use projects via http://proximityone.com/mapping-statistical-data.htm