Determining a Geocode based on an Address
What county is that address located in? census tract? school district?
There are many ways to determine the geocode or geographic area in which an address is located. A geocode is a code for a geographic area. One method is reviewed here that makes use of the Find Address tool and a GIS project layer.
Consider the address One Duvall Street McKinney, Texas 75069. Use Tools>Find Address and key in this address. Find just this one address and the default address shapefile is added to the default CV XE GIS project. Zoom out so the new marker is visible. The following view shows the Texas marker in context with the KC metro.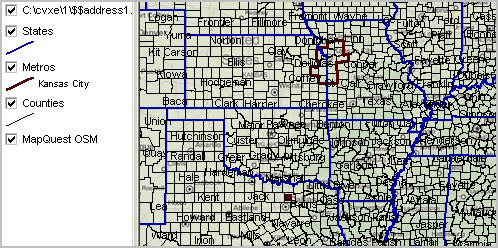 Zoom in further to the marker: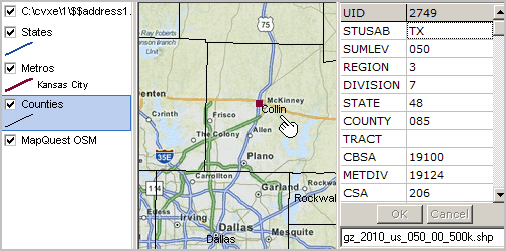 The marker/address is in Collin County, Texas. The identify tool is used to show the mini-profile for the county.
The state FIPS Code is 48 and the county FIPS code is 085.
Other layers could be added to the project (e.g., census tract) and the code and name for the geographic area could be determined in a similar manner.