---
DataView Main Page
Using DataView with Census 2000 Data
Decision-Making Information
ProximityOne
information resources & solutions
(888) DMI-SOLN
(888) 364-7656



This section reviews how to use DataView to convert Census 2000 raw data into a usable form for analysis and mapping. Use DataView to easily and quickly convert Census 2000 data into a dbase file structure that you can then use with other applications.

• Census block centroid coordinates
• Census 2000 complete count census block population or housing data
• More detailed subject matter for other types of geography

Follow these steps to load the Census 2000 Summary File 1 census block level data into a dbase structure.

1. Install DataView on your computer.

2. Load the Census 2000 Summary File 1 (SF1) "SF1GEO" dbase structure to your computer.

Open the dbase SF1 file structures.
(the above link will enable you to open the dbase structural files contained in a zip file.)



When then contents of the zip file display, right click the file "sf1geo.dbf" and extract the file to c:\dataview. Since you might want to reuse this file name as a shellname, consider copying the file named sf1geo.dbf to de_sf1geo.dbf.

3. Expand the zip file containing the state SF1 data of interest. Using your browser, go to this URL: http://www2.census.gov/census_2000/datasets/Summary_File_1/.
Click on a state of interest or use Delaware. Click the state name and the zip file for that state opens. Click the file named degeo_uf1.zip:





When the unzip utility starts, unzip the one file to c:\dataview:




You now have the text file on your computer, next you will convert it to dbase with DataView.

4. Start DataView and open the file c:\dataview\sf1geo.dbf.





The file opened initially contains nothing but the dbase shell.

5. Import the text file, converting it th dbase.

Click the Import button, set File Name to *.uf1 and Files of Type to *.SDF: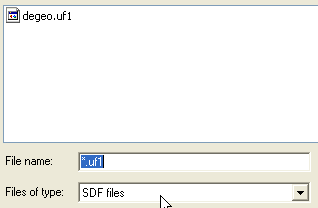 Click OK and the file loads immediately. The dbase file is now ready to use.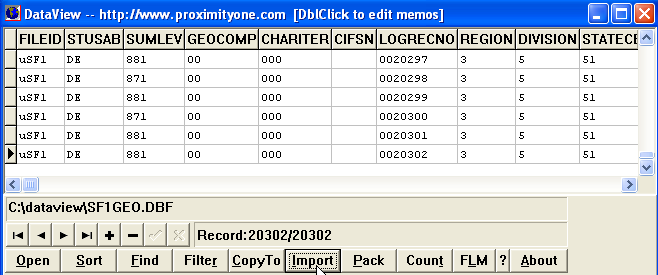 The process reviewed here can be applied to any of the Census 2000 summary data files. This set of files includes summary files 1 through 4 for any state. How can you merge these data into a shapefile for mapping applications? You need a shapefile with census block level geography and a utility such as dbmerge to merge the data developed using methods summarized on this page into the shapefile.

Additional Information
ProximityOne develops geographic-demographic-economic data and analytical tools and helps organizations knit together and use diverse data in a decision-making and analytical framework. We develop custom demographic/economic estimates and projections, develop geographic and geocoded address files, and assist with impact and geospatial analyses. Wide-ranging organizations use our tools (software, data, methodologies) to analyze their own data integrated with other data.

Contact us using this form or call (888) 364-7656 for more information.