Examining Diversity by State 2015

October 2016 ... states with the highest race/origin diversity in 2015 were Hawaii, California and New Mexico. States with the lowest diversity were West Virginia, Maine and Vermont. Higher levels of diversity tend to provide a better framework for understanding, tolerance and cooperative developments and progress. Use the interactive table below to view, rank, compare states on the diversity index, percent population by race/origin and population by race/origin.

What is the chance that the next person I meet will be different from me, in terms of race origin? The Diversity Index is a number on a scale from 0 to 100 that shows the chance that two people chosen randomly from an area will be different by race and origin. A higher number means more diversity, a lower number, less diversity.

See the related section on diversity. USA TODAY used ProximityOne population projections to 2060 by county to examine diversity trends between 2010 and 2060 - a 50-year trend analysis.

This section provides a new estimate of the 2015 diversity index for the U.S. by state based on the latest data. The 2015 population by race/origin estimates are the most recent official Federal U.S. by state data (updated annually). See more about these estimates; access individual state profiles. In addition, the computational methodology is summarized. The U.S. by state demographics dataset is provided as a part of the U.S. State Diversity GIS project. Analyze alternative computations and views of the diversity index.

2015 Diversity Patterns by State
The following graphic shows patterns of the percent non-White population (see legend in lower right) the 2015 diversity index as a label for each state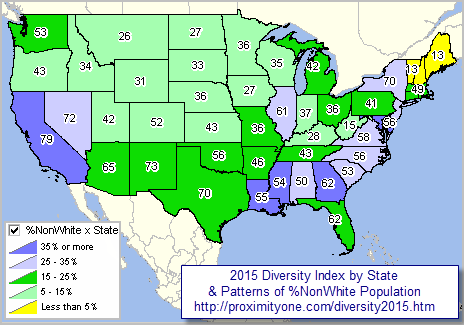 - view developed using CVGIS and related project.
- use the software and project to create variations of this view, different items, add your own data.

Examining the 2015 Diversity Index & Race/Origin by State
Some illustrative examples of using the interactive table below ... click the Diversity Index column header cell in the table to sort states in ascending order on the Diversity Index. Click that column header cell again to sort states/rows in descending order on the Diversity Index. Find state(s) of interest; see what peer group those states are in based on demographic measures of interest.

Double-click the %Hispanic column header cell in the table to see that New Mexico has the highest %Hispanic population. Click the "population columns only" button below the table, navigate to far right and double-click the Hispanic column header cell to see that California has the largest Hispanic population.

2015 Diversity Patterns by State -- interactive table
Click ShowAll button between Find/Queries. Use mouseover on column header to view column description.
See usage notes below table. See related tables -- http://proximityone.com/rankingtables.htm.


Usage Notes
• If table not showing any rows; click ShowAll button below table.
• Use vertical and horizontal scroll bars to navigate up/down or left/right.
• Adjust column widths using column divider between header cells.
• Population columns -- click button below table to show only population (no percent) columns;
.. click "All columns" button to restore view to all columns.

• Hispanic refers to population of any race
• All items are estimates for 2015.
• Click ShowAll button between specific area queries.

Columns - scroll section


State Name
State Code
Diversity Index
Total Population
%One Race
%White alone
%Black alone
%American Indian/Alaska Native alone
%Asian alone
%Native Hawaiian & Other Pacific Islander alone
%Other race alone
%Two or more races
%Hispanic
%Non-Hispanic
One Race
White alone
Black alone
American Indian/Alaska Native alone
Asian alone
Native Hawaiian & Other Pacific Islander alone
Other race alone
Two or more races
Hispanic
Non-Hispanic



Computing the Diversity Index
The diversity index is computed in a 4-step procedure summarized below.

1. Compute each racial group's share of the population, square it and sum the results. That produces the collective chance that any two people will be of the same race. If a state is 75% white and 25% black, the odds of two people being similar are (0.75*0.75)+(0.25*0.25) -- approximately 63%. Following OMB standards, and the way the data are tabulated by the Census Bureau, there are five races - White, Black/African-American, American Indian/Alaska Native, Asian and Native Hawaiian/Other Pacific Islander. There is an additional category "Some other race." Studies show that people who check it are overwhelmingly Hispanic and that category is not used. The Hispanic effect on diversity is calculated in the next step.

2. Compute the Hispanic and non-Hispanic percentages of the population, square each and add them to get the chance that any two people will be Hispanic or not.

3: To calculate whether two people are the same on both measures, multiply the results of the first two steps.

4. Subtract the result from 1 to get the chance that two people are different - diverse. For ease of use, multiply the result by 100 to place it on a scale from 0 to 100. This results in the diversity index shown as a label in the above map.

Using the U.S. by State Dataset
The same U.S. by state dataset is used in the of the CVGIS projects distributed with the CVGIS installer. The U.S. by State Diversity project is focused on diversity analysis. The start-up view shows an interactive map display similar to the graphic shown above.

The fields relevant to the diversity index computation are shown in the following table.

File
Name
Excel
column
Description
D031
CC
Total population
D032
AV
White alone
D033
AW
Black or African American alone
D034
AX
American Indian and Alaska Native alone
D039
BC
Asian alone
D047
BK
Native Hawaiian and Other Pacific Islander alone
D066
CD
Hispanic or Latino (of any race)
D071
CI
Not Hispanic or Latino (of any race)
The field name shown in the left column may be seen in context with other demographic fields in the data set in this scroll section. These are field names used in the dataset named cb_2015_us_state_500k.dbf.

To compute the diversity index (DI), use this equation (illustration for row/line 2):
DI = 100 * (1-
(AV2/CC2*AV2/CC2
+AW2/CC2*AW2/CC2
+AX2/CC2*AX2/CC2
+BC2/CC2*BC2/CC2
+BK2/CC2*BK2/CC2)
*
(CD2/CC2*CD2/CC2
+CI2/CC2*CI2/CC2))

Support Using these Resources
Learn more about accessing and using demographic-economic data and related analytical tools. Join us in a Data Analytics Lab session. There is no fee for these one-hour Web sessions. Each informal session is focused on a specific topic. The open structure also provides for Q&A and discussion of application issues of interest to participants.

Additional Information
ProximityOne develops geodemographic-economic data and analytical tools and helps organizations knit together and use diverse data in a decision-making and analytical framework. We develop custom demographic/economic estimates and projections, develop geographic and geocoded address files, and assist with impact and geospatial analyses. Wide-ranging organizations use our tools (software, data, methodologies) to analyze their own data integrated with other data. Follow ProximityOne on Twitter at www.twitter.com/proximityone. Contact us (888-364-7656) with questions about data covered in this section or to discuss custom estimates, projections or analyses for your areas of interest.