Decision-Making Information
Contact Proximity for information
resources and solutions ...
(888) DMI-SOLN
(888) 364-7656

Proximity DMIGateway
-- the decision-making information gateway
The Proximity DMIGateway is a decision-making information resource providing Web-based access to selected Federal and other geographic and demographic-economic data resources. The many diverse Federal statistical agencies have their own Web protocols for data access and structure data differently. Proximity DMIGateway is a Win32 client-server program that users install on their own computer.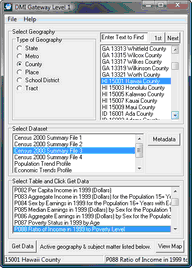 As an example, start DMIGateway and have near instant access to census tract demographics from Census 2000. While the Census Bureau offers access to the same data via their FactFinder tool, much more time is required to use FactFinder compared to DMIGateway. In addition, the same set of simple steps is used to access census tract demographics as used to access school district demographics from the U.S. Department of Education. DMIGateway enables you to access the data from Federal agencies in a form that is unmodified. DMIGateway does not restructure the data unless you request that operation.
Updates ...
DMIGateway (all levels) now supports access to the American Community Survey (ACS) 2008 1-year and 2006-2008 3-year demographics ( Census 2010/ACS) released in September/October 2009.
The Proximity DMIGateway has been developed to make access to selected Federal statistical and geographic data easier, faster, and more systematic. It is not intended to cover all types of data. Selected key data resources are included.
Install DMIGateway Level 1
Run DMIGateway Level 1 Installer to install on your Win32 computer. Requires only Internet and Web browser to use.
Frequently Updated
As new major statistical programs or updates become available, the DMIGateway software is updated. Some illustrative graphics shown in this section may have been superseded with more up-to-date data.
Keep up-to-date:
---
© 2009 Proximity
Version 1.4.4 -- 10/27/2009
---
Page url: http://proximityone.com/dmigateway/guide/index.htm?introduction.htm