Decision-Making Information

ProximityOne
information resources & solutions
(888) DMI-SOLN
(888) 364-7656



What you will be able to do ..
your geography & subject matter

California 710,145 census blocks
mapped by census block polygon
Display time: 6 seconds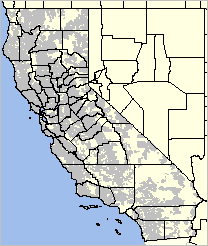 California 710,145 census blocks
with population greater than zero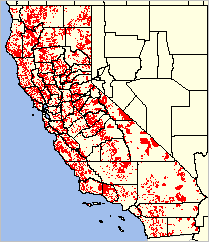 Zoom to Orange County, CA area
thematic pattern view
census blocks by primary race


click for larger view




Data Analytics Blog
Power of Combining Maps with Data

Support & Technical Assistance
help using these resources



Using GIS Tools & GeoDemographics
.. self-paced, online course
.. by Warren Glimpse, founder of ProximityOne
- developer of GBF/DIME & prototype for Census Bureau digital map database

The impact of the pandemic has made business, demographic and economic data more important than ever. While in a sense "data are king," tools are needed to make effective use of the data -- develop insights. If you are managing part or all of a business, you need to know how your organization can best benefit from data (knowing which data) and analytical tools. Technically geared professionals, developers, need the experience and knowledge to stand out among others to be more attractive to HR and/or in their current organization. Either way, knowing about GIS - Geographic Information Systems -- and how to use these tools with key data create opportunities for you and your organization is essential. Further empower yourself and your organization by participating in the Using GIS and GeoDemographics course.

Visual representation, maps, of demographic data by geographic area can be exciting and rewarding. Using Geographic Information Systems (GIS) can bring maps alive. Creativity is boundless. The banner at the top presents a static view of a map rendered using GIS. This map shows the Los Angeles area by census tract. For the analyst or stakeholder, it shows something more -- the percent Asian citizen voting age population by tract, overlayed with Congressional District boundaries and codes. It shows relationships, patterns. Using the power of GIS, the zoom level, colors, legend, and labeling can all be changed immediately. You, the GIS user, are at once analyst, artist and storyteller. In control of your medium, canvas, you further your benefits from use these software and data by making dynamic presentations in collaborations. Make compelling arguments. Capture your views and blend them with words and charts into documents. Welcome to the world of GIS and geodemographics.

Join us in this course and empower yourself ...
• more about the course below
• view course outline & topics
• Start today .. register now

Create Visual/Collaborative Insights ...
Patterns of economic prosperity by 116th Congressional District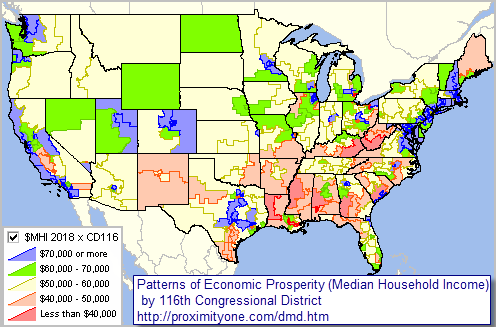 - click graphic for larger view

Register
Click this button to enroll now .. -- we will contact you and provide next step information.
.. Questions? Call us at (800)364-7656.

CV XE GIS
The course uses the ProximityOne Windows-based CV XE GIS software. The basic CV XE GIS is included, The basic version does not have some features covered in the course. Level 1 or higher version is recommended.
$695 .. includes File Saving and Database Operations
$1,295 .. includes DEDE2020, DataPak2 and Level 2 features
$1,895 .. includes Level 2 and SIte Analysis features

Registrants see this Start-up View
.. How & Why County Population is Changing ...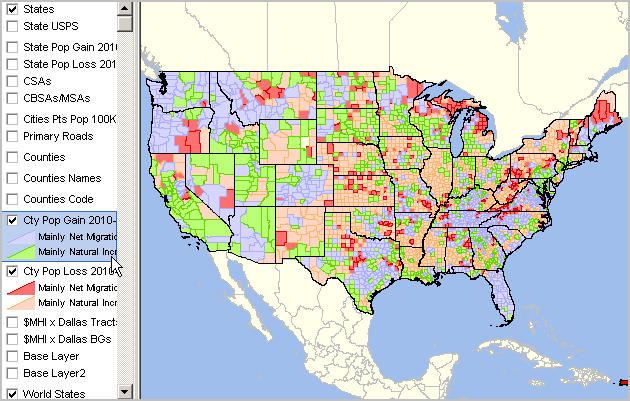 - view developed using ProximityOne CV XE GIS and related GIS project.

Later, Explore Use of the SiteAnalysis Operations
.. applications illustrated for Dallas, TX can be applied anywhere .. in the world.
.. showing patterns of economic prosperity by block group.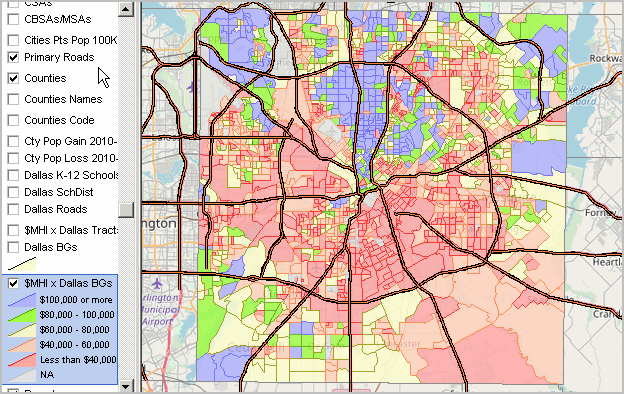 - view developed using ProximityOne CV XE GIS and related GIS project.

Create SiteAnalyses as Illustrated Below
.. blue triangle marker is Dallas City Hall ... on map by CV XE GIS address finder.
.. this example shows block groups ~5 mile radius.
.. 346 block groups having a total population of 436,889.


- view developed using ProximityOne CV XE GIS and related GIS project.

View the Selected Block Group Data as a Spreadsheet



- view developed using ProximityOne CV XE GIS and related GIS project.

Using GIS Tools & GeoDemographics .. self-paced, online course .. goto top
Examining geographic-demographic-economic characteristics, patterns and trends ... researchers, policymakers, journalists, administrators, students among others. How can you most benefit from using the TIGER geographic data to meet your objectives? These data are available at no cost. Join us in the Using GIS Tools & GeoDemographics online, self-paced course. Learn all aspects of using the Census Bureau TIGER files and related Census-sourced and other Federal statistical data. Augment your professional skills; participants receive all required data, methods and tools. Your personal session is developed and coordinated by Warren Glimpse. You receive the GIS course certificate upon completion. The course is $395, may be started at any time, and includes requisite Windows-based CV XE GIS software. The course assumes the participant has basic familiarity with a Windows computer, Internet and spreadsheet operations. No GIS related experience is required. Experienced GIS professionals also benefit by learning about the use and nuances of Census-sourced data and integrating these with other data. The structure includes four segments that typically require 2.5 hours each. It is feasible to complete the course in a day or two though we suggest two weeks.

Use Geographic Information Systems (GIS) with TIGER ... integrate/analyze data from American Community Survey (ACS) or the decennial census (Census 2010) (Census 2020) into TIGER files to make thematic maps. Merge data from other statistical programs. Geocode your address-based data and add the geocoded data to a GIS project/map view; examine patterns. View your market/service areas and assess competitive position, unmet opportunities. Learn about procedures and strategies to develop GIS projects that meet your needs. Acquire the tools and data to perform these tasks without spending more -- provided as a part of our course.

The course is not just about TIGER and demographic-economic data. It provides a well-rounded framework for how to use GIS. We review procedures to access and use thousands of public use shapefiles and GIS files that may be useful to you; how to use GIS.

ProximityOne User Group
Join the ProximityOne User Group to keep up-to-date with new developments relating to metros and component geography decision-making information resources. Receive updates and access to tools and resources available only to members. Use this form to join the User Group.

Support Using these Resources
Learn more about accessing and using demographic-economic data and related analytical tools. Join us in a Data Analytics Lab session. There is no fee for these one-hour Web sessions. Each informal session is focused on a specific topic. The open structure also provides for Q&A and discussion of application issues of interest to participants.

Additional Information
ProximityOne develops geodemographic-economic data and analytical tools and helps organizations knit together and use diverse data in a decision-making and analytical framework. We develop custom demographic/economic estimates and projections, develop geographic and geocoded address files, and assist with impact and geospatial analyses. Wide-ranging organizations use our tools (software, data, methodologies) to analyze their own data integrated with other data. Follow ProximityOne on Twitter at www.twitter.com/proximityone. Contact us (888-364-7656) with questions about data covered in this section or to discuss custom estimates, projections or analyses for your areas of interest.