---
GIS Main Page
WebGIS Platforms

WebGIS MapServer

The WebGIS MapServer is an ASP.NET server is used for web-based GIS mapping applications. The WebGIS MapServer is available in two forms.

• Use the WebGIS MapServer to serve maps on your server.
We provide the software, set up the application(s), and provide support.
Your users, internal and/or external, use the mapping and GIS operations on your server.

• Use the WebGIS MapServer via ProximityOne server.
An example of the service is described below.
We integrate these capabilities into specific Proximity applications.

Proximity provides two types of WebGIS products to meet Web-based access to geographic related resources. WebGIS Lite, or simply WebGIS, is a mapserver with extended capabilities and the WebGIS Internet Server.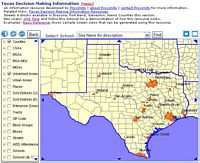 WebGIS Lite

The WebGIS Lite is an ASP.NET GIS server for the Internet publishing of mapping projects. The product is designed to be easy to learn and implement, requiring a "web master" level of ability. The WebGIS Lite utilizes the visual design capabilities of any ASP.NET IDE and can also be programmed with any standard HTML Editor.

The sample Texas Decision Making Information (TXDMI) WebGIS application shown at the right has been developed using WebGIS Lite. With easy-to-use checkbox controls shown beneath the map, the user can point-and-click to select and zoom to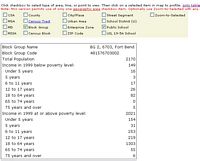 a particular type of geography and specific polygon, line, or point. The lower graphic shows a table that was generated for a census block group by simply zooming in to the area of interest and clicking on the area.

The WebGIS Lite may be used to publish a wide range of both raster and vector data formats, organized into an unlimited number of layers. WebGIS Lite supports publishing aerial photography or vector map files. It supports simple querying based on vector attributes. Any project created for WebGIS Lite can also be used with WebGIS allowing for easy upgrading. The user may generate and download any map view as a PDF file for high resolution printing and almost universal distribution. The user may manage the structure and content of these types of tabular displays.

Features of the WebGIS mapserver include:

• Full publishing capabilities for vector data formats
(SHP, E00, MIF/MID, TAB, DXF, DGN, GML, GDF, DLG, SDTS, and TIGER formats)
and raster imagery formats (TIFF/GeoTIFF, MrSID, ECW, BIL/SPOT, JPEG, PNG, BMP,
RFP (CADRG/CIB), PixelStore)
• Publishing of SQL vector layers with OPENGIS Simple Features for SQL implementation
• Publishing of huge SHP files (up to 2 Gigibytes)
• Simple API
• Full zooming and scrolling, with unlimited view combinations
• Flexible publishing layout
(fills, labeling, layer transparency, histogram equalizations, color coding and color enhancing)
• Legend component
• On-line generation and download of any map view as a PDF file,
for high resolution printing from vector data and almost universal distribution
• Thematic mapping, colored-gradient value themes, scale control
• URL Hotlink for automatic linking map objects to any document referenced with a valid URL
(web page, file, mailto)
• Opens most ESRI ArcView and MapInfo Professional projects
• Pie and bar charts
• Simple querying based on a selected shape. Display of features based on attribute query.
• R-tree spatial indexing
• Dynamic label placement, overlap avoidance, supports international language character sets
• Support of symbols for points, lines, fills (GCM, TrueType, and WMF)
• Custom drawing using System.Drawing.Graphics object
• Serves information via WAP server both graphically as well as textually

The Proximity CommunityViewer (CVGIS) works in tandem with WebGIS and WebGIS IS. The CVGIS application can be used to organize the layers, set up the appearance of the layers, render the data, and otherwise set up a simple ASP.NET project for web publishing with the WebGIS resources.

WebGIS Internet Server

In comparison, the WebGIS Lite does not support the object API, editing and saving of data, SQL database "joining", topological operations, geometric relations, routing, and geocoding.

Proximity develops Borland Delphi-based PC- and Web-based information management/analysis solutions. The PC version can often be directly converted to a Web-based version with a few code changes using the WebGIS IS. This type of deployment cannot be done using the WebGIS Lite resource.

The WebGIS Internet Server (IS) is a comprehensive ASP.NET GIS server for the development and deployment of fully web-based mapping applications. WebGIS IS applications work with any HTML or WAP browser equipped user stations, with no special client-side software requirements. WebGIS IS supports the same framework, object API, 2,300 functions and properties in 130 classes, file formats, database types, coordinate systems, etc. as the Developer Kernel toolkit used to develop the CommunityViewer GIS.

WebGIS IS utilizes the visual design capabilities of any ASP.NET IDE, such as Microsoft Web Matrix, Microsoft Visual Studio.NET, or Borland CBuilder and can also be programmed with any standard HTML Editor.

Leading features of the WebGIS IS include: Features:
• Full publishing capabilities for vector data formats
(SHP, E00, MIF/MID, TAB, DXF, DGN, TIGER, GML, GDF, DLG, SDTS, Geomedia formats),
raster imagery formats (TIFF/GEOTIFF, ECW, MrSID, BMP, BIL/SPOT, JPEG, PNG, CADRG,
PixelStore, and DTM/grid formats (ASCII GRID, FLOAT GRID, BT, DTED, ADF)
• Publishing of SQL vector layers with OPENGIS Simple Features for SQL implementation
• SQL-based vector layers with OPENGIS features implementation
• Full zooming and scrolling, with unlimited view combinations
• Legend component
• Flexible publishing layout
(fills, labeling, layer transparency, histogram equalizations, color coding and enhancing)
• Thematic mapping, scale control
• Pie and bar charts
• Joining to external SQL databases via ADO/ODBC or DBX
• Querying for any vector or object group by name, class, type, etc.
• PDF file generation for high resolution local printing
• Opens most ESRI ArcView and MapInfo Professional projects
• R-tree spatial indexing
• Geometric relationship querying
• Topological operations, such as buffers, intersections, unions, etc.
• Dynamic label placement, overlap avoidance, supports international language character sets
• Support of symbols for points, lines, fills (GCM, TrueType, and WMF)
• GPS tracking
• Street address geocoding and querying (consistent with TIGER naming)
• Routing – shortest distance, cost based
• Advanced coordinate system support with OPENGIS (WKT) features implementation
• On-the-fly reprojection between geographic coordinate systems
• Serves information via WAP server both graphically as well as textually

WebGIS Platforms

WebGIS Lite and WebGIS platforms:

Server:
- ASP.NET component for Microsoft IIS 4.0 or higher, Microsoft PWS 4.0 or higher,
or other ASP.NET compatible server
- Windows 2000, XP, and 2003
- Can run on a very basic configuration (no special hardware requirements)

Client:
- Any device supporting a HTML or WAP compatible browser, running on any hardware platform
Results presented as JPG, PNG, or GIF.
- WAP browser (for GSM cellular phones) Additional Information
ProximityOne develops geographic-demographic-economic data and analytical tools and helps organizations knit together and use diverse data in a decision-making and analytical framework. We develop custom demographic/economic estimates and projections, develop geographic and geocoded address files, and assist with impact and geospatial analyses. Wide-ranging organizations use our tools (software, data, methodologies) to analyze their own data integrated with other data.

Use the Contact Proximity form or call us at (888) 364-7656 for more information about