---

Charter Schools
Ranking Table

K-12 Education
Main Page

CommunityViewer
GIS



Select State ...
Alaska
Arizona
Arkansas
Colorado
Connecticut
Delaware
D.C.
Florida
Georgia
Hawaii
Idaho
Illinois
Indiana
Iowa
Kansas
Louisiana
Maryland
Massachusetts
Michigan
Minnesota
Mississippi
Missouri
Nevada
New Jersey
New Mexico
New York
North Carolina
Ohio
Oklahoma
Oregon
Rhode Island
Tennessee
Texas
Utah
Vermont
Virginia
Wisconsin
Wyoming
All States


America's Charter Schools 2010

Decision-Making Information
ProximityOne
information resources & solutions
(888) DMI-SOLN
(888) 364-7656

-- interactive school viewing & data access using Google Maps API

Use the interactive map shown below to view charter school locations in a Google map and view a profile for any selected charter school. See related interactive ranking table page at http://proximityone.com/charterschools2010.htm.

The interactive map below shows schools as red markers based on school address.
... select a state/region from the list at left to view schools in that area.
... use the pan-drag & zoom tools to navigate and view schools.
... mouse hover on a marker to view school name; click X in mini html page to close.
... click on a school marker to reveal link; click link to view profile.

markers show charter school locations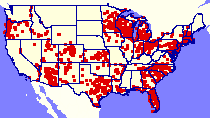 click for larger view, then press F11 key



Use the Data on Your Computer
Analytical power can be improved by combining these data with other data. The charter school data are available in the form of Excel file and shapefile. The shapefile may be used with the CommunityViewer GIS, DMILab Tools, or other GIS software to display maps (such as the one at right) and geospatially analyze these data with other data. See resources section (K-12 Charter Schools 2010) for additional information.

Google Map Operations
Pan/drag map with the hand tool. Use the - and + buttons to zoom-out and zoom-in. All charter schools are included. Mouse hover on a marker to view the school name. Click a marker to view mini html table. Click on a link in the mini html table to view a new Web page showing school characteristics. Click the X by the mini html page to close it.

Red markers indicate at least one grade in the range 9-12, otherwise a blue marker.

Additional Information
ProximityOne develops geographic-demographic-economic data and analytical tools and helps organizations knit together and use diverse data in a decision-making and analytical framework. We develop custom demographic/economic estimates and projections, develop geographic and geocoded address files, and assist with impact and geospatial analyses. Wide-ranging organizations use our tools (software, data, methodologies) to analyze their own data integrated with other data.