---



ProximityOne Home

Situation & Outlook

CVXE GIS Tools

Data Resources Guide
- projections to 2060

Related Sections
- Applications Gallery
- States
- Congressional District
- School Districts
- Counties
- Cities/Places
- Tracts/Neighborhoods
- Block Groups
- Census Blocks

- ZIP Codes
- Urban Areas

- PUMA Geography

Estimates-Projections
- 2060 Demographic
... all county interactive table
- 2030 Demographic-Economic
- Single Year of Age

Demographic-Economic
Estimates-Projections

GIS Thematic Mapping
Visual Analysis Tools

Ranking Tables
National Scope
Demographic Change
2000-2010
- States
- Metros
- Congressional District
- School Districts
- Counties
- Cities/Places
- Census Tracts

Building Permits by County
-- Monthly Trends & Characteristics

September 2016. Understanding the housing situation; examining housing supply and demand market conditions; assessing trends for small area geography ... and how the local economy is changing.

This section provides data to examine/analyze characteristics of new housing units authorized by building permits for new residential construction by county by month. The time lag from reference date to access date is one month, contributing to both the freshness of the data and importance of the data as a leading economic indicator. The importance of these data transcends issues concerning housing market conditions alone.

These data are one part of a mix of demographic-economic factors required to understand housing market conditions and the local/regional economy. These data are a part of the process to develop the ProximityOne county and sub-county demographic-economic estimates and projections. Updated monthly, building permit data for 741 counties are included in the interactive table below. These are counties for which building permits are issued on a county-wide basis. County-level data are collected/summarized for the other 2,401 counties on an annual basis. See the related section that provides the same scope of subject matter for all counties for 2014 and 2015.

Building permit data are also collected for 20,000 building permit issuing cities/places. Similar monthly building permit data are available for 9,000 of these places as for the county data reviewed here.

Related Residential Construction &amp Housing Sections
• Metro Situation & Outlook Reports
.. metro by metro ... examples: Houston, Los Angeles, Chicago, Atlanta.
• U.S. by Metro Interactive Table
• U.S. by County Interactive Table

Housing Units Authorized and Value by Month
The following table illustrates the scope of of housing units authorized and value for San Diego County, CA for three selected months. Use the interactive table below to examine monthly data over the year starting with January 2016 and updated monthly.

| | | | |
| --- | --- | --- | --- |
| Item | Apr15 | May15 | Jun15 |
| Total Units | 1,010 | 1,046 | 1,015 |
| 1 unit structures | 272 | 282 | 303 |
| 2 unit structure | 4 | 6 | 14 |
| 3-4 unit structures | 0 | 27 | 93 |
| 5+ unit structure | 734 | 731 | 605 |
| Total 5+ unit structures | 18 | 31 | 23 |
| Percent Coverage | 100 | 100 | 100 |
| Value ($000), Total Units | 169,398 | 213,203 | 266,470 |
| 1 unit structures | 87,782 | 89,792 | 102,219 |
| 2 unit structures | 587 | 1,843 | 2,026 |
| 3-4 unit structures | 0 | 4,630 | 14,342 |
| 5+ unit structures | 81,029 | 116,938 | 147,883 |

Patterns of New Authorized Residential Units by County
The following graphic shows the 2015 per capita value of total units authorized by county. The four largest Texas metros are shown with bold brown boundaries.
See about subject matter included in datasets.


View created with CV XE GIS. Click graphic for larger view.

Additional views with counties labeled with name, 2015 housing units and 2015 total new housing units authorized.
• Charlotte, NC-SC metro by county
• Dallas, TX metro by county
• Houston, TX metro by county

Leading Economic Indicator
Building permit data (housing units authorized by building permits for new residential construction) are economic leading indicators. Investors and housing developers use these data to examine the characteristics and trends in new residential housing development. The short time lag between the data reference date and data access date, 1-2 months, makes this set of indicators important in assessing the current situation and patterns during the past year or more. The national scope coverage and geographic granularity (state, metro, county and city) enable comparison among types of areas and peer groups. Finance and real estate professional and researchers examine building permit patterns to develop strategic insights. Government and policy makers use these data to get a pulse on markets and changing patterns to administer programs and operations. See more about these data below in this section.

New residential construction begins with building permits. Overall U.S. housing starts are approximately 2.5% less than permits issued (22.5% less for multi-family units). Completions are approximately 4% less than starts (7.5% less for multi-family units). During the past year-plus, "residential fixed investment" has been approximately $500 billion and remained steady at 3.1% of real Gross Domestic Product.

Access Individual County Profiles
The following graphic illustrates use of the Regional Demographic-Economic Modeling System (RDEMS) to access the HSG1 Housing Units & New Residential Construction tables for a selected county. Click graphic for larger view.

Mecklenburg County, NC [37119] located in the Charlotte, NC-SC metro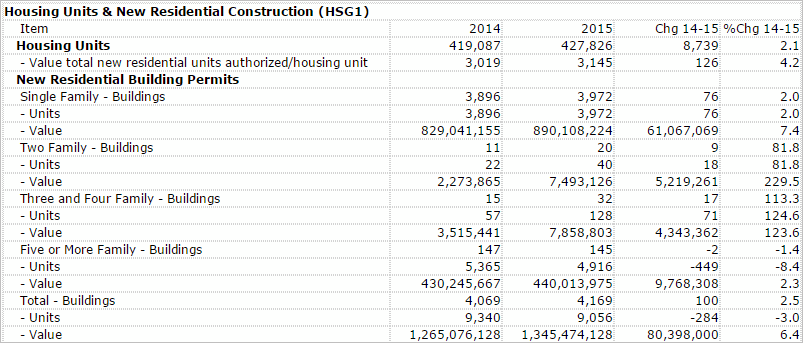 Add a link to your Web page for areas of interest: The URL structure for Mecklenburg County is:
- http://proximityone.com/rdems/1/rdems37119hsg1.htm
- more in general, substitute the county state+county FIPS code (37119 in this case) to access a county of interest.

Building Permits by County; Monthly Characteristics, 2016
Click column header to sort; again to sort other direction. See usage notes below table.
See related interactive tables

Table Usage Notes
Use the vertical scrollbar at far left in table to scroll across (up/down) districts/rows.
Optionally sort on selected column or view only districts in one state then sort ...
• Click ShowAll between queries

• Click on column header to sort on that column; click column header again to sort in other direction.
• Click ShowAll button to show all areas and restore full set of data view.
• Click State to view districts in a selected state (click ShowAll between selections).
• Find by Name: key in partial area name in text box to left of Find-in-Name button
then click button to locate all matches (case sensitive).
• See related tables.

Columns in Table
- Name
- St
- StCty
- CBSA
- Date - reporting month
- Population 2015
- 1-unit Bldgs
- 1-unit Units
- 1-unit $Value
- 2 unit Bldgs
- 2 unit Units
- 2 unit $Value
- 3-4 unit Bldgs
- 3-4 unit Units
- 3-5 unit $Value
- 5+ unit Bldgs
- 5+ unit Units
- 5+ unit $Value

Counties with County-wide Monthly Building Permit Reporting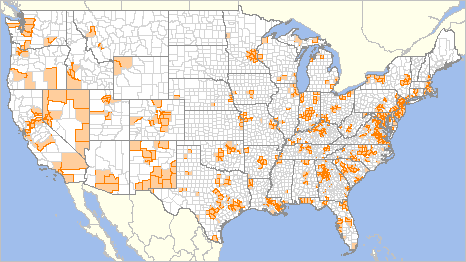 - View created with CV XE GIS. Click graphic for larger view.

Counties with County-wide Monthly Building Permit Reporting
with cities/places (green) monthly building permit reporting (with some activity in 7/16)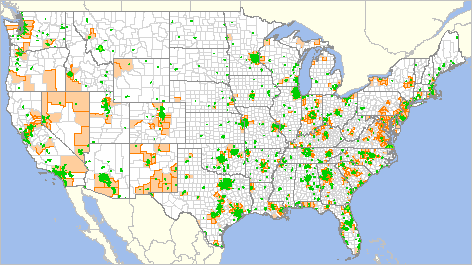 - View created with CV XE GIS. Click graphic for larger view.

Additional views:
- Missouri and region
- Texas and region

ProximityOne User Group
Join the ProximityOne User Group to keep up-to-date with new developments relating to metros and component geography decision-making information resources. Receive updates and access to tools and resources available only to members. Use this form to join the User Group.

Support Using these Resources
Learn more about accessing and using demographic-economic data and related analytical tools. Join us in a Data Analytics Lab session. There is no fee for these one-hour Web sessions. Each informal session is focused on a specific topic. The open structure also provides for Q&A and discussion of application issues of interest to participants.

Additional Information
ProximityOne develops geographic-demographic-economic data and analytical tools and helps organizations knit together and use diverse data in a decision-making and analytical framework. We develop custom demographic/economic estimates and projections, develop geographic and geocoded address files, and assist with impact and geospatial analyses. Wide-ranging organizations use our tools (software, data, methodologies) to analyze their own data integrated with other data. ollow ProximityOne on Twitter at www.twitter.com/proximityone. Contact ProximityOne (888-364-7656) with questions about data covered in this section or to discuss custom estimates, projections or analyses for your areas of interest.