Tools>Find Shape enables search and locate operation for geographic objects based on shapefile dbf attributes.
Availability
Levels Viewer, 1, 2, 3
Usage
Main menu Tools>Find Shape
Related Information
...
Start-up View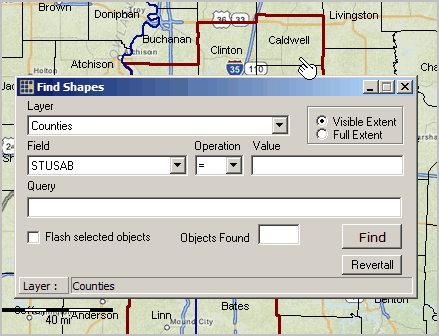 Use the Find Shape operation to locate a shape within a layer in the active project.
The layer names are read from the GIS project file and used to populate the Layer dropdown box.
> select the layer for which the Find Shape is to be performed.
When a Layer item is selected, the Field dropdown box loads with all field names for that layer.
> select the field name for the Find operation.
The Operation dropdown box shows the available relational operators.
> select the type of operation to be applied.
The Value edit box contains the value provided by the user for the Find operation.
> enter the value for the field to be searched.
Click the Find button to start the search.
The results will shows in the Objects Found and the shapes found are highlighted in yellow.
In the following application, the query is performed on the County layer. The county field NAME will be used in the search.
The search criteria is that NAME field must be "like" the wildcarded case-sensitive string "Caldwell%" (no quotes).
The % symbol says to match anything starting with the 8 characters "Caldwell".
The results of the query are shown in the following view. To remove the yellow highlighting, click the Revertall button.