The first step to use DDA with Census 2010 Summary File 1 is to download the data.
This section is focused on downloading/accessing the Census 2010 Summary File 1 (SF1) data.
The steps to convert state SF1 files to dBASE are summarized below.
1. Get the State SF1 raw data (SF1 data are packaged by state by the Census Bureau in a zip file).
Use File>Get SF1 to download the state SF1 zip file to your computer.
2. Unzip the required SF1 data segments (unzip the downloaded SF1 zip file).
Use File>Zip/Unzip to unzip the needed segments.
When the UnZip form opens, selected the downloaded SF1 zip archive to open.
After selecting the zip archive, the Files in Zip section is populated with available files to unzip: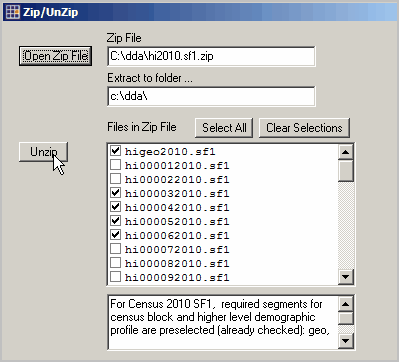 The start-up selections (checked segments/files) are those required to generate the "Block DP1" profile/dataset (geosegment and segments 3, 4, 5, 6, and 44).
To clear all selections (segments/files checked) click the Clear Selections button.
Requirements:
The geosegment must always be selected.
No other segments are required. Due to space utilization and processing time, it is recommended that only those segments required for use be expanded. Others that might be needed can be expanded later.