Welcome to the Demographic Data Analyst ...
This document is the Demographic Data Analyst user guide. See companion guides:
CommunityViewer GIS -- http://proximityone.com/cv/guide
Applications Gallery -- http://proximityone.com/gallery/guide
Data Resources -- http://proximityone.com/dataresources/guide
The Demographic Data Analyst (DDA) is a desktop demographic and geographic data access, management and analysis system designed to operate on Win32/64 computers.
Use DDA for more effective and efficient integration of diverse and widely used demographic-geographic data decision-making information solutions.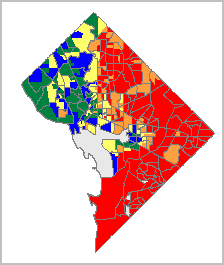 Educational Attainment
Washington DC by Block Group
See the Narrated Videos section to see how DDA works.
Updates
02/13/12
American Community Survey 2010 Summary File Tools DDA_ACS
•Census tracts and block groups summary files - all tables
•data extraction, display, flat file creation for data merging
- download shapefiles
- create views of tracts and block groups contextually with other geography
Feature and capabilities update
Feature under development
- data integration: ACS 2010 EEO special tabulation and organization/establishment employment data
- workforce analyses and reports
New feature
- interactive Google maps within DDA
- linked to DDA data
- specialized reference mapping controls not available from Google Maps on Web
SurveyData
- user survey respondent data processing & analysis
- Census 2010 and ACS Public Use Sample Microdata
- create summary data
... coming in March
01/12/12
DDA Viewer Demographic Profiles and Site Analysis
Application Examples
•Clear Creek ISD, TX (Houston area)
•McKinney ISD, TX (Dallas area)
•Rome School District, NY
12/31/11 Census 2010 DP Integrated into DDA Viewer
12/27/11 dBrowse module added -- see dBrowser
Tools>dBrowse
Browse, query, process dbase files.
Available in all versions.
12/27/11 Viewer module added -- see Viewer
Main menu bar -- Viewer
Organized data display, viewing and publishing module.
Available in all versions.
12/27/11 Modeler module added -- see Modeler
Main menu bar -- Modeler
Used to develop ProximityOne estimates and projections.
Create alternative scenario projections with model modifications.
Add model sectors for your industry(s) and business.
Available by subscription.
Using this Document
Use buttons located at upper right of screen to ... navigate among topics, view topic directory, print a topic, send feedback to Proximity on a topic, and auto expand/contract toggles for a topic/page. A PDF version of this document is available.
--------------------------------------------
© 2012 ProximityOne
2/22/2012