This section extends on use of DDA to illustrate development/use of school district DP1 comparative analysis profiles -- based on data from Census 2010 Summary File 1.
Start DDA
•Select Kansas (KS) as the state to process (upper left "State" combobox).
Downloading Complete 2010 Census Summary File 1 (SF1) Data
- this task completed; see parent section for details
Creating Complete or Partial SF1 Database
- this task completed; see parent section for details
Extracting Data from the Relational SF1 Database into Flat File
•Use the pre-existing "itemlist_sddp.txt" file to select desired subject matter fields.
•Create new flat file "extract_kssd.dbf".
•Left-click column header P0030001 (total population) and sort in descending order.
The largest 3 districts are Wichita, Shawnee Mission and Olathe (based on Census 2010 total population).
To view a DP1 comparative analysis profile for these districts, right-click the left-most column (STUSAB) in each of the three rows corresponding to these three districts (top three rows). Then click Show Profile. See results below.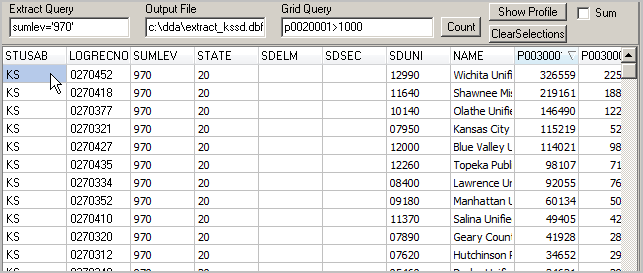 When Show Profile is clicked, the DP1 profile appears in the Profile Grid. A partial view is shown below.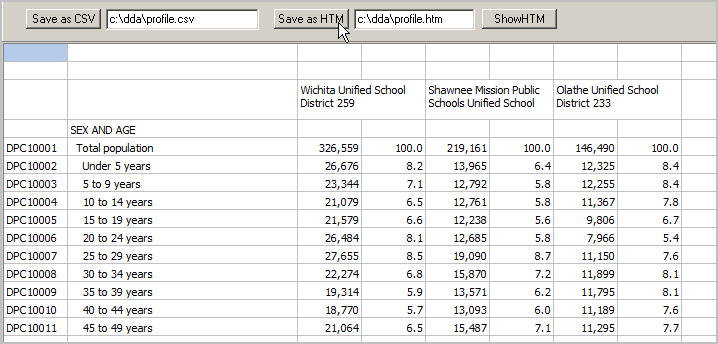 Publish the Profile Grid to HTML structure by clicking Save as HTM button. A partial view of the Web page is shown below.
The name of the first area is used in the title section. Order of display can be set by the user.
See the complete profile at http://proximityone.com/dda/profile_kssd.htm.

Similar steps can be followed using the initial base grid to view characteristics of any school district or combination.