This section reviews use of Viewer to display/analyze U.S., state and county level data using the national scope American Community Survey (ACS) 2010 5-year estimates demographic profiles datasets.
With Viewer running (and required datasets available) enter the filename c:\dda\acs0610udp1.dbf in the OpenBD edit box: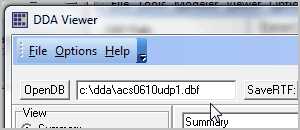 Click OpenDB. The GeoSelections listbox populates.
Click "do not use" radiobutton in Selections File.
Mutli-select three areas in GeoSelections listbox.
Click Go button and profiles are displayed (see below).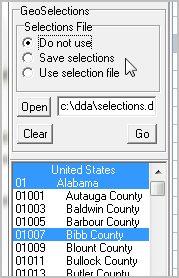 Demographics for the selected areas are displayed in the Summary grid (as well as 4 DP grids).