---
Census Tract Geodemographics

Examining Neighborhood Change
Decision-Making Information
Contact Proximity for information
resources and solutions ...
(888) DMI-SOLN
(888) 364-7656

Small area demographics have changed significantly for many areas across the U.S. since Census 2000. Use the Proximity national scope census tract demographic trends database to examine how your areas of interest are changing. The dataset includes Census 2000 demographics and 2008 demographic estimates. Estimates of the number of households and related demographics are developed quarterly for all U.S. census tracts.

See how MetroDynamics can be used for extended analysis of 2008 census tract demographics:
http://proximityone.com/md/guide/views_census_tract_detailed.htm

The graphic presented below illustrates use of the census tract demographics in a thematic map. The map shows the Paradise Valley, AZ school district (Phoenix area) with bolder black boundary, census tracts by change in the number of households 2000-2008, and schools as red markers. The color pattern associated with the size of change in the number of households as shown in the legend at left. Updated quarterly, the census tract estimates provide a way to examine neighborhood demographic change using up-to-date data on a quarterly or annual basis.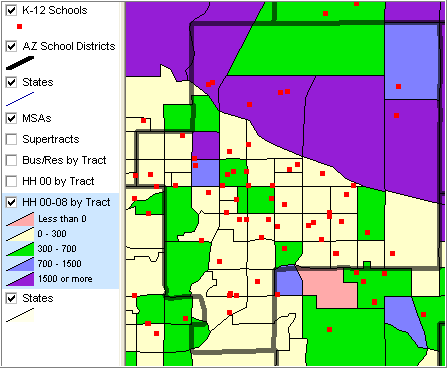 Click graphic for larger view (then press F11 key). Census tracts are labeled in the larger view with the Census 2000 (yellow labels) and 2008 number of households (blue labels).

The next graphic shows a zoom-in view of an area within the school district. This view also shows streets. Tracts are labeled in the manner described above.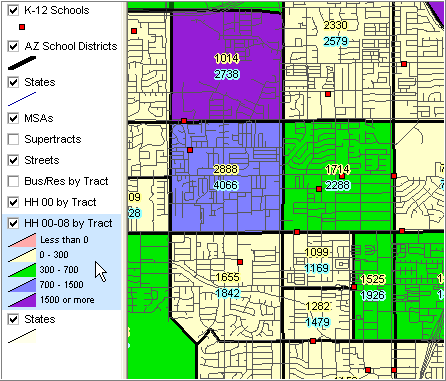 Contact Proximity for information about data for your area. Note 'census tract demographics' and your geographic area(s) of interest.