The K-12 School project is included with all versions of CV XE GIS.
The "US1_K12_KS.GIS" project is loaded onto your computer by the CV XE GIS installer.
Great Bend, KS School District
An example of what you can do with this project.
Build this type of GIS project for any community or school district. Add your data.
Townships showing 2010 and 2018 population; Great Bend city green fill pattern; schools.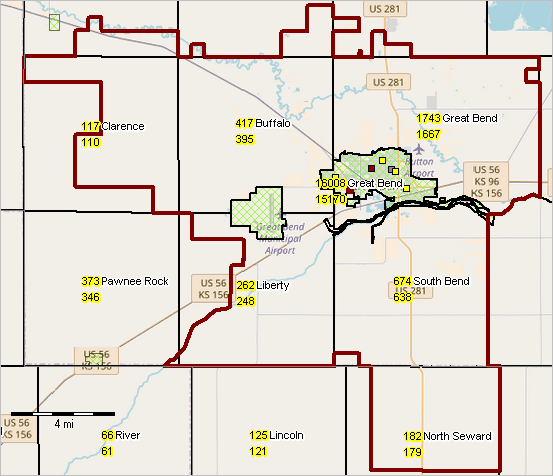 Great Bend, KS School District
Zoom-in view showing census tracts with red boundaries.
What are the characteristics and trends for these tract?
What programs or policies might be implemented to change these trends toward 2030?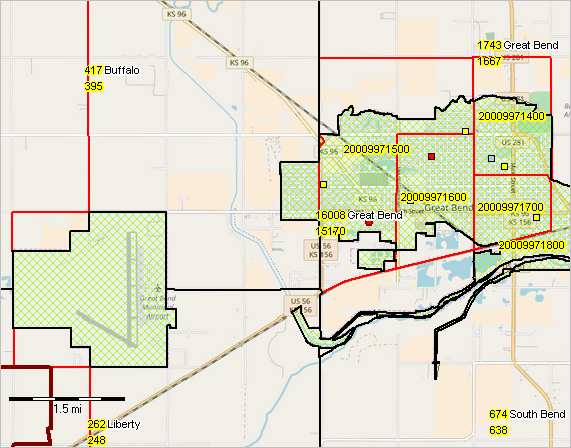 GIS Project Start-up View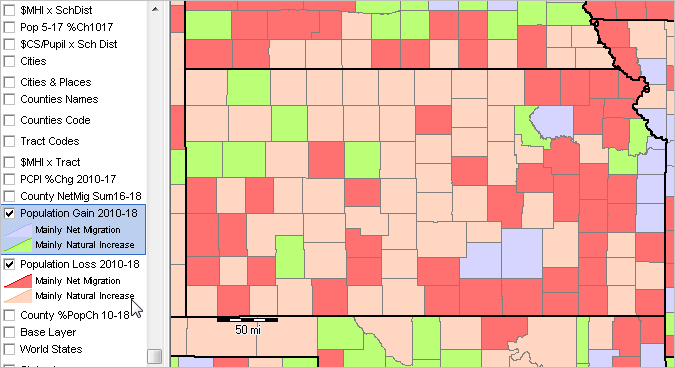 Patterns of Economic Prosperity: Median Household Income by Kansas School District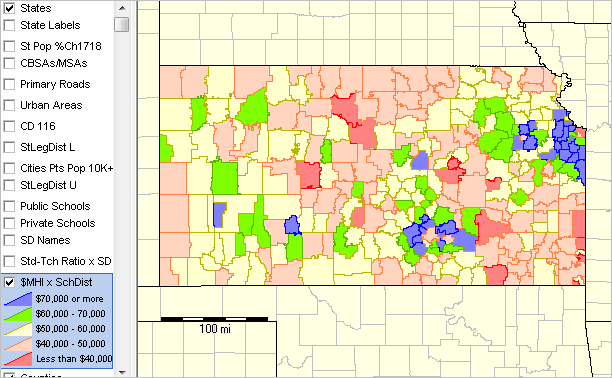 Start this project using File>Open>Dialog and select c:\cvxe\1\us1_k12_ks.gis
or use File>Open>Favorites and pick from list: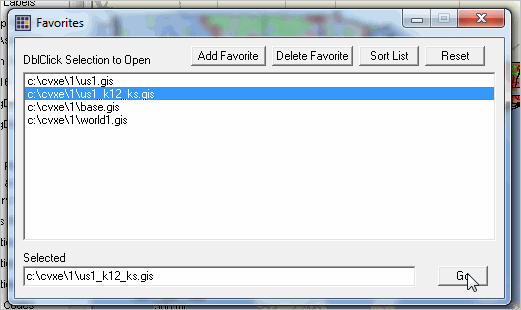 This project is built on the US1 Project and includes these additional layers:
These files are for the state of Kansas but are available for all states.
Public Schools ccdsch1617_ks.shp
Private Schools pss1516_pupts_ks.shp
School District Trends cb_2017_us_sd_500k_sdtrends1017_ks.shp
School District Admin cb_2017_us_sd_500k_ccd1617_ks.shp
School District ACS cb_2017_us_sd_500k_acs175_ks.shp
School District Finances cb_2016_us_sd_sdfa16_ks.shp
Townships tl_2018_20_cousub.shp