dBMerge is used to merge two dBase 4 files based on a common key and user selected fields.
Use Tools>dBMerge to start. When started, the dBMerge window/form opens. See below.
Close dBMerge by clicking formclose in upper right of form.
dBMerge processes only dBase 4 files.
dBMerge Operations Example
In this example dBMerge is used to census tract demographic data into the Census 2010 census tracts shapefile dbf.
The resulting shapefile may be used in a subsequent application to develop thematic maps showing demographic patterns.
This application illustrates the process using New York statewide census tracts.
Required files:
1.Census 2010 census tracts shapefile (tl_2010_36_tract10.dbf)
2.Census 2010 Demographic Profile (cen2010tdp1_36.dbf)
3.ACS 2010 5-year estimates Demographic Profile 2 (acs2010tdp2_36.dbf)
See in graphic below ...
Source File 1
Use Source File 1 Open button to open C:\cv\rome\tl_2010_36_tract10.dbf
Source File 2
Use Source File 2 Open button to open C:\dda\CEN2010TDP1_36.dbf
Output File
Normally leave as specified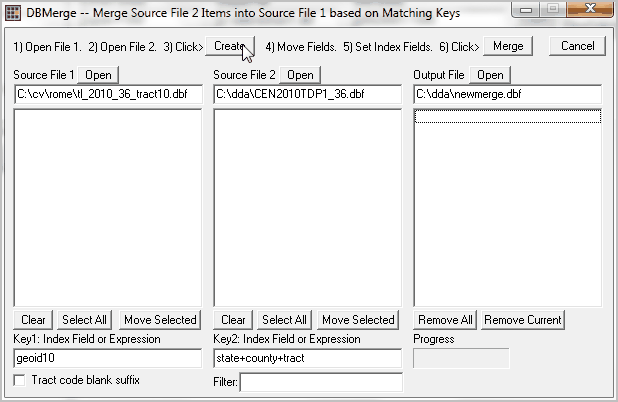 Create
Click Create button (top of form) and item sections populate.
Set the keys under Source File 1 and Source File 2.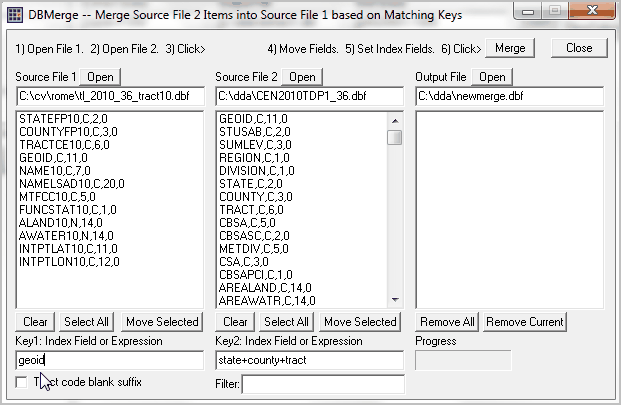 Select Items
Source File 1
In this example, all items are selected from Source File 1 (click SelectAll below Source File 1)
Click Move Selected and those items will be moved to the first set of fields in the new output file.
Note that the output file has now been populated.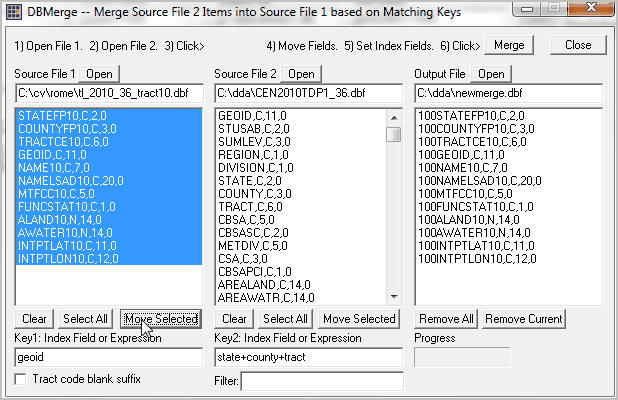 Source File 2
Selected code fields are selected from Source File 2 plus all demographic fields except male age fields and female age fields.
Source File 2 Move Selected is clicked. Source File 2 items are shown as "type 2" in the Output File following the list of Source File 1 fields.
Review all settings and click Merge (top of form).
The merge progresses and status is shown by a progress bar (not shown in these graphics).
4919 tracts are processed. The final step is to click Yes to overwrite of Source File 1 with the new Output File.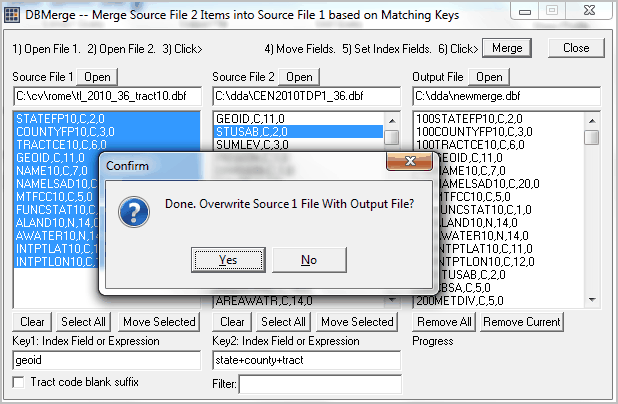 The dBMerge form then closes.
Merge
Each record is sequentially processed in Source File 1.
For each record in Source File 1, a query is performed on Source File 2 based on the KEY values.
In