---
Largest 100 Places
Places Main Page
Metro Areas
Census 2000
Data Access & Use

Places 10,000-50,000 Population Outside Urbanized Areas by Warren Glimpse

Some consider places located outside of urbanized areas to be among the most attractive places to live. As a generalization, these places will typically have a slower pace of life, less rapidly increasing housing costs, and often convey more of a small town feeling as compared to counterparts located within urbanized areas.

Urbanized areas (UAs) are statistically defined areas that are generally located in metropolitan statistical areas (MSAs) and encompass the MSA principal city(s) and adjacent economically tied geography.

Of the 19,500 places in the U.S., there are 747 places located outside of UAs with 2004 population of 10,000 to 50,000. These places are large enough to have many amenities of UA counterparts and even larger cities and are often business and economic hubs. 220 of these places experienced population growth of 5-percent or more between 2000 and 2004 (a few of these places annexed territory during the period).

Where are these 747 places? Which ones do you know? Which places are growing most rapidly?

The term "places" as used here includes areas that are incorporated cities. As a result, there are some important areas of population concentration omitted from this group. For example, Hawaii has no incorporated places, other than Honolulu, so these areas are not included in places reviewed here.

Which Places are Changing and How? The next graphic shows these places and urbanized areas for the 48 contiguous states. Colors indicate population percent change from 2000 to 2004 -- red, less than zero; green, zero to 5-percent, blue, 5-percent or more. Click image for larger view and then press F11 key for best appearance.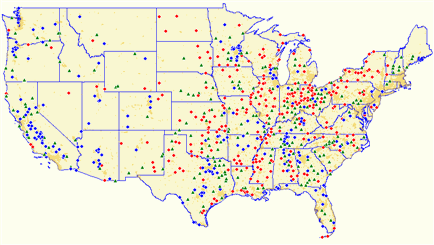 Zoom-in View. The next graphic shows the places with MSAs, UAs, and counties. Click image for larger view and then press F11 key for best appearance.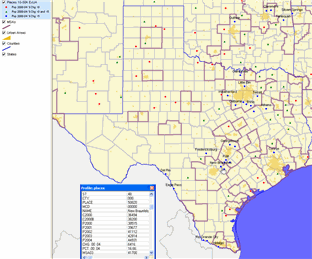 Using the identify tool, the place of New Braunfels is profiled. Annual population estimates and change values are shown in the mini-profile.

States "in the Red" Many states have a relatively large number of places of this size that are losing population (red markers). These states may be missing an opportunity to advance the ability of the non-UA places 10-50K to thrive. This may be an opportunity to improve population retention and increase inbound migration. Many business seek to add or expand establishments located in or near these types of places.

Data and Map Project. The map project, including the CommunityViewer software and all files to display these types of maps, may be acquired for use on your computer. Combine with your own data. Contact Proximity for more information (be sure to include a note about your interest in the "places demographic trends map project").

goto top