This section being updated. Video coming soon.
See related:
http://proximityone.com/cen2010_sf1.htm
State-County Codes: http://proximityone.com/stcty.txt
Start-up view of US1_miami.gis project. Installed on user computer by CV XE GIS installer.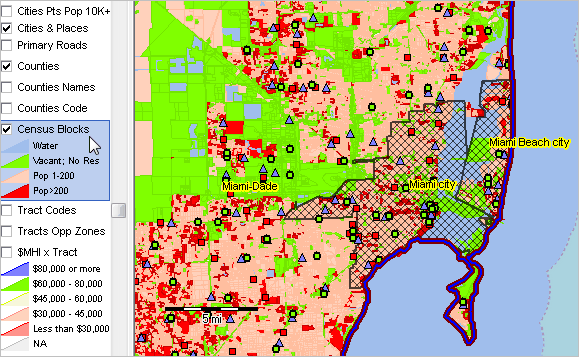 Zoom-in to Miami showing blocks in detail, labeled with total population; attributes of block at pointer shown in Shape Viewer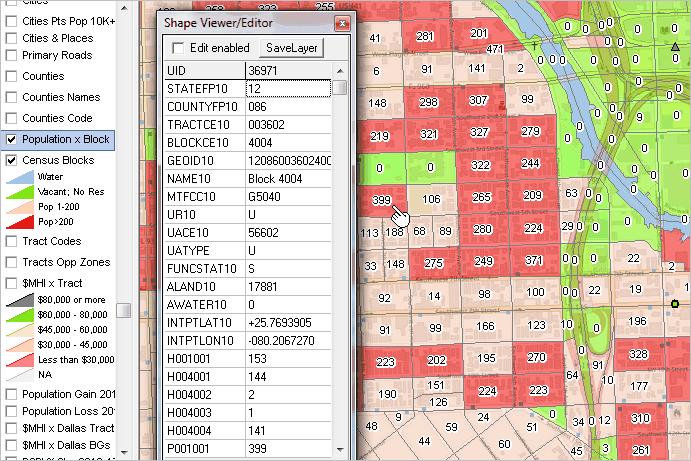 Accessing Census 2010 Summary File 1 census block demographics
Example:
Access/download selected census block level demographics for Miami-Data, FL by clicking link below or copy/pasting text in browser URL bar:
https://api.census.gov/data/2010/dec/sf1?get=H001001,H004001,H004002,H004003,H004004,P001001&for=block:*&in=state:12%20county:086
Press enter and it returns the following Census 2010 items for all Miami-Date County, FL (12086) blocks.
H001001 Total housing units
H004001 Occupied housing units
H004002 .. Owned with a mortgage or a loan
H004003 .. Owned free and clear
H004004 .. Renter occupied
P001001 Total population
Copy the returned page into text editor (Notepad) and edit a little to create a CSV file, then import into CV XE GIS
Perform this operation using any state-county codes in the URL text.
Geospatially analyzing these data.
Step 1 - creating the Miami-Dade County blocks shapefile populated with the Census 2010 SF1 block demographics
There are 38970 blocks in Miami-Dade County
There are ~485,000 blocks in the Florida statewide blocks shapefile (see related section)
Options:
| | |
| --- | --- |
| • | Use dBMerge to merge the Miami-Dade blocks data into the Florida statewide shapefile |
| | |
| --- | --- |
| • | Export only Miami-Dade blocks from the Florida statewide shapefile to a new shapefile |
which is better?
Using these files:
cen2010sf1items.dbf
cen2010sf1items.csv