---
K-12 Education
Main Page



Interactive Maps
Select State ...
Alaska
Arizona
Arkansas
Colorado
Connecticut
Delaware
D.C.
Florida
Georgia
Hawaii
Idaho
Illinois
Indiana
Iowa
Kansas
Louisiana
Maryland
Massachusetts
Michigan
Minnesota
Mississippi
Missouri
Nevada
New Jersey
New Mexico
New York
North Carolina
Ohio
Oklahoma
Oregon
Rhode Island
Tennessee
Texas
Utah
Vermont
Virginia
Wisconsin
Wyoming
All States

Decision-Making Information
ProximityOne
information resources & solutions
(888) DMI-SOLN
(888) 364-7656



America's Charter Schools 2010
... interactive ranking table & related analytical tools

The national scope approximate 4,500 K-12 charter schools have an enrollment of 1.3 million students with 60,700 teachers (full-time equivalence). The average total enrollment is 288 students per school. More than 400 schools have enrollment of fewer than 10 students. The largest schools are virtual or cyber schools with very little or no classroom space.


markers show charter school locations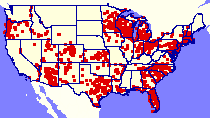 click for larger view, then press F11 key


This section provides an interactive ranking table to view/analyze these schools and perform queries by selected characteristics. Data are subject to update/change.

View charter schools in an interactive map. Click on a state link in the left panel. View a profile for any selected charter school. More details in the map view pages.

Use the Data on Your Computer
Analytical power can be improved by combining these data with other data. The charter school data are available in the form of Excel file and shapefile. The shapefile may be used with the CommunityViewer GIS, DMILab Tools, or other GIS software to display maps (such as the one at right) and geospatially analyze these data with other data. See resources section (K-12 Charter Schools 2010) for additional information.

America's Charter Schools -- Interactive Ranking Table
View, sort, compare schools for areas of interest. usage notes
Click column header to sort; click again to sort other direction.
Click on link at left to view different state. See related ranking tables.
Column Headers
School Name
St - state postal abbreviation
Agency Name
City - school location city name
ZIP - school location ZIP code
Locale code - see details
AgCode - Federal agency code (State FIPS + 5 digit agency)
Type
1 = Regular school
2 = Special education school
3 = Vocational school
4 = Other/alternative school
Status - operating status
1 = Operational at the time of the last report and is currently operational.
2 = Closed since the time of the last report.
3 = Opened since the time of the last report.
4 = Operational at the time of the last report but was not reported list then.
5 = Listed in previous year as affiliated with different education agency.
6 = Temporarily closed and may reopen.
TitleI - 1 indicates Title I eligible school
TitleIsw - 1 indicates Title I school-wide eligible school; otherwise coded as 2
Magnet - 1 indicates magnet school; otherwise coded as 2
Students - number of students
TchFTE - number of teachers, full-time equivalence
StdTch - student-teacher ratio
Other codes:
M or -1: data are missing; value is expected and the state reported that the value was not measured. N or -2: data are not applicable; a value is neither expected nor measured.

Usage Notes
Optionally sort on selected column or view only metros in one state then sort ...
• Click on column header to sort on that column; click column header again to sort in other direction.
• Click ShowAll button to show all areas and restore full set of data view.
• Click State to view schools in a selected state (click ShowAll between selections).
• Find by Name: key in partial area name in text box to right of Find-in-Name button
then click button to locate all matches (case sensitive).
• See related ranking tables.

Additional Information
Proximity develops geodemographic-economic data and analytical tools and helps organizations knit together and use diverse data in a decision-making and analytical framework. We develop custom demographic/economic estimates and projections, develop geographic and geocoded address files, and assist with impact and geospatial analyses. Wide-ranging organizations use our tools (software, data, methodologies) to analyze their own data integrated with other data. Contact Proximity (888-364-7656) with questions about data covered in this section or to discuss custom estimates, projections or analyses for your areas of interest.