Children's Demographics & K-12 Education Analytics
-- demographic-economic-geographic data & analysis

January 2023 .. today's lead topic .. Grade Relevant Children's Demographics. Examine children's own demographics using the School District Special Tabulation (SDST) updated annually by the Census Bureau, sponsored by the U.S. Department of Education. This unique data resource was first developed by Warren Glimpse based on the 1990 Census. It is now updated annually based on the American Community Survey (ACS2021). These are not data about individuals but rather summary statistics about population groups.

This is the only source of demographic data about children's own characteristics by school district and tabulated for each/all school districts. For these data, a child is defined as a person age 0 to 17 (at time of survey response) or a person age 18 or 19 who is not a high school graduate (based on the educational attainment response in the ACS questionnaire). "Grade relevant" is determined by grade enrolled or age of respondent and school attainment level if the child is not enrolled in school. Universe data for the U.S. based on ACS 2020 5-year estimates are shown in the following table.

| | | |
| --- | --- | --- |
| Universe | Population | Percent |
| Total children | 75,369,170 | 100.0 |
| Grade-relevant children enrolled in school | 57,152,155 | 75.8 |
| Grade-relevant children enrolled in public school | 49,428,160 | 65.6 |
| Grade-relevant children enrolled in private school | 7,723,995 | 10.2 |

For example, based on the ACS 2020 SDST, the median household income (MHI) for GRCE was $71,834 while the MHI for GRCE-Public was $69,477 for the Clark County School District, NV. Find out more. Join us in the every-Tuesday Data Analytics Web Sessions

School District Community
Data about "grade relevant children" provide insights into the structure and composition of the school district and the School District Community. The School District Community (SDC) is the composite of the demographic-economic infrastructure that sits within the school district boundary. There are more than 13,000 school districts/SDCs that annually report their name, location, enrollment by grade, gender, and race/origin, number of teachers, schools and more. These administratively reported data are one part of the SDC decision-making information infrastructure (SDC DMII). Students and staff are drawn from the school districts and sometimes beyond.

It is essential to integrate a broader array of demographic-economic attributes about the SDC; much of this is available from the American Community Survey (ACS2021). The ACS data tell us not only about the school district geographic area but also small area component geography down to the block group level and intersecting geographies like cities. Financial data, sources and uses of funds by the district, are a vital part of the SDC DMII with yet other data that are updated annually. To benefit from the SDC DMII, develop plans and evaluate options, tools are required to integrate and analyze the data .. and a methodology to interpret and apply, and collaborate on, this ever-changing array data.

These topics are the focus of this frequently updated section. ProximityOne uniquely assembles/integrates these data and tools to develop current estimates, projections and what-if/impact analyses. Right here you can start using these data and tools.

Examining Your School District Communities
• 01 School District Interactive Table & Profiles
• 02 Demographic-Economic Data Explorer
• 03 VDA GIS Tools
• 04 Geographic Solutions and Demographic-Economic Estimates & Projections
• 05 Web meetings

Interactive Table & Profiles
Use the interactive table below to view, rank, compare selected characteristics of each/all more than 13,000 school districts. New 2021-22 school year data have been recently added.

Demographic-Economic Data Explorer
Use the Demographic-Economic Data Explorer (DEDE) to access and create datasets drawn from Federal Statistical System

Use DEDE to develop Comparative Analysis Profiles
• Illustrative examples:
... Los Angeles Unified & Houston ISD
... Wichita USD KS & Kansas
• Request one for your district; use this form .. enter primary & comparison district names in text box.

• Illustrating side by side comparison of an ESD intersecting with corresponding SSD in Fresno, CA area
... Click to view Alvina ESD CA & Caruthers SSD CA HTML ACS 2019 5-year
Caruthers district comprised of two separate parts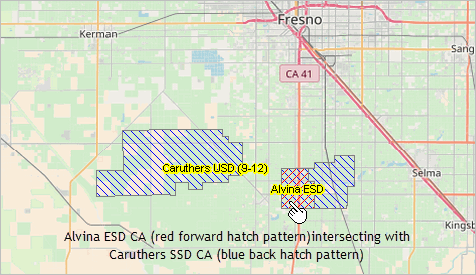 VDA GIS Tools
Use the Visual Data Analytics (VDA) Web GIS to map and geospatially analyze schools and school districts in context of other geography and subject matter. GIS (Geographic Information System) tools can do more than just make maps. They help us understand patterns and relationships that can only be with this technology. Below are some examples of using VDA GIS tools.

Patterns of Poverty Rate for Population Ages 5-17 by School District


.. click graphic for larger view.
.. see notes below for additional detail.

Elementary, Secondary, Unified School Districts
.. illustrative examples for the extended Los Angeles, CA area
.. most states have only unified districts
.. elementary districts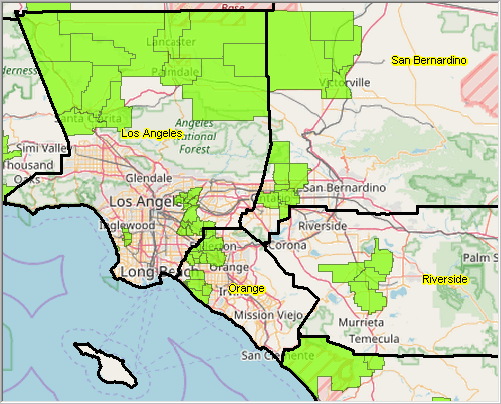 .. secondary districts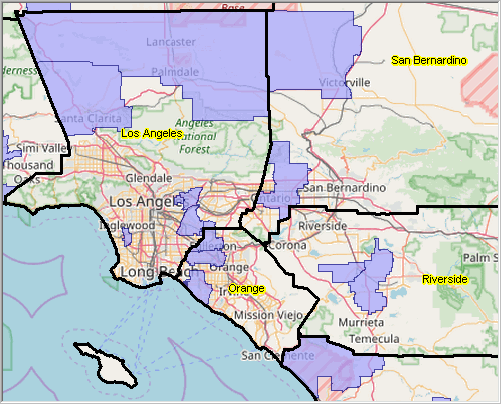 .. unified districts; LA Unified shown with darker color
.. nationally, unified districts comprise approximately ~10,000 of total ~13,000 districts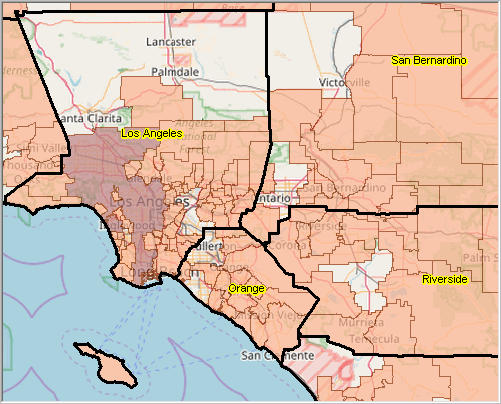 Patterns of Poverty Rate for Population Ages 5-17 by School District
.. Fresno, CA region zoom-in
.. bold boundaries show counties
.. legend shows color patterns associated with poverty rates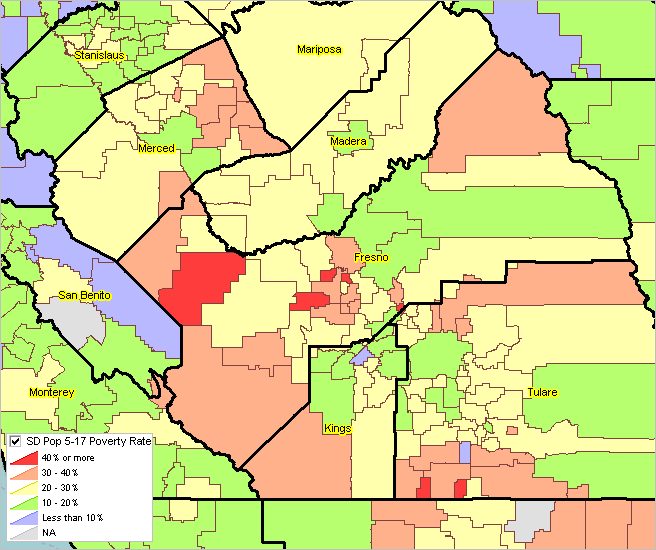 .. click graphic for larger view .. view poverty rates as labels by district
.. expand browser window for best quality view.
.. see notes below for additional detail.

Geographic Solutions and Demographic-Economic Estimates & Projections
- Geographic Solutions -- developing attendance zones
- Demographic-Economic Estimates & Projections

Web meetings
Join us in the weekly Web Meetings
Every Tuesday: Accessing & Using Demographic-Economic Data
Every Thursday: Using GIS Tools & GeoSpatial Analysis

School Districts 2021-22 Characteristics Interactive Table .. goto top
... Click on header to sort; click header again to sort other direction.
... Click ShowAll button between queries (resets view/table).
... View additional notes below table. See other interactive tables.

Using the Table
• Cell value codes:
- 1 indicates that the data are not applicable
- 2 indicates that the data are missing
- 3 indicates that the data do not meet data quality standards
• See column descriptions below.
• Click ShowAll button between queries (resets view/table).

Column descriptions

- Name
- St
- LEAID
- ZIP
- Public Schools
- Charter Schools
- Type
- State Code
- Profile Link
- Teachers
- Std/Tch Ratio
- Total Staff
- Students 2018-19
- Students 2021-22
- Reserved
- Enrl Grades 1-8
- Enrl Grades 9-12
- Enrl Grade PK
- Enrl Grade K
- Enrl Grade 1
- Enrl Grade 2
- Enrl Grade 3
- Enrl Grade 4
- Enrl Grade 5
- Enrl Grade 6
- Enrl Grade 7
- Enrl Grade 8
- Enrl Grade 9
- Enrl Grade 10
- Enrl Grade 11
- Enrl Grade 12
- Male
- Female
- Native Amer
- Asian
- Hispanic
- Black
- White
- Native Hawaiian
- Multi race
SAIPE Based Estimates
TotPop 2021 .. Total Population
Pop 5-17 2021 .. Grade Relevant Ages 5 to 17
PopPov 5-17 2021 .. Grade Relevant Ages 5 to 17 in Families in Poverty
PopPov 5-17 Rate 2021 .. Grade Relevant Ages 5 to 17 Poverty Ratio
- ESD Code
- SSD Code
- USD Code
- SD Code

Support Using these Resources .. goto top
Learn more about demographic economic data and related analytical tools. Join us in a Data Analytics Lab session. There is no fee for these Web sessions. Each informal session is focused on a specific topic. The open structure also provides for Q&A and discussion of application issues of interest to participants.

ProximityOne User Group
Join the ProximityOne User Group to keep up-to-date with new developments relating to geographic-demographic-economic decision-making information resources. Receive updates and access to tools and resources available only to members. Use this form to join the User Group.

Additional Information
ProximityOne develops geographic-demographic-economic data and analytical tools and helps organizations knit together and use diverse data in a decision-making and analytical framework. We develop custom demographic/economic estimates and projections, develop geographic and geocoded address files, and assist with impact and geospatial analyses. Wide-ranging organizations use our software, data and methodologies to analyze their own data integrated with other data. Follow ProximityOne on Twitter at www.twitter.com/proximityone. Contact ProximityOne (888-364-7656) with questions about data covered in this section or to discuss custom estimates, projections or analyses for your areas of interest.