Certificate in Data Analytics
-- Data Analytics Methods & Resources

Decision-Making Information


ProximityOne
information resources & solutions
(888) DMI-SOLN
(888) 364-7656













How to improve our ability to understand where we are ... and where we are going? How can we use data to better understand patterns, where and how change will occur ... and how change will impact us? Have we got the best data to answer the right questions? Data Analytics can help meet these needs.

Benefits
Extend your skill set to use Data Analytics in your job, business and/or academic/intellectual pursuits. Complete the Certificate in Data Analytics program and benefit from having new skills and abilities not available to others. You will receive:
• New, extended skill set and knowledge not available elsewhere.
• Data Analytics Methods & Resources Guide by Warren Glimpse.
• Tools used in the program and yours to keep.
• Certificate in Data Analytics awarded upon completion.

Instructor
Warren Glimpse .. about
Register for updates .. email updates & Data Analytics Web Sessions

Program
The program is designed as a self-paced online course. Start any time. There are 15 online segments. The program equivalences a university 3-hour credit course. Each session features a video segment by Warren Glimpse. Complete the program at your own pace. The program can be completed within a month. Once enrolled, you will receive course materials and be able to start.

Data Analytics involves a blend of analytical thinking, vision and technical knowledge/capabilities. The goal of this course is to provide participants with the knowledge to be more successful in understanding and using Data Analytics. For some, it might more important to understand what can be expected from Data Analytics, and how an organization can better proposer through use of Data Analytics, rather than actually performing Data Analytics operations.

Resources
Participants will be certified to use these resources:
1. Visual Data Analytics (VDA) Web GIS
2. VDA Desktop
3. Demographic-Economic Data Extraction API Tools
4. Modeler Tools
5. Situtation & Outlook Estimates & Projections
6. Census 2020 Geographic/Subject Matter Data Resources
7. American Community Survey Geographic/Subject Data Resources

- Prior knowledge about any of these resources is not required.
- At the end of the course participants will be proficient users of the software, data and data analytics.
- Learn how to interface data and analytical results for use with Excel.

Prerequisites
Participants must be licensed users of items 1-5 above.
There are no formal knowledge/experience/degree prerequisites. Factors that will be helpful:
• Courses in statistics, computer applications, databases and quantitative analysis.
• Experience in developing, processing or integrating data.
• Having a specific focus on your utilization of Data Analytics.

Participants must use a Windows-based computer and Internet access.

Enrollment & More Information
Start the program within the week ahead - or whenever its works for you. Set your own pace; proceed through the course on your own schedule. Complete the registration form below to get started. You will receive a confirmation email and session start-up details.

Course Options
DA101 -- Data Analytics Certificate Course .. $1,495
.. for those with less experience; learning the basics
.. like general economics or introduction to statistics

| | | | |
| --- | --- | --- | --- |
| Item | Description | Price | Click to Order |
| DA101 | Certificate in Data Analytics Course DA101 | $1,495 | |

DA301 -- Data Analytics Certificate Course Package; .. $1,495
.. sequel to DA101, more advanced topics
.. like advanced economics or applied statistics course

| | | | |
| --- | --- | --- | --- |
| Item | Description | Price | Click to Order |
| DA301 | Certificate in Data Analytics Course DA301 | $1,495 | |

For registration questions, call (888) 364-7656 or use the contact us form.

Data Analytics Methods & Resources Guide -- Topics Overview
The graphic presented below shows the Data Analytics Methods & Resources Guide. A summary of the 15 modules is shown in the left section. Use of Geographic Information System (GIS) resources, visual analysis and geospatial analysis is integrated throughout the course. The two topics specifically on GIS are focused on GIS concepts, thinking, GIS resource and effective methods of using GIS for collaboration, fast/cost-effective analysis and map-oriented design and production. Contact us with questions or for more detail.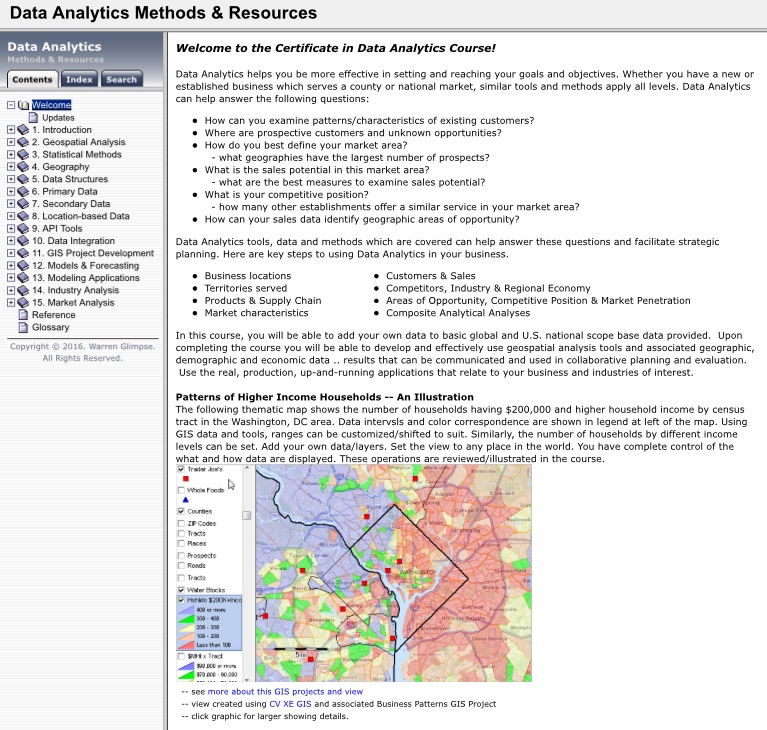 Additional Information
ProximityOne develops geodemographic-economic data and analytical tools and helps organizations knit together and use diverse data in a decision-making and analytical framework. We develop custom demographic/economic estimates and projections, develop geographic and geocoded address files, and assist with impact and geospatial analyses. Wide-ranging organizations use our tools (software, data, methodologies) to analyze their own data integrated with other data. Follow ProximityOne on Twitter at www.twitter.com/proximityone. Contact us (888-364-7656) with questions about data covered in this section or to discuss custom estimates, projections or analyses for your areas of interest.