Census Blocks and Block Codes

Census blocks are "statistical areas bounded by visible features, such as streets, roads, streams, and railroad tracks, and by nonvisible boundaries, such as selected property lines and city, township, school district, and county limits and short line-of-sight extensions of streets and roads." Use the interactive table in this section to view Census 2010 tallies of census tracts, block groups and census blocks.

Census 2020 Blocks


In areas of rapid change, Census 2020 blocks may represent a different geographic area and have different geocodes than the corresponding area covered by Census 2010 blocks. Census 2020 block geometry and geocodes are defined by the Census 2020

TIGER

available in early 2021. See

more about Census 2020

.

Residential address counts (housing units) and group quarters counts (October 2019 vintage), developed for Census 2020, are available by

Census 2010 census block

. See

more about using these data

.


Using GIS & GeoDemographics


Whether you are a

GIS

user or not yet using GIS, you can benefit from our self-paced, online course

Using GIS & GeoDemographics

. Learn more about using census block shapefiles and mapping, analyzing wide ranging demographic data at the block level. See

additional information

.


See related sections:
• census tracts and tract codes
• census block groups and block group codes
• boundaries defined by TIGER/Line shapefiles
• Warren Glimpse blog on this topic ... searchable list of blog posts

Use the AddressCoder software to:
• determine/assign latitude-longitude coordinates to your address data.
• assign tract, block group and block codes to your address data.
• assign subject matter (demographics) to your address data.
• create a shapefile to map your addresses in context of other geography.

Determine Block Codes Based on Address
• Key in an address here to find codes/names based on address.

Census blocks are the smallest unit of tabulation geography defined by the Census Bureau - there were a total of 11,166,336 defined for the 2010 census, covering the U.S. and its territories - but are diverse in size. While the largest block is over 8,500 square miles (in Alaska), half the blocks are smaller than a tenth of a square mile (6.4 acres). Census blocks cover the U.S. from wall-to-wall.

Subject Matter Data
An important feature of census blocks is that they are the smallest geography for which decennial census data are tabulated. Census block subject matter data, e.g. population, are tabulated only for the decennial census. Their "hierarchical" structure makes it possible to aggregate subject matter data, such as the population of a certain age, to higher level geography including tracts, cities, congressional districts, etc.

Vintages
Census blocks are statistical area geography. Boundaries and codes may be redefined for each decennial census. Census 2010 block boundaries and codes will generally remain unchanged until Census 2020. There are a few exceptions.

Codes, Geocodes & Referencing
The codes used to identify blocks reflect the basic census geographical hierarchy: the country is made up of states, states are made up of counties (and county equivalents like parishes and independent cities), counties are made up of census tracts, and census tracts are made up of census blocks. Even though a block code only occurs once in each tract, it may be used again in another tract. Same goes for tracts in counties. Therefore, a particular census block within the nation must be identified by: its state code, its county code, tract code and its block code.

• States and the territories are identified by a 2-digit code.
• Counties within states are identified by a 3-digit code.
• Tracts within counties are identified 6-digit code.
• Blocks within tracts are identified by a 4-digit code.

Combine these codes to uniquely identify a census block in U.S. (15 characters). For example, the census block containing the Office of the California Secretary of State, located at 1500 11th St, Sacramento, CA 95814, is uniquely identified by the code 060670011011085. In the map views shown below the table, the address has been geocoded using the APIGeocoder and is shown as a red marker.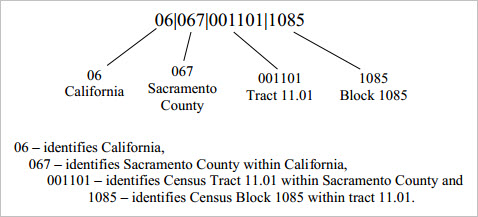 Census blocks are numbered uniquely with a four-digit census block number from 0000 to 9999 within census tract which nest within state and county. The first digit of the census block number identifies the block group. Block numbers beginning with a zero (in Block Group 0) are only associated with water-only areas.

Tracts. Block Groups & Blocks by State/Area -- interactive table
Click ShowAll button to refresh/reset; click column header to sort on that column; click again to sort other direction.
See ranking table usage notes below ranking table. See related ranking tables -- http://proximityone.com/rankingtables.htm.


Map View: Census Tracts
Tracts are labeled with green tract codes.
Address 1500 11th St, Sacramento, CA 95814 is shown by red marker.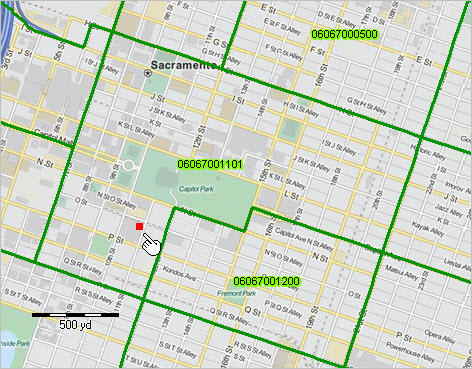 View created using CV XE GIS.

Map View: Zoom-in to Census Block
Blocks are labeled with yellow block codes.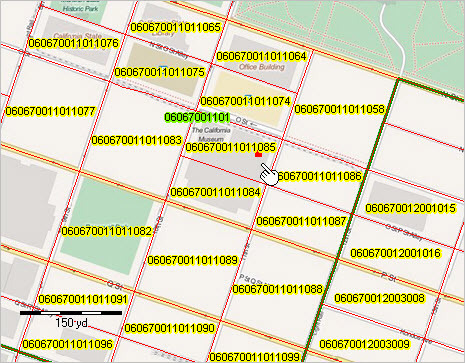 View created using CV XE GIS.

Map View: Further Zoom-in Showing Streets
Streets are labeled with street names.
Identify tool is used to show mini-profile for 1500 block of 11th Street.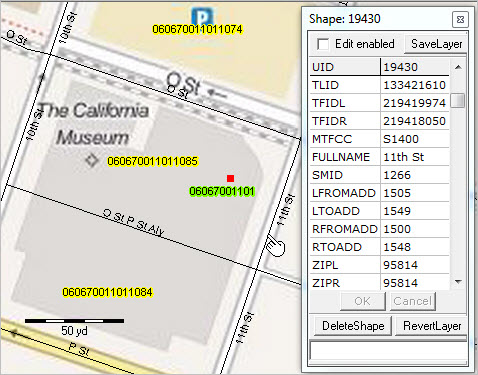 View created using CV XE GIS.

Is the tract code 11.01 or 001101?
Both. Census tracts within a county are identified by a 4-digit basic code between 0001 and 9999, and may have a 2-digit suffix ranging from .01 to .98; for example, 6059.02. The decimal point separating the 4-digit basic tract code from the 2-digit suffix is shown in Census Bureau printed reports and maps. For geo-referencing, the decimal point is implied and does not appear; the 6-character tract code with lead zeroes is used -- a character string with no blanks and all numbers.

Support Using these Resources
Learn more about accessing and using demographic-economic data and related analytical tools. Join us in a Data Analytics Lab session. There is no fee for these one-hour Web sessions. Each informal session is focused on a specific topic. The open structure also provides for Q&A and discussion of application issues of interest to participants.

ProximityOne User Group
Join the ProximityOne User Group to keep up-to-date with new developments relating to geographic-demographic-economic decision-making information resources. Receive updates and access to tools and resources available only to members. Use this form to join the User Group.

Additional Information
ProximityOne develops geographic-demographic-economic data and analytical tools and helps organizations knit together and use diverse data in a decision-making and analytical framework. We develop custom demographic/economic estimates and projections, develop geographic and geocoded address files, and assist with impact and geospatial analyses. Wide-ranging organizations use our tools (software, data, methodologies) to analyze their own data integrated with other data. Follow ProximityOne on Twitter at www.twitter.com/proximityone. Contact ProximityOne (888-364-7656) with questions about data covered in this section or to discuss custom estimates, projections or analyses for your areas of interest.