Census 2020 P.L. 94-171 Redistricting Data
-- use resources and processes outlined here to meet wide-ranging needs

February 2021. New redistricting data. New opportunities to undo gerrymandering ... the first 2020 decennial census data, geographic data, have been released starting January 19, 2021. These initial geographic data are in the form of shapefiles developed for use with Geographic Information System (GIS) software.

The P.L. 94-171 files are developed to meet the needs of states for purpose of redistricting congressional boundaries based on Census 2020 data. These data/files have many uses.
• the first "iteration" of the 2020s U.S. national scope digital map database.
.. many tracts, block groups, census blocks are updated (codes & areas)
to reflect population change since 2010.
• availability of voting districts (precincts).
.. not available elsewhere in a current and standardized structure.
.. related section shows precincts in context of state legislative districts.
• updated street/road shapefiles (intersection-to-intersection detail)
.. enabling more current routing and geo-referencing applications.

P.L. 94-171 Shapefiles Technical Documentation

ProximityOne Census 2020 Data Analytics Program
This section will continue to evolve. Join the ProximityOne User Group to receive updates as new developments occur. ProximityOne uses Census 2020 data to produce current (e.g. 2021 and beyond) estimates and projections. Participate in the ProximityOne Census 2020 Data Analytics program providing a comprehensive set of tools and data to meet wide-ranging needs.

Census 2020 P.L. 94-171 Demographic Data
It is anticipated that the initial demographic data will be released in April 2021. The initial demographic data include the April 1, 2020 total population by state and the U.S. for apportionment of the U.S. House of Representatives. More detailed demographic data, to the census block level, will be released on a state-by-state flow basis during 2021 and 2022. The first more detailed data will be released as part of the P.L. 94-171 program. See the P.L. 94-171 geography technical documentation for more more information.

P.L. 94-171 Availability Status & Tracts GIS Project .. goto top
Available states:
AR,CA,CO,DE,HI,IA,IN,LA,NJ,MD,MA,MS,MO,NE,NC,NV,NY,OH,OR,PA,SD,VA,WA,WI

P.L. 94-171 Redistricting Data: Importance in Census 2020 Program .. goto top
The P.L. 94-171 redistricting data are an important component of Census 2020. These are the first geographic and demographic more detailed data to be released from Census 2020. They provide the first opportunity to analyze "current" small area (census block up) demographics and change since 2010. These data are the foundation of many redistricting operations, far broader than congressional reapportionment/redistricting. The data provide geographic relationship codes new for Census 2020. The P.L. 94-171 shapefiles and related geographic files are part of the Census Bureau TIGER/Line digital map database. The TIGER/Line files are updated annually or more frequently.

Illustration of Using the P.L. 94-171 Shapefiles .. goto top
The following graphic illustrates use of several Census 2020 P.L. 94-171 shapefiles for the Fayetteville, AR area. The city is shown with a green fill pattern. Census 2010 census tracts are shown with a blue boundary and blue background tract code labels. Census 2020 ceneus tracts are shown with a wider gray boundary and white background tract code labels. It is easy to see how some tract boundaries and code have changed from 2010 to 2020. Tracts are defined to average ~4,000 population. Census 2020 census block are shown with black boundaries.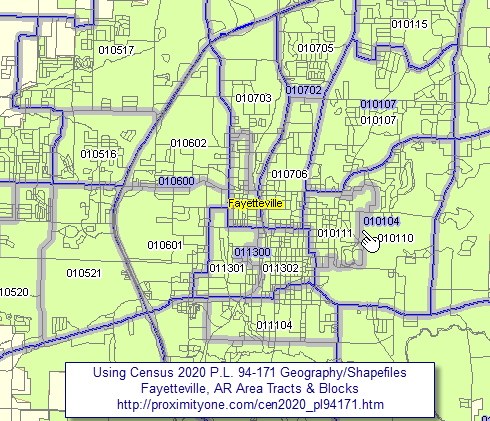 - view developed using ProximityOne CV XE GIS software; use this on your own computer; create similar views.
- click graphic for larger view. Expand browser window to full screen for best quality view.

The area with the blue boundary by the pointer is 2010 census tract code 010104. That census 2010 tract was split into the two census 2020 tracts with codes 010110 and 010111. In this example, only the 6 character tract code is used. These tracts are part of Washington County, AR (state+county FIPS code 05143). The full, nationally unique, Census 2020 tract codes (GEOID) are 05143010110 and 05143010111. The 6 character version is used in this map view to save space.

About the P.L. 94-171 Program .. goto top
Public Law 94-171, enacted by Congress in December 1975, requires the Census Bureau to provide state legislatures with the small area census population tabulations necessary for legislative redistricting. The law also specifies that states choosing to participate in the voluntary program will define the small areas for which specific data tabulations are desired and submit these areas following timelines established by the Census Bureau. These small areas include census block boundaries, voting districts, and state legislative districts.

The Census Bureau must transmit the total population tabulations to the states within one year of census day, normally April 1 of the year following the census. The Census redistricting program provides states the opportunity to delineate voting and state legislative districts and to suggest census block boundaries for use in the decennial census redistricting data tabulations (Public Law 94-171 data).

Support Using these Resources .. goto top
Learn more about demographic economic data and related analytical tools. Join us in a Data Analytics Lab session. There is no fee for these Web sessions. Each informal session is focused on a specific topic. The open structure also provides for Q&A and discussion of application issues of interest to participants.

ProximityOne User Group .. goto top
Join the ProximityOne User Group to keep up-to-date with new developments relating to geographic-demographic-economic decision-making information resources. Receive updates and access to tools and resources available only to members.Use this form to join the User Group.

Additional Information
ProximityOne develops geodemographic-economic data and analytical tools and helps organizations knit together and use diverse data in a decision-making and analytical framework. We develop custom demographic/economic estimates and projections, develop geographic and geocoded address files, and assist with impact and geospatial analyses. Wide-ranging organizations use our tools (software, data, methodologies) to analyze their own data integrated with other data. Follow ProximityOne on Twitter at www.twitter.com/proximityone. Contact us (888-364-7656) with questions about data covered in this section or to discuss custom estimates, projections or analyses for your areas of interest.