Demographic Trends 2010-2060
.. Population Estimates & Projections for U.S., States, Metros, Counties, Tracts
.. new projections incorporate results of Census 2020
.. see 2022 release dates

December 2021 .. how are county demographics changing in face of the pandemic and related factors? By 2030, all baby boomers will be older than age 65. This will expand the size of the older population so that 1 in every 5 residents will be retirement age. Older people will outnumber children for the first time in U.S. history by 2035 .. there will be 78.0 million people 65 years and older compared to 76.4 million under the age of 18. These recent projections will change. Many factors affect the change to the county level. Projections frequently to reflect the impact of these changing factors. An example, More than 53,000 migrants traveled as families to cross the southern border in March 2021, more than double the roughly 19,250 in the prior month, and the highest of border crossings in 15 years. How might this impact net migration at the county level. Now, next year, into the future?

Population Percent Change by County 2010-2060
Patterns of county population change 2010-2060 based on ProximityOne projections 2020-2060.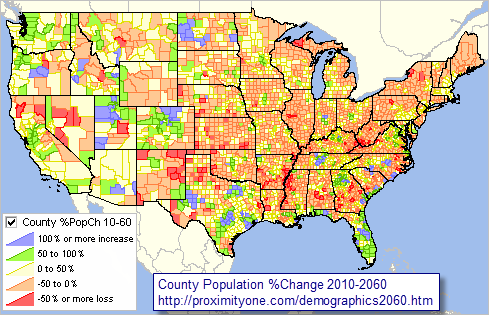 .. view developed with ProximityOne CV XE GIS and related GIS project.
.. click graphic for larger view.

Demographic Projections by ProximityOne
Demographic projections to 2060 are a part of the ProximityOne Situation & Outlook (S&O). These data are used by private and public sector organizations to meet management, research, planning and analytical needs. See how USA TODAY used these data to analyze county level diversity 2060 .. view a county/state diversity profile for any county.

2022 Release Dates
Available as data file and via DEDE+, CV XE GIS, VDA Web GIS

03.31.22 Annual Projections to 2060 by County
2010 to 2060 annual population estimates & projections
Vintage C2022
population by 5-year age cohort (0-4, 5-9, .. 80-84, 85up)
developed using Census 2020 results (uses Demographic Profile; released 2022)

04.19.22 Annual 5-Year Projections by Tract & County
2020 to 2026 annual 5-year demographic-economic estimates & projections
Vintage T2022
richer demographic-economic data
developed using Census 2020 (Demographic Profile) & ACS 2020 results

07.12.22 Projections to 2060
2010 to 2060 annual population estimates & projections
Vintage C2022B
population by 5-year age cohort (0-4, 5-9, .. 80-84, 85up)
developed using Census 2020; ACS 2020; Census PopEst 2021

07.12.22 Annual 5-Year Projections by Tract & County
2020 to 2027 annual 5-year demographic-economic estimates & projections
Vintage T2022A
richer demographic-economic data
developed using Census 2020; ACS 2020; Census PopEst 2021


U.S. County Population Trends: 2010 - 2060 Interactive Table .. gototop
• This table contains illustrative data. See terms of use below.
.. we develop annual updates with revisions during the year.
• Get the most recent projections; purchase data in Excel/CSV structure.
.. data as shown in table -- $495 --
.. data as shown in table but including annual data 2010-2060 -- $1,295 --


Usage Notes
General navigation:
• Use vertical scroll bar at right to scroll across areas.
• Use horizontal scroll bar below table to scroll right & view 2010-2060 change.
• Click a column header to sort on that column; click column header again to sort in other direction.
• Click ShowAll button to show all areas.

Filtering & queries:
• Click ShowAll button between queries.
• Click State (dropdown below table) to select all areas in a selected state.
• Key in text/area name in text box to right of Find-in-Name button then click button to locate all matches (case sensitive).
.. searches column 1; default is Harris (for Harris County-Houston TX area); use your own area name of interest.
• Key in CBSA/metro code in text box to right of Find-in-CBSA button then click button to locate all matches (case sensitive).
.. optionally get 5-character CBSA code from scroll section (above, right).
.. searches CBSA column, default is 26420 (Houston TX metro); use a CBSA code of interest.

Column Headers
• Type - Type of geography; summary level (see below)
• StCty - State + County FIPS Code
• CBSA - Core-Based Statistical Area Code
• Pop2010 -- 7/1/10 Census Bureau
ProximityOne Projections using Model Option 2
• Pop2020 -- 7/1/2020
• Pop2030 -- 7/1/2030
• Pop2040 -- 7/1/2040
• Pop2050 -- 7/1/2050
• Pop2060 -- 7/1/2060
• Ch2010-60 -- population change 2010 to 2060
• %Ch2010-60 -- percent population change 2010 to 2060

Methodology & Vintages go to top
Demographic projections presented in this section are developed using an annual time series model. The population in period t (P[t]) for a county is defined/projected using the identity:
P[t]:=P[t-1]+B[t]-D[t]+IM[t]+DM[t], where:
- P[t] -- resident population as of 7/1/t
- P[t-1] -- resident population as of 7/1/t
- B[t] -- births during the period 6/30/t-1 to 7/1/t
- D[t] -- deaths during the period 6/30/t-1 to 7/1/t
- IM[t] -- international migration during the period 6/30/t-1 to 7/1/t
- DM[t] -- domestic during the period 6/30/t-1 to 7/1/t

• Projections are developed as vintages (released on a certain date).
• County projections are developed annually and are updated in March and July
.. the July update integrates updated age, race/origin and gender detail
.. data presented in the table are extracts showing total population every 10 years
.. the underlying dataset includes annual data for many items used in the model
• Projections are developed for various scenarios.
.. the option 2 scenario uses these assumptions:
.. crude birth rate declines over time
.. crude death rate increases over time
.. migration follows patterns exhibited during the period 2010-2020
.. historical annual data for the period 2010 through 2020 use Census Bureau estimates
.. some counties are adjusted for specific circumstances
• Different model specifications and vintages will have different projected values.

Demographics2060 Software & Data Analytics go to top
The Demographics2060 software is used to develop, manage access to and support analysis of the demographics estimates and projections. A version of the Demographics2060 Windows based software is available to users of the Demographics2060 data. The start-up view of the application is shown below. The grid, showing a profile for Fresno County, CA, can be structured to show different data views, such as comparative analysis, percentages, selected items across geography by row, etc. Optionally revise individual county models used to develop the projections. Link data from other sources. See sample profiles below created by 1) dbl-clicking a geoname from listbox at left, then 2) clicking SaveXLS button.



Profile Organization & Usage go to top
The following county base profile examples (links opening XLS spreadsheets) illustrate how the profiles are organized. These data are multi-sourced from ProximityOne and Federal Statistical System agencies. These examples makes use of the "base" profile with data running by year across columns, 2010-21, and subject matter by row. The base profiles update frequently. See the above projections schedule for additional information. Members of the no fee ProximityOne User Group receive email updates. Join here. Projections are not provided here; the projections continue to the 2060 column where provided.

The profiles are organized into four sections:
• General Demographics (all counties; only these items are projected 2060)
.. population and components of change
.. selected population groups
.. population by gender
.. population by race/origin
.. population by single year of age
.. population by 5-year age and other age groups
• Social Characteristics (counties 65,000 population or more; projections to 2030)
.. households and living arrangements
.. educational attainment
• Economic Characteristics (projections to 2030)
.. households by income (counties 65,000 population or more)
.. median household income
.. establishments by sector
.. employment by sector
.. wages by sector
.. real GDP by sector
• Housing Characteristics (projections to 2030)
.. housing units by occupancy & tenure (counties 65,000 population or more)
.. new residential construction (number of units & values) by units in structure
.. housing price index (counties where available; based on transactions activity

Terms of Use go to top
Data provided via this Web page are subject to these terms of use:
- they may not distributed except as used in studies or stories.
- they are intended for non-business or commercial use.
- we request that any usage include reference to ProximityOne and a link to this page: http://proximityone.com/demographics2060.htm
- there is no warranty or guarantee of any type for any aspect of these data.
- the user of these data is solely responsible for any use of these data.

Data Access Options go to top
Options for accessing the U.S. by County data for business and non-business applications:
• Option 1. Variation of above table with ability to multi-select rows and paste row to new Excel file.
• Option 2. Data as shown in table; Excel file.
• Option 3. Data as shown in table extended with annual data 2010 through 2060; Excel file.
• Option 4. Option 3 plus downloadable shapefile with integrated data and ready to use GIS project.
.. create maps like those shown above; add other data; zoom and label as desired.
.. use with CVGIS software (included) or use shapefile with any software able to read shapefiles.

Contact us for more information. Enter County Projections and option of interest in text section. Or call 888.364.7656.

ProximityOne User Group
Join the ProximityOne User Group to keep up-to-date with new developments relating to metros and component geography decision-making information resources. Receive updates and access to tools and resources available only to members. Use this form to join the User Group.

Support Using these Resources
Learn more about accessing and using demographic-economic data and related analytical tools. Join us in a Data Analytics Lab session. There is no fee for these one-hour Web sessions. Each informal session is focused on a specific topic. The open structure also provides for Q&A and discussion of application issues of interest to participants.

Additional Information
ProximityOne develops geodemographic-economic data and analytical tools and helps organizations knit together and use diverse data in a decision-making and analytical framework. We develop custom demographic/economic estimates and projections, develop geographic and geocoded address files, and assist with impact and geospatial analyses. Wide-ranging organizations use our tools (software, data, methodologies) to analyze their own data integrated with other data. Follow ProximityOne on Twitter at www.twitter.com/proximityone. Contact us (888-364-7656) with questions about data covered in this section or to discuss custom estimates, projections or analyses for your areas of interest.