Congressional Districts & State Legislative Districts Data Analytics
-- join us ... the CDSLD Group
-- topics on tools, methods, geostatistical data and data analytics
relating to voting districts, congressional districts & state legislative districts

The CDSLD Group, maintained by Warren Glimpse/ProximityOne, is a forum intended for individuals interested in accessing and using geodemographic data and analytical tools relating to voting districts, congressional districts & state legislative districts and related geography with drill-down to intersection/street segment and census block level. We are about expanding the number of voters (among the citizen voting age population), improving voter participation, making geodemographic tools and data more accessible and useful to address a wide range of topics. Are you in real estate, planning, business? These topics/resources can also benefit you.

Receive updates on these topics, data analytics and access to GIS-related resources. There is no fee. Join in!

Updates
• Most updates are sent to members by e-mail. E-mails are posted in the digest section below.
• Face-to-face sessions. Several face-to-face sessions are scheduled. More will be added
...see dates, locations, topics; register - no fee
• CDSLD GIS Project/Datasets with CV XE GIS software - no fee
... authorized members can start using these data analytics tools
... install on your Windows computer; used/reviewed in face-to-face & web sessions
... see details in 12/20/17 post in digest section
... start-up view:; click graphic for larger view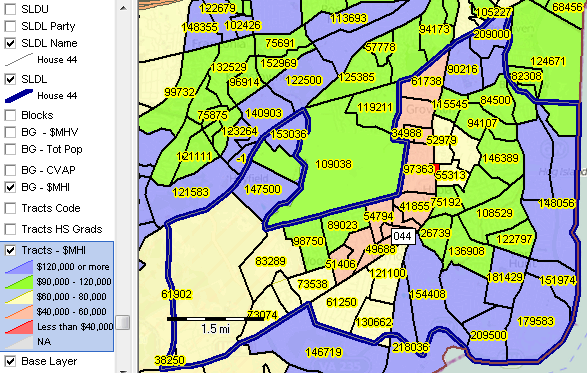 • Join us in weekly Data Analytics Web Sessions
... covering CDSLD topics & discussion on your topics of interest

About the CDSLD Group
CDSLD Group participants receive e-mail updates and may access tools and resources posted/announced in the forum. Receive updates on topics such as those data and analytical resources described in these sections:
This section knits together with these related sections:
• Voting Districts - election precincts
• Congressional Districts
.. 115th Congressional Districts
• State Legislative Districts
• Citizen Voting Age Population Demographics - tract & block group
• Citizen Voting Age Population Demographics - county & state
• CVAP & Voter Demographics - characteristics of those voting in 2014 elections
• America's Communities
• Voter Mobilization Resources & Methods
• Mapping Statistical Data
.. CD/SLD GIS resources you can use
• Census 2010 and American Community Survey (ACS) demographic data
.. relating to data for CDs, SLDs, VTDs & other geography to census block level.
• Census Bureau Digital Map Database - to intersection/address level
.. updates, augmentations, access and applications relating to CD/SLD analysis
• Census 2020 planning, schedule & data access.

The CDSLD Group is a member-based group. Join here. There is no fee.

This page provides:
• an overview portal for the CD-SLD Group accessible by anyone
• CD-SLD Digest (shown below; visible only to logged in members)
• supplementary details, graphics and download/access information.

CDSLD Digest -- visible only to logged in members



Support Using these Resources
Learn more about accessing and using demographic-economic data and related analytical tools. Join us in a Data Analytics Lab session. There is no fee for these one-hour Web sessions. Each informal session is focused on a specific topic. The open structure also provides for Q&A and discussion of application issues of interest to participants.

Additional Information
ProximityOne develops geodemographic-economic data and analytical tools and helps organizations knit together and use diverse data in a decision-making and analytical framework. We develop custom demographic/economic estimates and projections, develop geographic and geocoded address files, and assist with impact and geospatial analyses. Wide-ranging organizations use our tools (software, data, methodologies) to analyze their own data integrated with other data. Follow ProximityOne on Twitter at www.twitter.com/proximityone. Contact us (888-364-7656) with questions about data covered in this section or to discuss custom estimates, projections or analyses for your areas of interest.