Congressional District Analysis and Insights
.. examining patterns of median household income

November 2019 .. median household income is one measure of economic prosperity. This section reviews patterns of median household income (MHI) by 116th Congressional Districts based on the 2018 American Community Survey 1-year estimates (ACS 2018). View, rank, compare the MHI by congressional district, among related demographic attributes using the interactive table on the main Congressional Districts page. This section and related recurring CDSLD analytical focus sections are available to CDSLD group participants. See more below.

116th Congressional District Analysis & Insights
.. patterns of household income & economic prosperity:
Based on the ACS 2018 median household income (MHI):
• the MHI among all districts was $60,291
• the U.S. overall MHI was $61,937
As of November 2019:
• the 19 districts with highest MHI have Democrat incumbents
• the 10 districts with the highest Gini Index have Democrat incumbents
• there are 69 Republican incumbent districts above the all districts MHI
• there are 149 Democrat incumbent districts above the all districts MHI
• the MHI of the 236 Democrat incumbent districts is $66,829
• the MHI of the 199 Republican incumbent districts is $56,505
Median household income is only one measure of economic prosperity.
See more at http://proximityone.com/cd.htm.

Patterns of Economic Prosperity 116th Congressional District
The following graphic shows patterns of 2018 median household income by 116th Congressional District. Use GIS tools/data to generate similar views for any state and/or drill-down. Click graphic for larger view with more detail. Expand browser window for best quality view.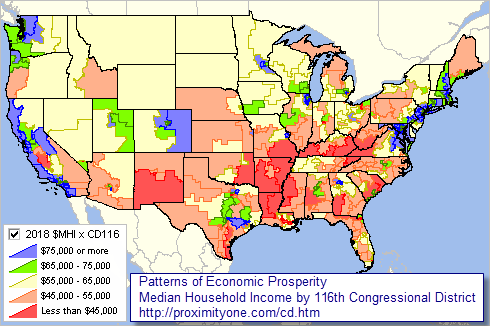 - view developed using ProximityOne CV XE GIS and related GIS project.

About this Section .. goto top
Follow our monthly reviews on Congressional District demographic, social, economic and housing topics .. updates are posted in the CDSLD Group digest section; participants are notified by e-mail .. join now; no fee.

Support Using these Resources .. goto top
Learn more about accessing and using demographic-economic data and related analytical tools. Join us in a Data Analytics Lab session. There is no fee for these one-hour Web sessions. Each informal session is focused on a specific topic. The open structure also provides for Q&A and discussion of application issues of interest to participants.

ProximityOne User Group
Join the ProximityOne User Group to keep up-to-date with new developments relating to geographic-demographic-economic decision-making information resources. Receive updates and access to tools and resources available only to members. Use this form to join the User Group.

Additional Information
ProximityOne develops geographic-demographic-economic data and analytical tools and helps organizations knit together and use diverse data in a decision-making and analytical framework. We develop custom demographic/economic estimates and projections, develop geographic and geocoded address files, and assist with impact and geospatial analyses. Wide-ranging organizations use our tools (software, data, methodologies) to analyze their own data integrated with other data. Follow ProximityOne on Twitter at www.twitter.com/proximityone. Contact ProximityOne (888-364-7656) with questions about data covered in this section or to discuss custom estimates, projections or analyses for your areas of interest.