Hawaii Geographic Demographic Economic Patterns

GeoDemographic Data Analytics for Hawaii & Honolulu County, HI
-- visual pattern orienteering & analysis for selected geographies
-- interactive data access with projections to 2030

This section illustrates use of demographic-economic data and data analytics applied to Hawaii. Topics include relating census block and block group level geodemographics to higher level geography.

What are the demographic characteristics of the total population -- and attributes of that population, households and housing -- served by individual/collective Hawaii schools (school area communities)? See below where this topic is reviewed/illustrated. This information is essential to understanding children's living environment and how it is trending. Create insights into household characteristics within the school attendance area to improve educational outcomes. This illustrates the importance of relating census block and block group demographics to higher level geography.

Topics ... click a link to view section.
00 Hawaii by Metropolitan Areas
30 Demographic Projections to 2030 Single Year of Age & Age Group
01 Urban Areas, Places, Roads
.. Places ... Cities/Places demographics interactive table
02 115th Congressional Districts, Places, Roads
03 State Legislative Districts - Upper/Senate, Places, Roads
04 State Legislative Districts - Lower/House, Places, Roads
05 Block Group Demographic Patterns
-- Citizen Voting Age Population; Asian CVAP population as percent of total population
06 Patterns of Economic Prosperity
-- median household income by census tract with primary roads
07 Patterns of Economic Prosperity
-- median household income by census tract without primary roads
08 Kahala Area by Block Group
-- patterns of median housing value -- MHV labels & thematic pattern
09 Elementary Schools & Areas
10 Middle Schools & Areas
11 High Schools & Areas
12 Examining Elementary School/Area & Census Block/Block Group Demographics

Hawaii by Metropolitan Area -- goto top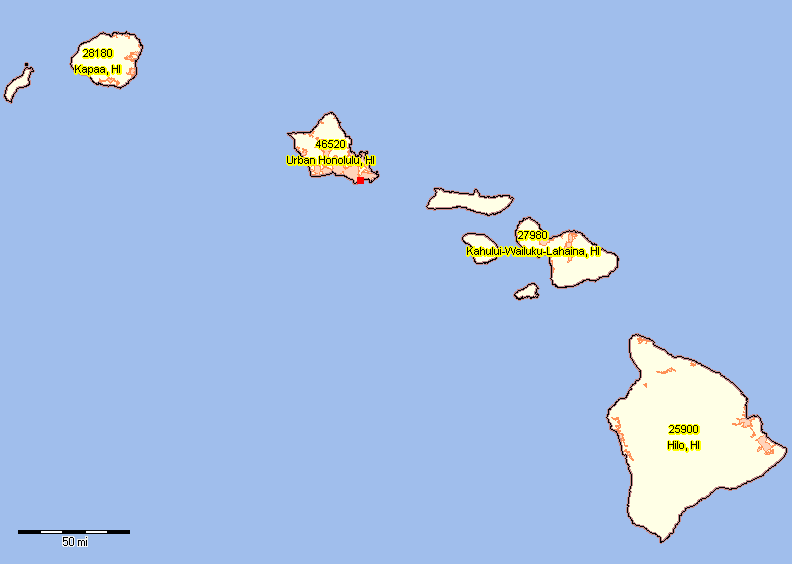 .. view developed with CV XE GIS; click graphic for larger view.
.. map shows four metropolitan area names and codes; urban areas shown with salmon fill pattern
.. Hawaii is comprised of five counties organized into four metropolitan areas:
• Urban Honolulu (CBSA 46520) - Honolulu County
• Hilo (CBSA 25900) - Hawaii County
• Kahului-Wailuku-Lahaina (CBSA 27980) - Maui and Kalawao Counties
• Kapaa (CBSA 28180) - Kauai County
Related web sections:
Metropolitan Areas/CBSAs
Metro Trends
Metro S&O Reports

Demographic Projections to 2030: Hawaii Metros, Counties & Honolulu County by Single Year of Age -- goto top
The following tables show projections to 2030 for selected areas. See more about Outlook 2030
Hawaii is comprised of five counties organized into four metropolitan areas:
• Urban Honolulu (CBSA 46520) - Honolulu County
• Hilo (CBSA 25900) - Hawaii County
• Kahului-Wailuku-Lahaina (CBSA 27980) - Maui and Kalawao Counties
• Kapaa (CBSA 28180) - Kauai County

• Honolulu County, HI <- click lick to view profile
.. county population by single year of age population and 5-year age cohorts
• Honolulu County, HI <- click lick to view XLS file
.. county population by single year of age population, annual data columns 2010 through 2030

See more about Outlook 2030

Honolulu County Urban Areas, Places, Roads -- goto top


.. view developed with CV XE GIS; click graphic for larger view.
Related web sections:
Urban Population
Cities/Places
Roads & Digital Map Database

Hawaii City-Place Population|Housing Change: 1990 to 2010 Interactive Table -- goto top
Click column header to sort; click again to sort other direction.
See related Demographic-Economic Interactive Tables Main Page
Use the interactive table to view the largest places in 1990, 2000 or 2010 or places experiencing largest change. Apply a query/select a state to view places in a selected state. Click a column header on a subject of interest; click a second time to sort in the other direction. Place list controlled to Census 2010; some places may not exist for 1990/2000 (shown as 0 population). Hawaii city/places are CDPs. Intercensal/post-Census 2010 estimates are not developed by the Census Bureau for CDPs.



Items/Columns in Interactive Table


Pop90 - population, 1990 Census
Hsg00 - housing units, 2000 Census
Land90 - land area square miles, 1990 Census
Water90 - water area square miles, 1990 Census

Pop00 - population, 2000 Census
Hsg00 - housing units, 2000 Census
Land00 - land area square miles, 2000 Census
Water00 - water area square miles, 2000 Census

Pop10 - population, 2010 Census
Hsg10 - housing units, 2010 Census
Land10 - land area square miles, 2010 Census
Water10 - water area square miles, 2010 Census

%PC0010 - population percent change, 2000-2010
%HC0010 - housing units percent change, 2000-2010
%L0010 - land area percent change, 2000-2010

Land and water areas are less accurate for 2000 than for 2010. Land and water areas are less accurate for 1990 than 2000. Very small differences in area measurements may not indicate the size of the place changed from census to census. The area measurements are provided to reflect any possible large change in the area of the place.


Honolulu County 115th Congressional Districts, Places, Roads -- goto top


.. view developed with CV XE GIS; click graphic for larger view.
Related web sections:
115th Congressional Districts

Honolulu County State Legislative Districts - Upper/Senate, Places, Roads -- goto top


.. view developed with CV XE GIS; click graphic for larger view.
Related web sections:
State Legislative Districts

Honolulu County State Legislative Districts - Lower/House, Places, Roads -- goto top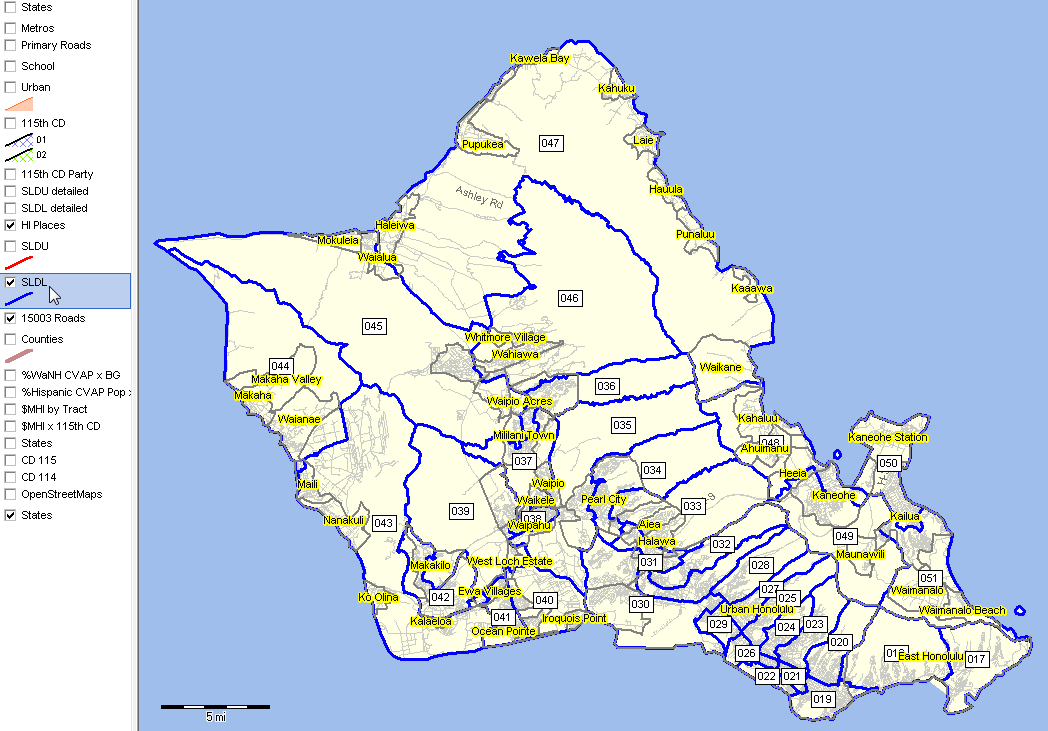 .. view developed with CV XE GIS; click graphic for larger view.
Related web sections:
State Legislative Districts

Honolulu County Block Group CVAP Demographic Patterns in SLDL Context -- goto top
-- Citizen Voting Age Population (CVAP)
Asian CVAP population as a percent of total population by block group
-- in context of house state legislative districts (blue boundary)


.. view developed with CV XE GIS; click graphic for larger view.
Related web sections:
Block Groups
Block Groups - data access & use
Citizen Voting Age Population & block groups

Zoom-in -- Honolulu County Block Group CVAP Demographic Patterns in SLDL Context -- goto top
-- Citizen Voting Age Population (CVAP)
Asian CVAP population as a percent of total population by block group
-- in context of house state legislative districts (blue boundary)
-- labels: in BG: Asian CVAP (yellow); Total population (white); house SLD (white solid)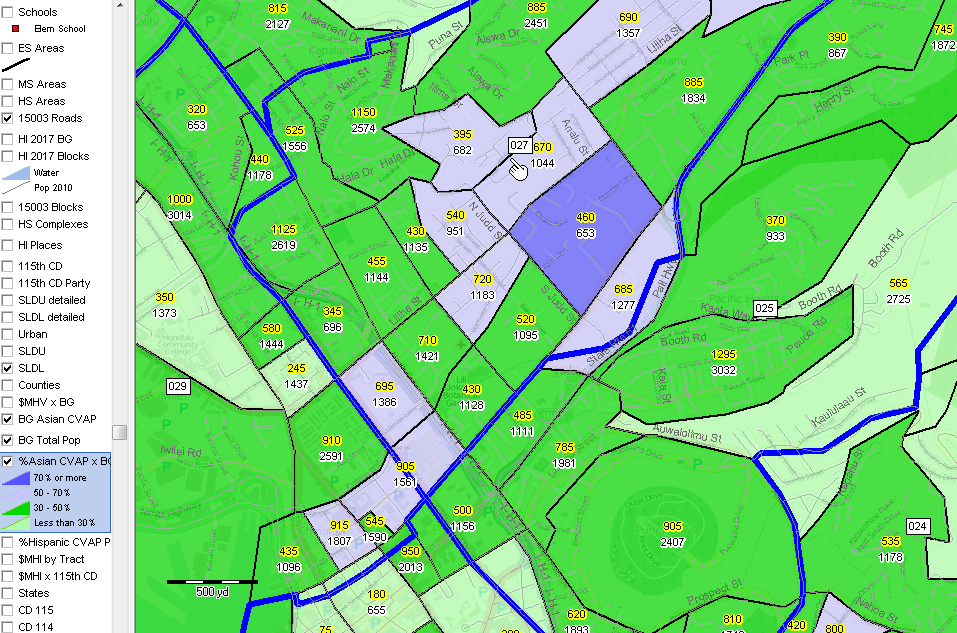 .. view developed with CV XE GIS; click graphic for larger view.
Related web sections:
Block Groups
Block Groups - data access & use
Citizen Voting Age Population & block groups

Honolulu County Patterns of Economic Prosperity -- goto top
-- median household income by census tract
-- with primary roads


.. view developed with CV XE GIS; click graphic for larger view.
Related web sections:
Census Tracts
Census Tract data access & use
Census Tract 5 year demographic-economic projections

Honolulu County Patterns of Economic Prosperity -- goto top
-- median household income by census tract
-- without primary roads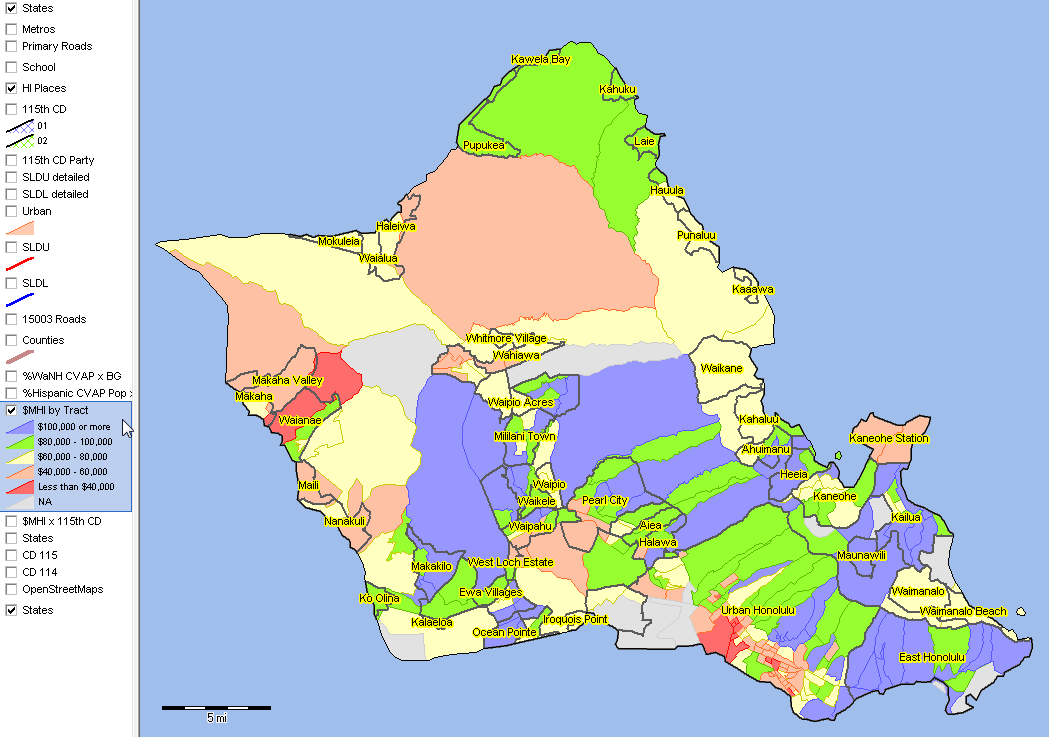 .. view developed with CV XE GIS; click graphic for larger view.
Tracts demographic-economic characteristics tables

Honolulu County Kahala Area by Block Group -- goto top
-- drill down to area shown by red marker in Hawaii by Metro view
-- patterns of median housing value
-- MHV labels & thematic pattern


.. view developed with CV XE GIS; click graphic for larger view.

Honolulu County Elementary Schools & Areas -- goto top
-- elementary schools shown as red markers; elementary school areas red boundaries


.. view developed with CV XE GIS; click graphic for larger view.
.. updated schools & areas; June 2017; Hawaii DBEDT
Related web sections:
Schools & Schools District Main
School District GeoDemographics Information System
K-12 Schools Interactive Table
National Children's & Schools Program
School District Demographic-Economic Interactive Tables
SDST1115 Grade Relevant Children by Type of Enrollment

Honolulu County Middle Schools & Areas -- goto top
-- middle schools shown as green markers; middle school areas green boundaries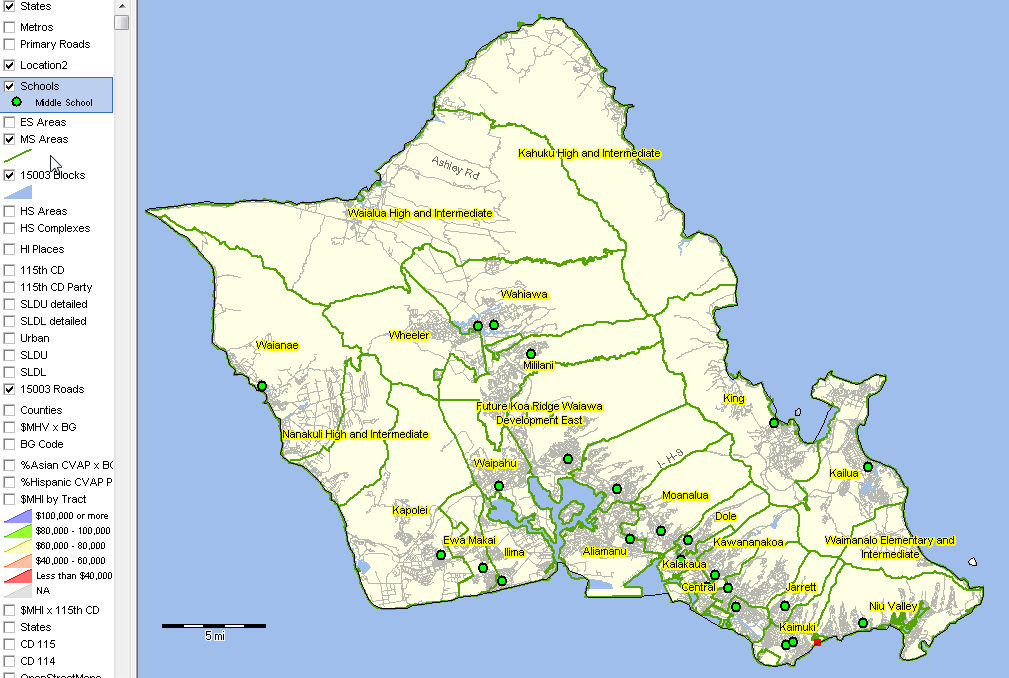 .. view developed with CV XE GIS; click graphic for larger view.
.. updated schools & areas; June 2017; Hawaii DBEDT
Related web sections:
Schools & Schools District Main
School District GeoDemographics Information System
K-12 Schools Interactive Table
National Children's & Schools Program
School District Demographic-Economic Interactive Tables
SDST1115 Grade Relevant Children by Type of Enrollment

Honolulu County High Schools & Areas -- goto top
-- high schools shown as blue markers; high school areas green boundaries


.. view developed with CV XE GIS; click graphic for larger view.
.. updated schools & areas; June 2017; Hawaii DBEDT
Related web sections:
Schools & Schools District Main
School District GeoDemographics Information System
K-12 Schools Interactive Table
National Children's & Schools Program
School District Demographic-Economic Interactive Tables
SDST1115 Grade Relevant Children by Type of Enrollment

Waialae Elementary School/Area (WEA) & Census Block/Block Groups -- goto top
-- what are the demographic characteristics of the population served by Waialae Elementary School?
-- Waialae is used here as an example; the process applies to all schools & attendance zones.
-- site analysis tool used to compute total population of area by Census 2010 census block.
-- WEA intersects with 105 blocks (cross hatched) with a total population of 11,914.
-- the only way to determine demographic characteristics for Hawaii school areas.


.. view developed with CV XE GIS; click graphic for larger view.

Illustrative selection of blocks intersecting with WEA:
Each row corresponds to a census block. In the first row, this graphic shows that census block 15 003 000902 2 ("Census 2010 block 2 in census tract 000902 in county 003 (Honolulu county code in state 15 (Hawaii state code") has Census 2010 population of 18 and 9 housing units.




View all WEA blocks as XLS file

Examining WEA Census Block/Block Group Relationship -- goto top
-- see pointer in a block within WEA in graphic below (0 population)
-- this block is within the block group shown with red bold boundary.
-- the importance of block groups and WEA characteristics -- reviewed in Web session.


.. view developed with CV XE GIS; click graphic for larger view.

Terms of Use
Maps and data referenced in this section are not authorized for funded, business or income generating use and are not authorized for redistribution. Sharing links to parts or all of this section on other Web sites is encouraged. Contact us to inquire about availability for business use (key in message in text section "Hawaii demographics data access"). There is no warranty regarding any aspect of these data; the user is solely responsible for any use. All usage should reference the source as ProximityOne -- http://proximityone.com/hawaii2017a.htm.

Support Using these Resources [goto top]
Learn more about demographic economic data and related analytical tools. Join us in a Data Analytics Lab session. There is no fee for these Web sessions. Each informal session is focused on a specific topic. The open structure also provides for Q&A and discussion of application issues of interest to participants.

ProximityOne User Group [goto top]
Join the ProximityOne User Group to keep up-to-date with new developments relating to geographic-demographic-economic decision-making information resources. Receive updates and access to tools and resources available only to members. Use this form to join the User Group.

Additional Information
ProximityOne develops geodemographic-economic data and analytical tools and helps organizations knit together and use diverse data in a decision-making and analytical framework. We develop custom demographic/economic estimates and projections, develop geographic and geocoded address files, and assist with impact and geospatial analyses. Wide-ranging organizations use our tools (software, data, methodologies) to analyze their own data integrated with other data. Follow ProximityOne on Twitter at www.twitter.com/proximityone. Contact us (888-364-7656) with questions about data covered in this section or to discuss custom estimates, projections or analyses for your areas of interest.