TIGER/Line 2017 Geographic Data Resources

August 2019 .. resources for updated geographic reference and statistical mapping and geography for routing logistics and optimization .. The Census Bureau TIGER/Line is a continuously updated geographic database used for geographic reference and geospatial processing of data from various Census statistical programs including the decennial census Census 2010 and American Community Survey (ACS). The public use version of TIGER is released annually that includes updates developed during the year. ProximityOne integrates the TIGER geographic updates in the Digital Map Database. Warren Glimpse, founder of ProximityOne, developed the GBF/DIME used as the prototype for TIGER/Line development.

This section has been updated. See TIGER 2019

Accessing & Using TIGER Files
Download and integrate TIGER files into your GIS application using the ProximityOne CV XE GIS GeoGateway feature. Create maps structured to meet your objectives. See more information about TIGER file availability and access below in this section.

2017 Shapefiles and Datasets Related to TIGER
Shapefiles and datasets derived from or related to TIGER 2016 include many types of geography and data. The data are developed in the form of shapefiles and dbase files that may be used directly with the ProximityOne CV XE GIS software at no fee. Perform wide-ranging mapping and geospatial analysis applications using these GIS resources. See more about mapping statistical data.

• 2017 Census Blocks Shapefiles with integrated demographics
• 2017 Roads Shapefiles
• 2017 City/Place Shapefiles (Jan. 1, 2017)
• 2016 Cycle State Legislative Districts Shapefiles
• 115th Congressional Districts Shapefile
• Block Groups Shapefiles
• Census Tracts Shapefiles
• Counties Shapefiles
• Core-Based Statistical Areas (CBSA) Shapefiles (CBSA July 2015 vintage)

Illustrative Application
The following graphic shows an example of a using the 2017 shapefiles in a regional context. These applications focus on an area in the Kansas City, MO-KS metro. See the related, more detailed, information about this application in the TIGER/Line 2017 Roads section.
- zoom-out to national view or zoom-in to intersection level.
- Starbucks locations (red markers) shown to illustrate use/integration of address-based data.
- metro counties are shown using the counties shapefile
- January 2017 Kansas City, MO (orange cross-hatch pattern) shows use of 2016 city/places shapefile.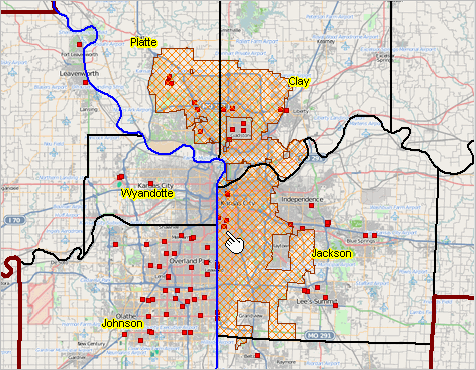 TIGER 2017 File Structure & Availability
TIGER 2017 files may be accessed using the ProximityOne CV XE GIS GeoGateway feature. See these details about using the GeoGateway operations.

The interactive shown below provides reference information about TIGER 2017 file availability that may be useful. The table contains a record/row for each type of available TIGER 2017 file. The files are organized into three types as shown in the left column: Boundary (polygon/area shapefile), Point-Line (point or line shapefile), File (dBase file). The type of geography is described in the Description column, Each of the file types is available for the U.S., State or state-county as shown in the rightmost three columns. The file availability columns shown the file name or file name template for the specific geographic availability level and type of file. For State availability, the code "st" is a placeholder for the state FIPS code. For State-County availability, the code "stcty" is a placeholder for the state FIPS code+county FIPS code.

For example, Census Block shapefiles are available as state structured shapefiles (tl_2017_st_tabblock10.shp). For the state of Florida (FIPS code 12), the file name is tl_2017_12_tabblock10.shp.
-- See usage notes below table.


Usage Notes
• Click column header to sort; click again to sort other direction.
• Click ShowAll button to start a new query.
• Use Select File Type to select/filter by type of file.
- Click ShowAll button first.
- Select File Type using dropdown.

See related Interactive Tables Main Page
About TIGER/Line
TIGER/Line shapefiles are created from the Census Bureau's TIGER (Topologically Integrated Geographic Encoding and Referencing) database of selected geographic and cartographic information. TIGER is used by the Census Bureau to support the mapping and related geographic activities required by the decennial and economic censuses and statistical survey programs. TIGER/Line shapefiles are available for public use and are typically used to provide the digital map base for GIS (Geographic Information System) and mapping applications.

TIGER/Line files are digital, vector-based point, line and polygon shapefiles and related files. TIGER/Line shapefiles do not contain any demographic or other subject matter data though wide-ranging subject matter data can be knit-together with the shapefiles.

TIGER/Line files are digital, vector-based point, line and polygon shapefiles and related files. TIGER/Line shapefiles do not contain any demographic or other subject matter data though wide-ranging subject matter data can be knit-together with the shapefiles.

ProximityOne User Group
Join the ProximityOne User Group to keep up-to-date with new developments relating to metros and component geography decision-making information resources. Receive updates and access to tools and resources available only to members. Use this form to join the User Group.

Support Using these Resources
Learn more about accessing and using demographic-economic data and related analytical tools. Join us in a Data Analytics Lab session. There is no fee for these one-hour Web sessions. Each informal session is focused on a specific topic. The open structure also provides for Q&A and discussion of application issues of interest to participants.

Additional Information
ProximityOne develops geodemographic-economic data and analytical tools and helps organizations knit together and use diverse data in a decision-making and analytical framework. We develop custom demographic/economic estimates and projections, develop geographic and geocoded address files, and assist with impact and geospatial analyses. Wide-ranging organizations use our tools (software, data, methodologies) to analyze their own data integrated with other data. Follow ProximityOne on Twitter at www.twitter.com/proximityone. Contact us (888-364-7656) with questions about data covered in this section or to discuss custom estimates, projections or analyses for your areas of interest.