GeoSpatial Analytics: Mapping Statistical Data
.. what this is and why it is important
Metros Interactive Table Updates
Interactive Table
Groups
Resource Summary
.. Demographic Economic Data Explorer --
DEDE
..
VDA Desktop GIS
..
VDA Web GIS
.. Geographic Information System GIS Projects & project filesets
-
MetroDynamics
..
Digital Map Databases
Application: Low and Moderate Income Data Analytics by Block Group
See more about
Examining Low and Moderate Income
FFIEC & HUD low and moderate income data and applications focus on
census tracts
The focus here is on
block groups
.
.. also these applications provide flexibility in defining "minority population" and income metrics.
Objective
The objective is to create thematic pattern maps showing Merced County, CA area block groups (BGs) that meet the criteria:
>= 60% minority population or HH income <80% of the median income
.. see
Merced County, CA Demographic-Economic Profile
Follow these steps:
Build Required Demographics Data File
Access/develop the basic demographics data file.
Do this using DEDE – http://proximityone.com/dede.htm
.. to develop the California by 2020 block group dataset.
.. illustrate real-time
.. the resulting dbf contains a row for each CA BG.
.. columns contain the
ACS 2020
subject matter fields as described in
this metadata file
.
.. scope of data much broader application potential ..discuss
Among the items in that file are median household income, median family income and a set of fields useful to determine minority population. Two computed fields are included: minority and percent minority. The definition of minority used here is (total population – white alone, nonHispanic population). Define minority other ways as desired.
Integrate Demographics into Shapefile
The above dbf file is integrated into a California by block group shapefile.
.. using the CV XE GIS Database>dBMerge feature.
.. this uses the
CA 2020 BG shapefile
Add Shapefile to GIS Project; Create Map Views
Two map views have been developed using CV XE GIS.
California by block group where the BG is selected/colored when:
%minority <60% or MFI<80% of CA MFI (89798)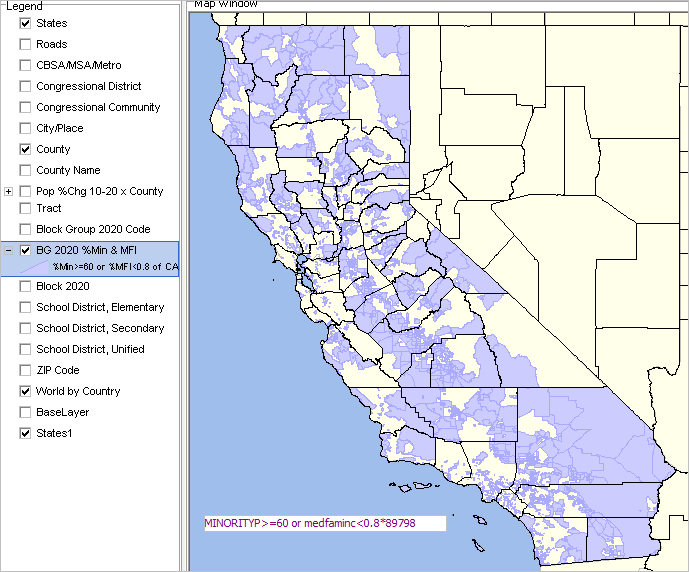 Zoom into the Merced County area: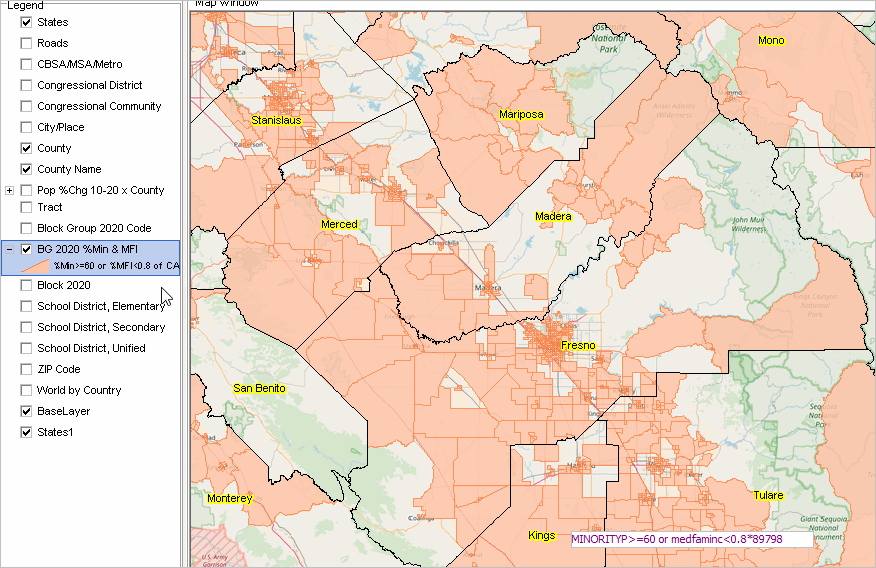 Other Considerations
The original objective involved use of median household income.
.. median family income is used for the map views; both are in the dataset.
The original criteria references "below 80%" (median household income) which requires a "parent area"
.. these applications used California statewide ($89,798).
.. an alternative might be to substitute the CA statewide MHI with the Merced county MHI.
..
here is the link
to ACS 2020 5-year CA economic profile showing MFH & MFI:
.. scroll down to locate MHI & MFI
.. use a variation on this to get the Merced county value.