Urbanized Areas 2020
-- examining new urban geography & characteristics
-- expanding insights through data analytics

January 2023 .. The nation's urban population increased by 6.4% between 2010 and 2020 based on 2020 Census data and a change in the way urban areas are defined. As a result of these changes, 1,140 areas containing approximately 4.2 million people, classified as urban in 2010 are now rural. See more about the 2010 urban population.

As of 2020, there are 2,613 Urban Areas in the U.S. with a combined Census 2020 population of 265,149,027 (80%). The remaining area is defined as rural with Census 2020 population of 66,300,254 (20%).

• Use interactive table1 below to view, sort urban areas.
• Use interactive table2 below to view, sort states by 2010/2020 urban/rural.

For the 2020 Census, an urban area is defined (see details) as a densely settled core of census blocks that meet minimum housing unit density and/or population density requirements. This includes adjacent territory containing non-residential urban land uses. To qualify as an urban area, the territory identified according to criteria must encompass at least 2,000 housing units or a population of at least 5,000. Rural encompasses all population, housing, and territory not included within an urban area.

Viewing & GeoSpatially Analyzing 2020 Urban Areas
The following graphic shows 2020 urban area patterns for the Houston, TX region. 2020 Urban Areas are shown with a salmon color fill pattern and US name as white labels. The Houston UA is shown with a cross-hatch overlay. Counties are shown with black outline, yellow labels. UAs transcend city and county boundaries and ultimately are comprised of Census 2020 census blocks Click graphic for larger view of the region.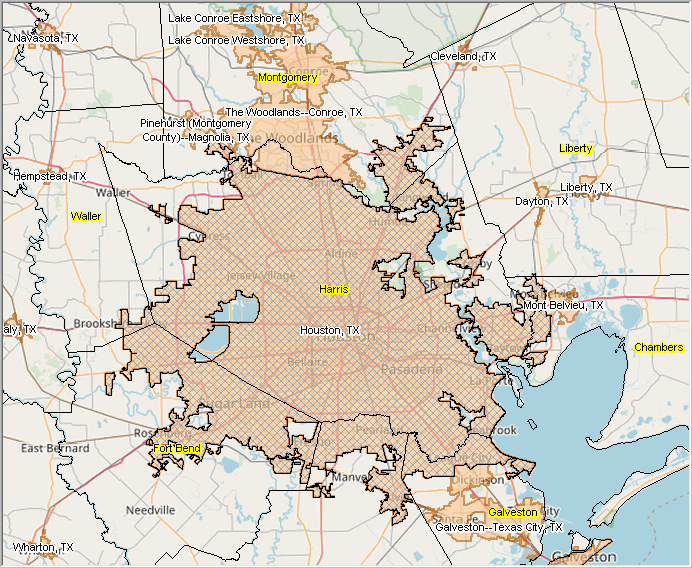 Use VDA GIS to Examine/Analyze UAs
Create similar and more analytically oriented views, using the VDA Web GIS MetroDynamics project using a Web browser, nothing to install.

2020 Urban Areas interactive table .. goto top
Table includes a row for each Urban Area in the U.S., Puerto Rico and Outlying Territories
Click ShowAll button to reset table view. Click column header to sort; click again to sort other direction.
Use mouse-over on header column to view extended item/column name.
Related interactive tables.


Usage Notes
Use mouse-over on header column to view extended item/column name.
Click ShowAll button to reset table.

Column Descriptions .. goto top
- AreaName
- State
- Urban Area Code
- Population
- Housing Units
- Land Area SqMi
- Water Area SqMi
- Population Density

State Urban/Rural 2020 & 2010 interactive table .. goto top
Table includes a row for each state
Click ShowAll button to reset table view. Click column header to sort; click again to sort other direction.
Use mouse-over on header column to view extended item/column name.
Related interactive tables.


Usage Notes
Use mouse-over on header column to view extended item/column name.
Click ShowAll button to reset table.

Urban Area Change .. goto top
Due to urban growth, urban areas have grown denser, changing from an average population density of 2,343 in 2010 to 2,553 in 2020. 225 urban areas qualify based on the 2020 housing unit threshold that would not have qualified based on the new population threshold alone.

Based on 2020 Census data, there 36 new urban areas that were classified as rural in 2010. Scroll section:


Au Gres, MI
Bayside Gardens--Manzanita, OR
Blowing Rock, NC
Boothbay Harbor, ME
Buckeye North, AZ
Chincoteague, VA
Cienega Springs, AZ
Clayton, NY
Fire Island, NY
Florence West, AZ
Frankfort, MI
Freeland, WA
Friday Harbor, WA
Glenwood, MN
Grand Lake, CO
Heartland, TX
Heber-Overgaard, AZ
Higgins Lake, MI
Lake Royale, NC
Lincoln, NH
Long Beach, WA
McCall, ID
Meredith, NH
Munds Park, AZ
Palmyra, PA
Point Roberts, WA
Rio Verde, AZ
Rockaway Beach, OR
St. Helen, MI
St. James City, FL
Seabrook Island, SC
Snowmass Village, CO
Sonterra, TX
Telluride--Mountain Village, CO
Watford City, ND
Wildwood, FL



The most densely populated urban areas of 200,000 or more people are:

- San Francisco-Oakland, CA (7,626 people per square mile)
- Los Angeles-Long Beach-Anaheim, CA (7,476 people per square mile)
- San Jose, CA (6,436 people per square mile)
- New York-Jersey City-Newark, NY-NJ (5,981 people per square mile)
- Honolulu, HI (5,886 people per square mile)

The New York-Jersey City-Newark, NY-NJ, area remains the nation's most populous urban area, with a population of 19,426,449. The Los Angeles-Long Beach-Anaheim, CA, area is the second most populous (12,237,376), followed by the Chicago, IL-IN area (8,671,746). These areas have been the three most populous since the 1950 Census, when urban areas were first defined. However, at that time, Chicago was the second largest. Los Angeles became the second most populous urban area in 1960, and the order has not changed since.

Among urban areas with populations of 1 million or more, the Austin, TX area grew at the fastest rate, increasing by 32.8%, followed by the Raleigh, NC, area, at 25.1%, and Orlando, FL, at 22.7%. The Austin, TX, area also had the highest rate of land area change from rural to urban, increasing by 18.5%.

For any given urban area, population increase may be attributed to a combination of internal growth, outward expansion to include new growth, and outward expansion encompassing communities previously existing outside the urban area.

Importance of Urban/Rural Designations .. goto top
Data users and researchers interested in analyzing data for urban and rural population and housing use urban area geostatistical data routinely updated by Census Bureau programs.

Analysts use urban area data to study patterns of urbanization, suburban growth and development, and urban/rural land area change.
Various federal and state agencies use urban and rural definitions as the basis for their own urban and rural definitions and settlement classifications for use in tabulating and presenting statistical data. The National Center for Education Statistics uses the urban area definitions in its locale codes classification. The U.S. Department of Agriculture uses the urban area classification as the basis for various urban and rural classifications used to analyze and report on demographic and economic patterns in rural areas.

Other government agencies use Urban Area designations to determine program eligibility and in their funding formulas. For example, the Federal Highways Administration uses Census Bureau urban areas of 50,000 or more population to establish Metropolitan Planning Organizations. For rural health programs, a clinic qualifies as a rural health clinic if it is located outside the boundaries of any Census Bureau urban area.

Support Using these Resources .. goto top
Learn more about demographic economic data and related analytical tools. Join us in a Data Analytics Lab session. There is no fee for these Web sessions. Each informal session is focused on a specific topic. The open structure also provides for Q&A and discussion of application issues of interest to participants.

ProximityOne User Group
Join the ProximityOne User Group to keep up-to-date with new developments relating to geographic-demographic-economic decision-making information resources. Receive updates and access to tools and resources available only to members. Use this form to join the User Group.

Additional Information
ProximityOne develops geographic-demographic-economic data and analytical tools and helps organizations knit together and use diverse data in a decision-making and analytical framework. We develop custom demographic/economic estimates and projections, develop geographic and geocoded address files, and assist with impact and geospatial analyses. Wide-ranging organizations use our software, data and methodologies to analyze their own data integrated with other data. Follow ProximityOne on Twitter at www.twitter.com/proximityone. Contact ProximityOne (888-364-7656) with questions about data covered in this section or to discuss custom estimates, projections or analyses for your areas of interest.