ChartGraphics
-- Age-Gender-Race-Origin Analysis & Population Pyramids


Decision-Making Information


ProximityOne
information resources & solutions
(888) DMI-SOLN
(888) 364-7656











Data Analytics Blog
Mapping Statistical Data

Support & Technical Assistance
help using these resources



State Population Pyramids
.. scroll section
.. click link (year) to view.





July 2022 .. the Chartgraphics population pyramid has been updated with Census 2020 5-year age cohort data for all U.S. counties.

Run this Chartgraphics installer to use the latest 2022 version on a Windows computer.

What's new? In terms of software, the current update has only one change .. it adds "2020" as a new data year option. The installer requires a userid and password provided separately. During the installation, it is recommended that all default settings be used.

The Chartgraphics Population Pyramid (PP) feature can display the population age/gender structure pyramid and table for any geographic area using a standardized age-race/origin-gender database. Previously, the PP installer included the database for the U.S., all states and all counties for each 2010 and 2020 interated by gender and several race/origin groups. See more below. The 2022.07.18 version has added the Census 2020 U.S. all county data (county only) and includes total population (group 001) by 5 year age cohort by gender.

How age/gender patterns are changing in Los Angeles .. 2000 .. 2010 .. 2020


| | | |
| --- | --- | --- |
| --2000-- | -- 2010 -- | -- 2020 -- |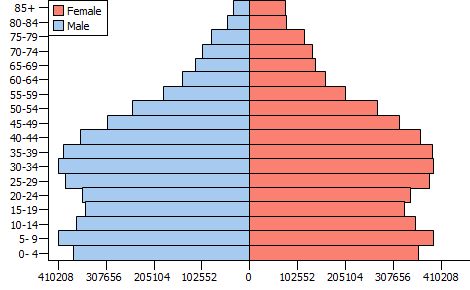 ..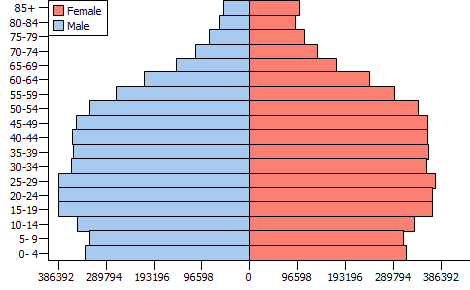 ..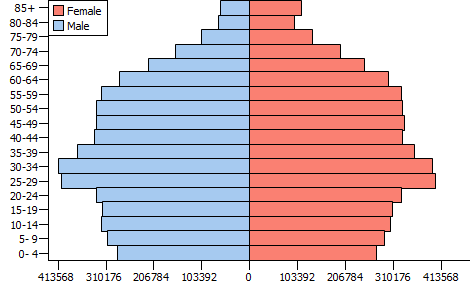 Census 2020 Data. The Census 2020 data included in this PP release were released by Census in June as a part of the Census model-based estimates for 7/1/20 and 7/1/21 and referred to as the 2020 estimates base. While these might not agree exactly with the as-yet unreleased 5-year age cohort Census 2020 data, we expect that mostly they wiil. As a result, this data release has further data use value than just population pyramids.

VDA Web GIS Demographic Profile. Use VDA Web GIS with the MetroDynamics GIS project to display a related county demographics profile ... showing the population by components of change and age distribution by 5-year age cohort. Click the following link to see the steps to generate a profile.
http://proximityone.com/videos/vda_county_profile/vda_county_profile.html
Start VDA, select the MetroDynamics project, and create your own profiles for counties of interest. See more about VDA Web GIS operations.

The remainder of this section has not yet been further updated regarding the 2022.07.18 release.

Importance of the Population Age-Race/Origin-Gender Structure
The age and gender structure of a population is one of its most important and formative features, because nearly all demographic characteristics and processes vary by age and gender. Age and gender composition is also revealing in that it reflects those demographic characteristics and processes. Population pyramid chart graphics can help us visualize and more easily understand age-gender structure -- and how it is changing over time. Use software and data resources that we have developed, and illustrated here, to analyze populations for geographic areas of interest to you. Details are described below.

Visualizing Population Distribution by Gender and Age
The graphics below illustrate how population pyramids, and related tables, can be used to explore characteristics of the Asian Indian population by gender and age. One graphic shows Census 2000 data, the second graphic shows Census 2010 data.
Census 2000 U.S. Asian Indian alone population ...


Click graphic to view as HTML.

Census 2010 U.S. Asian Indian alone population ...


Click graphic to view as HTML.

Gaining Insights
The population pyramid helps us understand the age and gender structure of a population in a specific area, like a county or state. The shape of the pyramid can show the potential for future growth and provide hints about past trends. A top-heavy pyramid suggests negative population growth that might be due to many factors, including high death rates, low birthrates and increased emigration. A bottom-heavy pyramid suggests high birthrates, falling or stable death rates and potential for rapid population growth.

The population pyramid shows a male population bar chart (left side of pyramid, blue) symmetrically with a female population bar chart (right side of pyramid, light red). Each bar shows the population by 5-year age group, 0-4 years to 80-84 years and 85 years and over.

Selected Population Pyramids (total population for year 2010 unless noted)
• Beverly Hills USD, CA
• Los Angeles USD, CA

• Madison County, ID

• Austin ISD, TX
• Bronte ISD, TX
• College Station ISD, TX
• Conroe ISD, TX
• Cypress-Fairbanks ISD, TX
• Houston ISD, TX
• Laredo ISD, TX
• San Marcos CISD, TX

• Cook County, IL (Chicago) -- 2000 .. 2010
• Los Angeles County, CA -- 2000 .. 2010
• New York County, NY (Manhattan) -- 2000 .. 2010
• Strafford County, NH -- 2000 .. 2010

Population Pyramids for U.S. and States - scroll section

Population Pyramids with Narrative -- Patterns of Change: 2010-2050
• Future of China
• Future of India
• Future of Indonesia
• World by Country

Using Census 2010 Data to Develop Population Pyramids
We can use the Census 2010 Summary File 2 Demographic Profile 1 (http://www.proximityone.com/cen2010_sf2.htm) interactive ranking table to determine that Santa Clara County, CA has the largest Asian Indian alone population based on Census 2010. The geographic summary level is set to county, the Race Group is set to Asian Indian alone, and the header column D001 (total population) is clicked to determine that Santa Clara County has an Asian Indian alone population of 117,596. In these examples, the bar maximum population value has been set to 10,000 (can be set to any value) making it easier to compare the distributions between 2000 and 2010.



Census 2000 Santa Clara County, CA Asian Indian alone population ...


Click graphic to view as HTML.

Census 2010 Santa Clara County, CA Asian Indian alone population ...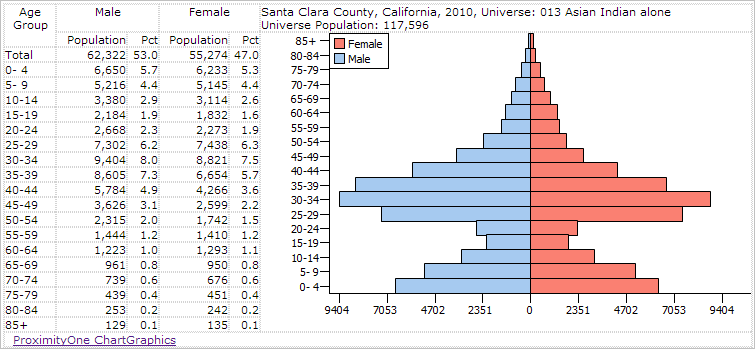 Click graphic to view as HTML.

Start Exploring Now!
Use ChartGraphics software with ready-to-use U.S. national scope U.S., state and county data to create your own population pyramids like those reviewed here. The following view shows the ChartGraphics user interface when used to display the data for Santa Clara County. An optional setting enables the user to publish the population pyramid and associated age-gender population by age table as shown in the above graphics. The resulting published data is in HTML structure and ready to integrate into your documents. As shown in this view, you can easily select the year, race group and geographic area of interest.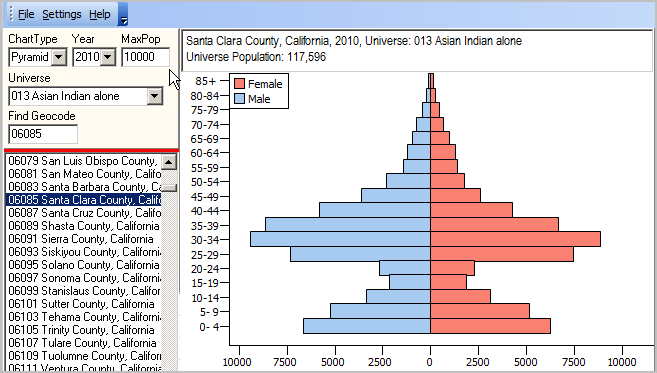 ChartGraphics Installation and optional features
ChartGraphics is available to use on your computer. Contact us for more information -- key in "ChartGraphics software" in the message/text section.

ProximityOne User Group
Join the ProximityOne User Group to keep up-to-date with new developments relating to geographic, demographic, economic and business data. Receive updates and access to tools and resources available only to members. Use this form to join the User Group.

Support Using these Resources
Learn more about accessing and using demographic-economic data and related analytical tools. Join us in a Data Analytics Lab session. There is no fee for these one-hour Web sessions. Each informal session is focused on a specific topic. The open structure also provides for Q&A and discussion of application issues of interest to participants.

Additional Information
ProximityOne develops geodemographic-economic data and analytical tools and helps organizations knit together and use diverse data in a decision-making and analytical framework. We develop custom demographic/economic estimates and projections, develop geographic and geocoded address files, and assist with impact and geospatial analyses. Wide-ranging organizations use our tools (software, data, methodologies) to analyze their own data integrated with other data. Follow ProximityOne on Twitter at www.twitter.com/proximityone. Contact us (888-364-7656) with questions about data covered in this section or to discuss custom estimates, projections or analyses for your areas of interest.