Establishments, Employment & Earnings Characteristics
-- U.S. by County 2020 Annual by Detailed Type of Business

December 2021 .. the highest paying three "2-digit" NAICS industries in 2020 in Fresno County, CA were 22 Utilities, 21 Mining and 51 Information .. see the average annual pay, number of establishments and number of employees using the interactive table below .. for any county. Rank/compare areas based on selected attributes of interest. The most current and comprehensive annual measures of business activity by county and higher level geography are provided by the Establishments, Employment & Earnings (EEE) data, the focus of this section. See more data access options. See about upcoming quarterly/annual release dates.

Where Does America Make Things?
The graphic below shows percent employment in the manufacturing sector (employment in the private manufacturing sector as a percent of total private sector employment by county). Click graphic for larger view providing more detail. Use the GIS tools to analyze similar patterns for any industry. Interpreting this map graphic and alternative data resources ... join us in a Data Analytics Lab session where we discuss making and interpreting this map view and alternatives.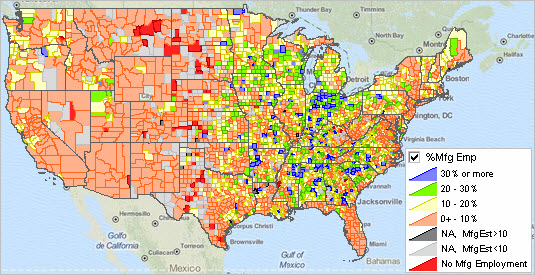 - view developed with ProximityOne CV XE GIS and related GIS project.

The EEE quarterly/annual data are based on employer reported data and provide EEE characteristics by detailed type of business collected and tabulated by the Bureau of Labor Statistics (BLS). Derived from reports submitted by every employer subject to unemployment insurance (UI) laws, the data cover 9.5 million employers and 136.2 million full- and part-time workers.

Important features of these data ...
• Tabulated for all counties, metros, states and the U.S.
• Tabulated for detailed types of business (6-digit NAICS).
• Tabulated quarterly and annually, the data enable time-series modeling.
• Employer-based administratively collected data; not estimates.
• Short lag (5 months) between reporting date and date of data accessibility
Limitations of these data.

Use these data to examine how a detailed type of business is changing in a county or metro ... or how that type of business in one county/metro compares to another county or metro. Answer questions like how much of the healthcare sector in a particular metro is comprised by offices of physicians. Or, are the number of establishments in a business sector growing or declining? How are the characteristics of establishments in one metro changing relative to another metro?

Examine in Context of other Demographic-Economic Data .. goto top
• Create Situation & Outlook reports using DEDE
.. see this example for Fresno County, CA
.. see Industry table in report
• Extract EEE data, create dataset, all counties, any NAICS code, any year/quarter.

Data Access Options .. goto top
• Use DEDE to access EEE data in report format or create/download file.
• Use CV XE GIS to map/geospatially analyze EEE data.
• Use VDA Web GIS to map/geospatially analyze EEE data.
.. and optionally examine in SQL/spreadsheet form.
.. nothing to install; access using any browser/device.
• Download file as shown in table below (XLS) $195.
• Subscribe to quarterly/annual EEE data; all U.S. by county.
.. download database as released quarterly; time series.
.. starts 2020Q1 extended quarterly/annually as released (4 quarterly downloads)
.. Option 1, with suppression (as shown) $1,995
.. Option 2, no suppression $3,995

Upcoming Release/Data Access Dates .. goto top
Full data release/availability dates:
• Current: Quarterly 2021Q2; Annual 2020.
• 03/09/22 .. Quarterly 2021Q3
• 06/05/22 .. Quarterly 2021Q4 & Annual 2021
• 09/07/22 .. Quarterly 2022Q1
• 12/06/22 .. Quarterly 2022Q2

2020 Establishments, Employment, Earnings by Type of Business by County .. Interactive Table .. goto top
Click ShowAll button between queries.
Click column header to sort; click again to sort other direction.
May require 10 sec initial load time.
See usage notes below table; see related interactive tables.
See download and subscription options.


Usage Notes
- Examine industry characteristics for a county of interest; click Find StCty button below table.
-- enter state-county code in edit box then click Find StCty button.
-- default code 06019 is Fresno County, CA.
- Click ShowAll button between queries.
- Click column header to sort; click again to sort other direction.
- try these codes: 20173: Sedgwick (Wichita), KS; 29019: Boone (Columbia), MO; 51059: Fairfax County, VA
-- click ShowAll between queries.

Data suppression. Employment and pay are suppressed to help insure confidentiality of businesses that dominate and particular type of business in a particular county. In these cases, an "N" appears in the disclosure column and employment and pay cells show as zero in the table. As an example, see that when selecting type of industry/business as Manufacturing, there are 382 counties (of 3,142 total counties) that have suppressed employment and pay (number of establishments are always shown).

Use the ProximityOne Non-suppressed Data for full data access; suppressed data are estimated.

Columns
- Area Name
- St
- StCty -- StateCounty FIPS
- CBSA
- Owner
- NAICS/Industry Description
- Aggregation Level
- Size
- Disclosure flag
- Total Population 2020
- Avg Weekly Wages
- Avg Annual Pay
- Establishments
- Employment
- Total Wages

Support Using these Resources
Learn more about accessing and using demographic-economic data and related analytical tools. Join us in a Data Analytics Lab session. There is no fee for these one-hour Web sessions. Each informal session is focused on a specific topic. The open structure also provides for Q&A and discussion of application issues of interest to participants.

Additional Information
ProximityOne develops geodemographic-economic data and analytical tools and helps organizations knit together and use diverse data in a decision-making and analytical framework. We develop custom demographic/economic estimates and projections, develop geographic and geocoded address files, and assist with impact and geospatial analyses. Wide-ranging organizations use our tools (software, data, methodologies) to analyze their own data integrated with other data. Follow ProximityOne on Twitter at www.twitter.com/proximityone. Contact us (888-364-7656) with questions about data covered in this section or to discuss custom estimates, projections or analyses for your areas of interest.