Decision-Making Information

ProximityOne
information resources & solutions
(888) DMI-SOLN
(888) 364-7656




Tract Data Analytics
Dallas ISD & Vicinity
%Population in Poverty by Tract




Data Analytics Blog
Mapping Statistical Data

Support & Technical Assistance
help using these resources




Low & Moderate Income Census Tract Data Analytics
... updated with HMDA 2017 data
... data and tools to analyze patterns & characteristics by neighborhood

August 2017. Of the total 75,883 census tracts for which low and moderate income data were tabulated in the HMDA 2017 data, 6,023 (8.7%) were low income, 16,873 (24.5%) were moderate income, 32,509 (47.1%) were middle income and 19,159 (27.8%) were upper income. See more about these classifications. Find out about your tracts/neighborhoods of interest and how they compare to others using data and tools provided in this section.

Analysis of the low, moderate, middle, and upper income of the population and households by small area geography is important to housing market stakeholders, lenders, investors, cities/neighborhoods and others. Low and moderate income data by block group and census tract are used for compliance, eligibility determination and program performance in many Federal programs and agencies.

This section is focused use of data and tools to analyze characteristics and patterns of census tract geography with a focus on low and moderate income.

• Use the interactive table below to view, query, compare, sort census tracts.
• Use tract estimates & projections to examine current/future characteristics.
- extended demographic-economic measures, annual 2010-2022

Low & Moderate Income by Census Tract
The following view shows census tracts designated as low and moderate income (orange fill pattern) in the the Houston, TX MSA (bold brown boundary) area. These are tracts having income level with codes 1 and 2 in the interactive table below. A wide range of market insights can be created zoom-in views for counties, cities and neighborhoods and linking these with other data. Make variations of this view using ProximityOne data and tools described in this section.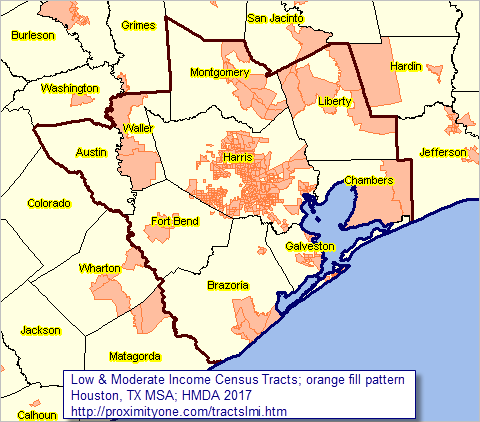 View developed using CV XE GIS and related GIS project.

View similar maps for these areas:
.. Atlanta metro
.. Chicago, IL metro
.. Dallas, TX metro
.. Knoxville, TN metro with drill-down views for Knoxville city
.. Los Angeles, CA metro
.. San Francisco, CA metro

Using Tools & Data Resources in this Section
Use tools in this section to examine the characteristics of census tracts relating to low and moderate income. View/rank/compare census tract characteristics using the interactive table (see below). Use the GIS tools to visually and geospatially analyze patterns and characteristics of interest. Members of the ProximityOne User Group may download the Census Tract Low and Moderate Income (LMI) GIS project and use this project and datasets with the CV XE GIS software. Develop variations on maps shown in this section; add your own data.

LMI by Census Tract Dataset
Use the interactive table below to view/rank/query for census tracts and related LMI characteristics. Use these same data in Excel XLSX structured file on your computer. Order here:

| | | | |
| --- | --- | --- | --- |
| LMI01 | LMI by Census Tract | $495 | |
The file is delivered electronically typically within one hour.

Low & Moderate Income by Census Tract Interactive Table
Click ShowAll button to show all areas and restore full set of data view.
Click column header to sort; click again to sort other direction. See usage notes below table.
Data in table are for all tracts and show status of each tract as to income level.
See related Geographic-Demographic-Economic Interactive Tables


Usage Notes
• Click ShowAll button between queries
• Click ShowAll button to show all areas and restore full set of data view.
• Click on a column header to sort on that column; click column header again to sort in other direction.
• Use horizontal scroll bar at base of table to scroll left-right.
• To view geographies in one state:
select State dropdown below table and select state; click ShowAll between selections.
• Find a specific census tract .. use Find GEOID:
key in full census tract code in text box to right of Find GEOID button.
this must be a Census 2010 tract code: 11 characters, all numbers with any lead zeroes.
then click Find GEOID to locate this one tract.
if the table refreshes as empty, the tract code entered is not a Census 2010 tract code.
• Find by Name: key in partial area name in text box to right of Find-in-Name button
then click button to locate all matches (case sensitive).
• Show only tracts of a certain income level:
select IncLev dropdown below table and choose income level; click ShowAll between selections.
• See related interactive tables.

About these Data
Data provided in the table reflect current vintage metropolitan areas and Census 2010 census tracts, ACS 2015 vintage, and are demographic data based on ACS 2015 5 year estimates, and 2017 HMDA coding.

Table Columns
• GEOID - census tract code
• County name - where tract located
• State USPS code
• State FIPS code
• County FIPS code
• Census 2010 tract code
• State + County FIPS code
• CBSA -- core based statistical area code
• Principal city flag. 0=not principal city 1=principal city
• Small county flag. T=tract record S=small county I=Island Area
• Split tract flag. N=tract number occurs w/in one MA S=split between MAs
• Demographic data flag
.. X=Tot population or MFI is 0, D=tot population and MFI are not 0, I=Island Area
• Urban/rural flag. U=urban R=rural M=mixed I=Island Area
• RegionMFI -- Median family income for MSA/region
• RegionMHI -- Median household income for MSA/region
• TMFI% -- Tract median family income as percent of median family income for MSA/region
• Tract median family income -- computed based on TMFI% x RegionMFI
• Population
• Families
• Households
• Female
• Male
• White alone population
• Minority population
• Hispanic population (of any race)
• Non-Hispanic population
• Non-Hispanic of one race
• Indicator - identifies Income Level Indicator (low, mod, mid, upper income areas)
• Indicator - meets current year poverty CRA distressed criteria: X: Yes
• Indicator - meets current year unemployment CRA distressed criteria: X: Yes
• Indicator - meets current year population CRA distressed criteria: X: Yes
• Indicator - meets current year remote rural (low density) CRA underserved criteria: X: Yes
• Indicator - meets at least one of the previous year CRA distressed criteria: X: Yes
• Indicator - meets previous year CRA underserved criteria: X: Yes
• Indicator - meets at least one of current or previous year CRA distressed/underserved tract criteria: X: Yes

Steps to Develop the Above Map (requires Windows computer with Internet connection)
1. Install the ProximityOne CV XE GIS
... run the CV XE GIS installer
... take all defaults during installation
2. Download the U.S. census tracts shapefile with integrated codes and demographics
... requires User ID
... unzip LMI Tract GIS Project to local folder c:\tractslmi\
3. Open the tractlmi1.gis project (note carefully name references with and without the "1")
... after completing the above steps, click File>Open>Dialog
... open the file named c:\tractslmi\tractslmi1.gis
4. Done. The map view shown above should appear.

Low, Moderate, Middle, Upper Income Classification by Census Tract [goto top]
Low, moderate, middle, upper income classification by census tract is based on the median family income of a specific census tract relative to the metropolitan statistical area (MSA) or non-MSA area in which the tract is located. As used in this section, a census tract attribute, HMDAS1, is an income level lndicator (low, mod, mid, upper income areas):
1 - Low -- MFI is less than 50% of the MSA/parent area MFI
2 - Moderate -- MFI is from 50% to 80% of the MSA/parent area MFI
3 - Middle -- MFI is from 80% to 120% of the MSA/parent area MFI
4 - Upper -- MFI is 120% or more of the MSA/parent area MFI
0 - NA -- MFI is 0 or not available
where MFI is the Median Family Income

Low and moderate income designation is closely associated with implementation of the Home Mortgage Disclosure Act (HMDA) and the Community Reinvestment Act (CRA) and is a widely used in many other applications as a measure of economic prosperity.

Terms of Use. Data provided via this section are intended for personal, non-business use only. The data may not be used in business, consulting or for-fee applications. The data may not be redistributed. Businesses and commercial users may subscribe to use these data and tools. It is requested that all use reference the source as ProximityOne (http://proximityone.com/tractslmi.htm) based on data sourced in part from the Federal Financial Institutions Examination Council (http://www.ffiec.gov. Any use of these resources is solely at the discretion of the user. There is no warranty or guarantee of any type.

Metros and Core-Based Statistical Areas [goto top]
Metropolitan Statistical Areas (MSAs) and Micropolitan Statistical Areas (MISAs) are geographic entities delineated by the Office of Management and Budget (OMB) for use by Federal statistical agencies in collecting, tabulating, and publishing Federal statistics. The term "Core-Based Statistical Area" (CBSA) refer to the collective set of MSAs and MISAs. A MSA contains a core urban area of 50,000 or more population. A MISA contains an urban core of at least 10,000 (but less than 50,000) population. Each MSA or MISA consists of one or more counties and includes the counties containing the core urban area, as well as any adjacent counties that have a high degree of social and economic integration (as measured by commuting to work) with the urban core. The availability of data tabulated by MSA and MISA (and often less available for all counties or all cities) make MSAs and MISAs popular for the analysis of demographic, economic and business data.

Determining CBSA Code
• Find name and code from list.
• Find name in table and view corresponding CBSA code.
• Key in an address here to find codes/names based on address

Related Housing Market Data & Analytical Resources
Census tract data need to used in combination with many other measures, geography and tools for more comprehensive analyses.
• 2010-2016 annual population estimates: county, metro, state, U.S.
• ACS 2015 1-year demographic-economic tables: metro, state, U.S.
• Housing Unit Time Series, Trends & Patterns
• Housing Price Index
• Housing market conditions
• ProximityOne Data Services: access/integrate these with other data
• Each data resource section has associated GIS project & datasets.
• CV XE GIS software: data analytics, maps, geospatial analysis
• See related Interactive Ranking Tables

Detailed ACS annual tract interactive tables
- annual updates
General Demographics .. Social Characteristics .. Economic Characteristics .. Housing Characteristics

Support Using these Resources [goto top]
Learn more about demographic economic data and related analytical tools. Join us in a Data Analytics Lab session. There is no fee for these Web sessions. Each informal session is focused on a specific topic. The open structure also provides for Q&A and discussion of application issues of interest to participants.

ProximityOne User Group [goto top]
Join the ProximityOne User Group to keep up-to-date with new developments relating to geographic-demographic-economic decision-making information resources. Receive updates and access to tools and resources available only to members. Use this form to join the User Group.

Additional Information
ProximityOne develops geographic-demographic-economic data and analytical tools and helps organizations knit together and use diverse data in a decision-making and analytical framework. We develop custom demographic/economic estimates and projections, develop geographic and geocoded address files, and assist with impact and geospatial analyses. Wide-ranging organizations use our tools (software, data, methodologies) to analyze their own data integrated with other data. Follow ProximityOne on Twitter at www.twitter.com/proximityone. Contact ProximityOne (888-364-7656) with questions about data covered in this section or to discuss custom estimates, projections or analyses for your areas of interest.