Decision-Making Information

ProximityOne
information resources & solutions
(888) DMI-SOLN
(888) 364-7656










Visual analysis with ProximityOne tools
click graphic for info; hover to pause









Data Analytics Blog
Power of Combining Maps with Data

Support & Technical Assistance
help using these resources




View HPI in Context of Related Measures
... click a MSA link below or use table


10180

Abilene, TX MSA

10420

Akron, OH MSA

10500

Albany, GA MSA

10540

Albany, OR MSA

10580

Albany-Schenectady-Troy, NY MSA

10740

Albuquerque, NM MSA

10780

Alexandria, LA MSA

10900

Allentown-Bethlehem-Easton, PA-NJ MSA

11020

Altoona, PA MSA

11100

Amarillo, TX MSA

11180

Ames, IA MSA

11260

Anchorage, AK MSA

11460

Ann Arbor, MI MSA

11500

Anniston-Oxford-Jacksonville, AL MSA

11540

Appleton, WI MSA

11700

Asheville, NC MSA

12020

Athens-Clarke County, GA MSA

12060

Atlanta-Sandy Springs-Roswell, GA MSA

12100

Atlantic City-Hammonton, NJ MSA

12220

Auburn-Opelika, AL MSA

12260

Augusta-Richmond County, GA-SC MSA

12420

Austin-Round Rock, TX MSA

12540

Bakersfield, CA MSA

12580

Baltimore-Columbia-Towson, MD MSA

12620

Bangor, ME MSA

12700

Barnstable Town, MA MSA

12940

Baton Rouge, LA MSA

12980

Battle Creek, MI MSA

13020

Bay City, MI MSA

13140

Beaumont-Port Arthur, TX MSA

13220

Beckley, WV MSA

13380

Bellingham, WA MSA

13420

Bemidji, MN MISA

13460

Bend-Redmond, OR MSA

13740

Billings, MT MSA

13780

Binghamton, NY MSA

13820

Birmingham-Hoover, AL MSA

13900

Bismarck, ND MSA

13980

Blacksburg-Christiansburg-Radford, VA MSA

14010

Bloomington, IL MSA

14020

Bloomington, IN MSA

14100

Bloomsburg-Berwick, PA MSA

14260

Boise City, ID MSA

14460

Boston-Cambridge-Newton, MA-NH MSA

14500

Boulder, CO MSA

14540

Bowling Green, KY MSA

14740

Bremerton-Silverdale, WA MSA

14860

Bridgeport-Stamford-Norwalk, CT MSA

15180

Brownsville-Harlingen, TX MSA

15260

Brunswick, GA MSA

15380

Buffalo-Cheektowaga-Niagara Falls, NY MSA

15500

Burlington, NC MSA

15540

Burlington-South Burlington, VT MSA

15660

California-Lexington Park, MD MSA

15940

Canton-Massillon, OH MSA

15980

Cape Coral-Fort Myers, FL MSA

16020

Cape Girardeau, MO-IL MSA

16060

Carbondale-Marion, IL MSA

16180

Carson City, NV MSA

16220

Casper, WY MSA

16300

Cedar Rapids, IA MSA

16540

Chambersburg-Waynesboro, PA MSA

16580

Champaign-Urbana, IL MSA

16620

Charleston, WV MSA

16700

Charleston-North Charleston, SC MSA

16740

Charlotte-Concord-Gastonia, NC-SC MSA

16820

Charlottesville, VA MSA

16860

Chattanooga, TN-GA MSA

16940

Cheyenne, WY MSA

16980

Chicago-Naperville-Elgin, IL-IN-WI MSA

17020

Chico, CA MSA

17140

Cincinnati, OH-KY-IN MSA

17300

Clarksville, TN-KY MSA

17420

Cleveland, TN MSA

17460

Cleveland-Elyria, OH MSA

17660

Coeur dAlene, ID MSA

17780

College Station-Bryan, TX MSA

17820

Colorado Springs, CO MSA

17860

Columbia, MO MSA

17900

Columbia, SC MSA

17980

Columbus, GA-AL MSA

18020

Columbus, IN MSA

18140

Columbus, OH MSA

18580

Corpus Christi, TX MSA

18700

Corvallis, OR MSA

18880

Crestview-Fort Walton Beach-Destin, FL MSA

19060

Cumberland, MD-WV MSA

19100

Dallas-Fort Worth-Arlington, TX MSA

19140

Dalton, GA, TX MSA

19180

Danville, IL MSA

19300

Daphne-Fairhope-Foley, AL MSA

19340

Davenport-Moline-Rock Island, IA-IL MSA

19380

Dayton, OH MSA

19460

Decatur, AL MSA

19500

Decatur, IL MSA

19660

Deltona-Daytona Beach-Ormond Beach, FL MSA

19740

Denver-Aurora-Lakewood, CO MSA

19780

Des Moines-West Des Moines, IA MSA

19820

Detroit-Warren-Dearborn, MI MSA

19860

Dickinson, ND MISA

19940

Dixon, IL MISA

19980

Dodge City, KS MISA

20020

Dothan, AL MSA

20060

Douglas, GA MISA

20100

Dover, DE MSA

20140

Dublin, GA MISA

20180

DuBois, PA MISA

20220

Dubuque, IA MSA

20260

Duluth, MN-WI MSA

20300

Dumas, TX MISA

20340

Duncan, OK MISA

20380

Dunn, NC MISA

20420

Durango, CO MISA

20460

Durant, OK MISA

20500

Durham-Chapel Hill, NC MSA

20540

Dyersburg, TN MISA

20580

Eagle Pass, TX MISA

20700

East Stroudsburg, PA MSA

20660

Easton, MD MISA

20740

Eau Claire, WI MSA

20780

Edwards, CO MISA

20820

Effingham, IL MISA

20900

El Campo, TX MISA

20940

El Centro, CA MSA

20980

El Dorado, AR MISA

21340

El Paso, TX MSA

21020

Elizabeth City, NC MISA

21060

Elizabethtown-Fort Knox, KY MSA

21120

Elk City, OK MISA

21140

Elkhart-Goshen, IN MSA

21180

Elkins, WV MISA

21220

Elko, NV MISA

21260

Ellensburg, WA MISA

21300

Elmira, NY MSA

21380

Emporia, KS MISA

21420

Enid, OK MISA

21460

Enterprise, AL MISA

21500

Erie, PA MSA

21540

Escanaba, MI MISA

21580

Espanola, NM MISA

21660

Eugene, OR MSA

21700

Eureka-Arcata-Fortuna, CA MISA

21740

Evanston, WY MISA

21780

Evansville, IN-KY MSA

21820

Fairbanks, AK MSA

21840

Fairfield, IA MISA

21900

Fairmont, WV MISA

21980

Fallon, NV MISA

22020

Fargo, ND-MN MSA

22060

Faribault-Northfield, MN MISA

22100

Farmington, MO MISA

22140

Farmington, NM MSA

22180

Fayetteville, NC MSA

22220

Fayetteville-Springdale-Rogers, AR-MO MSA

22260

Fergus Falls, MN MISA

22280

Fernley, NV MISA

22300

Findlay, OH MISA

22340

Fitzgerald, GA MISA

22380

Flagstaff, AZ MISA

22420

Flint, MI MSA

22500

Florence, SC MSA

22520

Florence-Muscle Shoals, AL MSA

22540

Fond du Lac, WI MSA

22580

Forest City, NC MISA

22620

Forrest City, AR MISA

22660

Fort Collins, CO MSA

22700

Fort Dodge, IA MISA

22780

Fort Leonard Wood, MO MISA

22800

Fort Madison-Keokuk, IA-IL-MO MISA

22820

Fort Morgan, CO MISA

22860

Fort Polk South, LA MISA

22900

Fort Smith, AR-OK MSA

23060

Fort Wayne, IN MSA

23140

Frankfort, IN MISA

23180

Frankfort, KY MISA

23240

Fredericksburg, TX MISA

23300

Freeport, IL MISA

23340

Fremont, NE MISA

23380

Fremont, OH MISA

23420

Fresno, CA MSA

23460

Gadsden, AL MSA

23500

Gaffney, SC MISA

23540

Gainesville, FL MSA

23580

Gainesville, GA MSA

23620

Gainesville, TX MISA

23660

Galesburg, IL MISA

23700

Gallup, NM MISA

23780

Garden City, KS MISA

23820

Gardnerville Ranchos, NV MISA

23860

Georgetown, SC MISA

23900

Gettysburg, PA MSA

23940

Gillette, WY MISA

23980

Glasgow, KY MISA

24020

Glens Falls, NY MSA

24060

Glenwood Springs, CO MISA

24100

Gloversville, NY MISA

24140

Goldsboro, NC MSA

24220

Grand Forks, ND-MN MSA

24260

Grand Island, NE MSA

24300

Grand Junction, CO MSA

24340

Grand Rapids-Wyoming, MI MSA

24420

Grants Pass, OR MSA

24380

Grants, NM MISA

24460

Great Bend, KS MISA

24500

Great Falls, MT MSA

24540

Greeley, CO MSA

24580

Green Bay, WI MSA

24620

Greeneville, TN MISA

24640

Greenfield Town, MA MISA

24660

Greensboro-High Point, NC MSA

24700

Greensburg, IN MISA

24740

Greenville, MS MISA

24780

Greenville, NC MSA

24820

Greenville, OH MISA

24860

Greenville-Anderson-Mauldin, SC MSA

24900

Greenwood, MS MISA

24940

Greenwood, SC MISA

24980

Grenada, MS MISA

25060

Gulfport-Biloxi-Pascagoula, MS MSA

25100

Guymon, OK MISA

25180

Hagerstown-Martinsburg, MD-WV MSA

25200

Hailey, ID MISA

25220

Hammond, LA MSA

25260

Hanford-Corcoran, CA MSA

25300

Hannibal, MO MISA

25420

Harrisburg-Carlisle, PA MSA

25460

Harrison, AR MISA

25500

Harrisonburg, VA MSA

25540

Hartford-West Hartford-East Hartford, CT MSA

25580

Hastings, NE MISA

25620

Hattiesburg, MS MSA

25700

Hays, KS MISA

25720

Heber, UT MISA

25740

Helena, MT MISA

25760

Helena-West Helena, AR MISA

25780

Henderson, NC MISA

25820

Hereford, TX MISA

25840

Hermiston-Pendleton, OR MISA

25860

Hickory-Lenoir-Morganton, NC MSA

25880

Hillsdale, MI MISA

25900

Hilo, HI MISA

25940

Hilton Head Island-Bluffton-Beaufort, SC MSA

25980

Hinesville, GA MSA

26020

Hobbs, NM MISA

26090

Holland, MI MISA

26140

Homosassa Springs, FL MSA

26220

Hood River, OR MISA

26300

Hot Springs, AR MSA

26340

Houghton, MI MISA

26380

Houma-Thibodaux, LA MSA

26420

Houston-The Woodlands-Sugar Land, TX MSA

26460

Hudson, NY MISA

26500

Huntingdon, PA MISA

26540

Huntington, IN MISA

26580

Huntington-Ashland, WV-KY-OH MSA

26620

Huntsville, AL MSA

26660

Huntsville, TX MISA

26700

Huron, SD MISA

26740

Hutchinson, KS MISA

26780

Hutchinson, MN MISA

26820

Idaho Falls, ID MSA

26860

Indiana, PA MISA

26900

Indianapolis-Carmel-Anderson, IN MSA

26940

Indianola, MS MISA

26960

Ionia, MI MISA

26980

Iowa City, IA MSA

27020

Iron Mountain, MI-WI MISA

27060

Ithaca, NY MSA

27100

Jackson, MI MSA

27140

Jackson, MS MSA

27160

Jackson, OH MISA

27180

Jackson, TN MSA

27220

Jackson, WY-ID MISA

27260

Jacksonville, FL MSA

27300

Jacksonville, IL MISA

27340

Jacksonville, NC MSA

27380

Jacksonville, TX MISA

27420

Jamestown, ND MISA

27460

Jamestown-Dunkirk-Fredonia, NY MISA

27500

Janesville-Beloit, WI MSA

27540

Jasper, IN MISA

27620

Jefferson City, MO MSA

27600

Jefferson, GA MISA

27700

Jesup, GA MISA

27740

Johnson City, TN MSA

27780

Johnstown, PA MSA

27860

Jonesboro, AR MSA

27900

Joplin, MO MSA

27920

Junction City, KS MISA

27940

Juneau, AK MISA

27980

Kahului-Wailuku-Lahaina, HI MSA

28020

Kalamazoo-Portage, MI MSA

28060

Kalispell, MT MISA

28100

Kankakee, IL MSA

28140

Kansas City, MO-KS MSA

28180

Kapaa, HI MISA

28260

Kearney, NE MISA

28300

Keene, NH MISA

28340

Kendallville, IN MISA

28380

Kennett, MO MISA

28420

KenneWick-Richland, WA MSA

28500

Kerrville, TX MISA

28540

Ketchikan, AK MISA

28580

Key West, FL MISA

28620

Kill Devil Hills, NC MISA

28660

Killeen-Temple, TX MSA

28700

Kingsport-Bristol-Bristol, TN-VA MSA

28740

Kingston, NY MSA

28780

Kingsville, TX MISA

28820

Kinston, NC MISA

28860

Kirksville, MO MISA

28900

Klamath Falls, OR MISA

28940

Knoxville, TN MSA

29020

Kokomo, IN MSA

29100

La Crosse-Onalaska, WI-MN MSA

29260

La Grande, OR MISA

29060

Laconia, NH MISA

29180

Lafayette, LA MSA

29200

Lafayette-West Lafayette, IN MSA

29340

Lake Charles, LA MSA

29420

Lake Havasu City-Kingman, AZ MSA

29460

Lakeland-Winter Haven, FL MSA

29500

Lamesa, TX MISA

29540

Lancaster, PA MSA

29620

Lansing-East Lansing, MI MSA

29700

Laredo, TX MSA

29740

Las Cruces, NM MSA

29820

Las Vegas-Henderson-Paradise, NV MSA

29940

Lawrence, KS MSA

30020

Lawton, OK MSA

30140

Lebanon, PA MSA

30300

Lewiston, ID-WA MSA

30340

Lewiston-Auburn, ME MSA

30460

Lexington-Fayette, KY MSA

30580

Liberal, KS MISA

30620

Lima, OH MSA

30700

Lincoln, NE MSA

30780

Little Rock-North Little Rock-Conway, AR MSA

30860

Logan, UT-ID MSA

30980

Longview, TX MSA

31020

Longview, WA MSA

31080

Los Angeles-Long Beach-Anaheim, CA MSA

31140

Louisville/Jefferson County, KY-IN MSA

31180

Lubbock, TX MSA

31260

Lufkin, TX MISA

31300

Lumberton, NC MISA

31340

Lynchburg, VA MSA

31420

Macon, GA MSA

31460

Madera, CA MSA

31540

Madison, WI MSA

31700

Manchester-Nashua, NH MSA

31740

Manhattan, KS MSA

31860

Mankato-North Mankato, MN MSA

31900

Mansfield, OH MSA

32580

McAllen-Edinburg-Mission, TX MSA

32780

Medford, OR MSA

32820

Memphis, TN-MS-AR MSA

32900

Merced, CA MSA

33100

Miami-Fort Lauderdale-West Palm Beach, FL MSA

33140

Michigan City-La Porte, IN MSA

33220

Midland, MI MSA

33260

Midland, TX MSA

33340

Milwaukee-Waukesha-West Allis, WI MSA

33460

Minneapolis-St. Paul-Bloomington, MN-WI MSA

33540

Missoula, MT MSA

33660

Mobile, AL MSA

33700

Modesto, CA MSA

33740

Monroe, LA MSA

33780

Monroe, MI MSA

33860

Montgomery, AL MSA

34060

Morgantown, WV MSA

34100

Morristown, TN MSA

34580

Mount Vernon-Anacortes, WA MSA

34620

Muncie, IN MSA

34740

Muskegon, MI MSA

34820

Myrtle Beach-Conway-North Myrtle Beach, SC-NC MSA

34900

Napa, CA MSA

34940

Naples-Immokalee-Marco Island, FL MSA

34980

Nashville-Davidson--Murfreesboro--Franklin, TN MSA

35100

New Bern, NC MSA

35300

New Haven-Milford, CT MSA

35380

New Orleans-Metairie, LA MSA

35620

New York-Newark-Jersey City, NY-NJ-PA MSA

35660

Niles-Benton Harbor, MI MSA

35840

North Port-Sarasota-Bradenton, FL MSA

35980

Norwich-New London, CT MSA

36100

Ocala, FL MSA

36140

Ocean City, NJ MSA

36220

Odessa, TX MSA

36260

Ogden-Clearfield, UT MSA

36300

Ogdensburg-Massena, NY MISA

36340

Oil City, PA MISA

36380

Okeechobee, FL MISA

36420

Oklahoma City, OK MSA

36460

Olean, NY MISA

36500

Olympia-Tumwater, WA MSA

36540

Omaha-Council Bluffs, NE-IA MSA

36580

Oneonta, NY MISA

36620

Ontario, OR-ID MISA

36660

Opelousas, LA MISA

36700

Orangeburg, SC MISA

36740

Orlando-Kissimmee-Sanford, FL MSA

36780

Oshkosh-Neenah, WI MSA

36820

Oskaloosa, IA MISA

36830

Othello, WA MISA

36840

Ottawa, KS MISA

36860

Ottawa-Peru, IL MISA

36900

Ottumwa, IA MISA

36940

Owatonna, MN MISA

36980

Owensboro, KY MSA

37020

Owosso, MI MISA

37060

Oxford, MS MISA

37080

Oxford, NC MISA

37100

Oxnard-Thousand Oaks-Ventura, CA MSA

37120

Ozark, AL MISA

37140

Paducah, KY-IL MISA

37220

Pahrump, NV MISA

37260

Palatka, FL MISA

37300

Palestine, TX MISA

37340

Palm Bay-Melbourne-Titusville, FL MSA

37420

Pampa, TX MISA

37460

Panama City, FL MSA

37500

Paragould, AR MISA

37540

Paris, TN MISA

37580

Paris, TX MISA

37620

Parkersburg-Vienna, WV MSA

37660

Parsons, KS MISA

37740

Payson, AZ MISA

37780

Pecos, TX MISA

37860

Pensacola-Ferry Pass-Brent, FL MSA

37900

Peoria, IL MSA

37940

Peru, IN MISA

37980

Philadelphia-Camden-Wilmington, PA-NJ-DE-MD MSA

38060

Phoenix-Mesa-Scottsdale, AZ MSA

38100

Picayune, MS MISA

38180

Pierre, SD MISA

38220

Pine Bluff, AR MSA

38240

Pinehurst-Southern Pines, NC MISA

38260

Pittsburg, KS MISA

38300

Pittsburgh, PA MSA

38340

Pittsfield, MA MSA

38380

Plainview, TX MISA

38420

Platteville, WI MISA

38460

Plattsburgh, NY MISA

38500

Plymouth, IN MISA

38540

Pocatello, ID MSA

38580

Point Pleasant, WV-OH MISA

38620

Ponca City, OK MISA

38700

Pontiac, IL MISA

38740

Poplar Bluff, MO MISA

38820

Port Angeles, WA MISA

38840

Port Clinton, OH MISA

38920

Port Lavaca, TX MISA

38940

Port St. Lucie, FL MSA

38780

Portales, NM MISA

38860

Portland-South Portland, ME MSA

38900

Portland-Vancouver-Hillsboro, OR-WA MSA

39020

Portsmouth, OH MISA

39060

Pottsville, PA MISA

39140

Prescott, AZ MSA

39220

Price, UT MISA

39260

Prineville, OR MISA

39300

Providence-Warwick, RI-MA MSA

39340

Provo-Orem, UT MSA

39380

Pueblo, CO MSA

39420

Pullman, WA MISA

39460

Punta Gorda, FL MSA

39500

Quincy, IL-MO MISA

39540

Racine, WI MSA

39580

Raleigh, NC MSA

39660

Rapid City, SD MSA

39700

Raymondville, TX MISA

39740

Reading, PA MSA

39780

Red Bluff, CA MISA

39860

Red Wing, MN MISA

39820

Redding, CA MSA

39900

Reno, NV MSA

39940

Rexburg, ID MISA

39980

Richmond, IN MISA

40060

Richmond, VA MSA

40080

Richmond-Berea, KY MISA

40100

Rio Grande City, TX MISA

40140

Riverside-San Bernardino-Ontario, CA MSA

40180

Riverton, WY MISA

40260

Roanoke Rapids, NC MISA

40220

Roanoke, VA MSA

40300

Rochelle, IL MISA

40340

Rochester, MN MSA

40380

Rochester, NY MSA

40540

Rock Springs, WY MISA

40420

Rockford, IL MSA

40460

Rockingham, NC MISA

40580

Rocky Mount, NC MSA

40620

Rolla, MO MISA

40660

Rome, GA MSA

40700

Roseburg, OR MISA

40740

Roswell, NM MISA

40780

Russellville, AR MISA

40820

Ruston, LA MISA

40860

Rutland, VT MISA

40900

Sacramento--Roseville--Arden-Arcade, CA MSA

40940

Safford, AZ MISA

40980

Saginaw, MI MSA

41400

Salem, OH MISA

41420

Salem, OR MSA

41460

Salina, KS MISA

41500

Salinas, CA MSA

41540

Salisbury, MD-DE MSA

41620

Salt Lake City, UT MSA

41660

San Angelo, TX MSA

41700

San Antonio-New Braunfels, TX MSA

41740

San Diego-Carlsbad, CA MSA

41860

San Francisco-Oakland-Hayward, CA MSA

41940

San Jose-Sunnyvale-Santa Clara, CA MSA

42020

San Luis Obispo-Paso Robles-Arroyo Grande, CA MSA

41760

Sandpoint, ID MISA

41780

Sandusky, OH MISA

41820

Sanford, NC MISA

42100

Santa Cruz-Watsonville, CA MSA

42140

Santa Fe, NM MSA

42200

Santa Maria-Santa Barbara, CA MSA

42220

Santa Rosa, CA MSA

42300

Sault Ste. Marie, MI MISA

42340

Savannah, GA MSA

42380

Sayre, PA MISA

42420

Scottsbluff, NE MISA

42460

Scottsboro, AL MISA

42540

Scranton--Wilkes-Barre--Hazleton, PA MSA

42620

Searcy, AR MISA

42660

Seattle-Tacoma-Bellevue, WA MSA

42680

Sebastian-Vero Beach, FL MSA

42700

Sebring, FL, FL MSA

42740

Sedalia, MO MISA

42780

Selinsgrove, PA MISA

42820

Selma, AL MISA

42900

Seneca Falls, NY MISA

42860

Seneca, SC MISA

42940

Sevierville, TN MISA

42980

Seymour, IN MISA

43020

Shawano, WI MISA

43060

Shawnee, OK MISA

43100

Sheboygan, WI MSA

43140

Shelby, NC MISA

43180

Shelbyville, TN MISA

43220

Shelton, WA MISA

43260

Sheridan, WY MISA

43300

Sherman-Denison, TX MSA

43320

Show Low, AZ MISA

43340

Shreveport-Bossier City, LA MSA

43380

Sidney, OH MISA

43420

Sierra Vista-Douglas, AZ MSA

43460

Sikeston, MO MISA

43500

Silver City, NM MISA

43580

Sioux City, IA-NE-SD MSA

43620

Sioux Falls, SD MSA

43660

Snyder, TX MISA

43700

Somerset, KY MISA

43740

Somerset, PA MISA

43760

Sonora, CA MISA

43780

South Bend-Mishawaka, IN-MI MSA

43900

Spartanburg, SC MSA

43940

Spearfish, SD MISA

43980

Spencer, IA MISA

44020

Spirit Lake, IA MISA

44060

Spokane-Spokane Valley, WA MSA

44100

Springfield, IL MSA

44140

Springfield, MA MSA

44180

Springfield, MO MSA

44220

Springfield, OH MSA

41060

St. Cloud, MN MSA

41100

St. George, UT MSA

41140

St. Joseph, MO-KS MSA

41180

St. Louis, MO-IL MSA

41220

St. Marys, GA MISA

44260

Starkville, MS MISA

44300

State College, PA MSA

44340

Statesboro, GA MISA

44420

Staunton-Waynesboro, VA MSA

44460

Steamboat Springs, CO MISA

44500

Stephenville, TX MISA

44540

Sterling, CO MISA

44580

Sterling, IL MISA

44620

Stevens Point, WI MISA

44660

Stillwater, OK MISA

44700

Stockton-Lodi, CA MSA

44740

Storm Lake, IA MISA

44780

Sturgis, MI MISA

44860

Sulphur Springs, TX MISA

44900

Summerville, GA MISA

44920

Summit Park, UT MISA

44940

Sumter, SC MSA

44980

Sunbury, PA MISA

45000

Susanville, CA MISA

45020

Sweetwater, TX MISA

45060

Syracuse, NY MSA

45140

Tahlequah, OK MISA

45180

Talladega-Sylacauga, AL MISA

45220

Tallahassee, FL MSA

45300

Tampa-St. Petersburg-Clearwater, FL MSA

45340

Taos, NM MISA

45380

Taylorville, IL MISA

45460

Terre Haute, IN MSA

45500

Texarkana, TX-AR MSA

45520

The Dalles, OR MISA

45540

The Villages, FL MSA

45580

Thomaston, GA MISA

45620

Thomasville, GA MISA

45660

Tiffin, OH MISA

45700

Tifton, GA MISA

45740

Toccoa, GA MISA

45780

Toledo, OH MSA

45820

Topeka, KS MSA

45860

Torrington, CT MISA

45900

Traverse City, MI MISA

45940

Trenton, NJ MSA

45980

Troy, AL MISA

46020

Truckee-Grass Valley, CA MISA

46060

Tucson, AZ MSA

46100

Tullahoma-Manchester, TN MISA

46140

Tulsa, OK MSA

46180

Tupelo, MS MISA

46220

Tuscaloosa, AL MSA

46300

Twin Falls, ID MISA

46340

Tyler, TX MSA

46380

Ukiah, CA MISA

46460

Union City, TN-KY MISA

46520

Urban Honolulu, HI MSA

46500

Urbana, OH MISA

46540

Utica-Rome, NY MSA

46620

Uvalde, TX MISA

46660

Valdosta, GA MSA

46700

Vallejo-Fairfield, CA MSA

46740

Valley, AL MISA

46780

Van Wert, OH MISA

46820

Vermillion, SD MISA

46860

Vernal, UT MISA

46900

Vernon, TX MISA

46980

Vicksburg, MS MISA

47020

Victoria, TX MSA

47080

Vidalia, GA MISA

47180

Vincennes, IN MISA

47220

Vineland-Bridgeton, NJ MSA

47240

Vineyard Haven, MA MISA

47260

Virginia Beach-Norfolk-Newport News, VA-NC MSA

47300

Visalia-Porterville, CA MSA

47340

Wabash, IN MISA

47380

Waco, TX MSA

47420

Wahpeton, ND-MN MISA

47460

Walla Walla, WA MSA

47540

Wapakoneta, OH MISA

47580

Warner Robins, GA MSA

47620

Warren, PA MISA

47660

Warrensburg, MO MISA

47700

Warsaw, IN MISA

47920

Washington Court House, OH MISA

47780

Washington, IN MISA

47820

Washington, NC MISA

47900

Washington-Arlington-Alexandria, DC-VA-MD-WV MSA

47940

Waterloo-Cedar Falls, IA MSA

47980

Watertown, SD MISA

48020

Watertown-Fort Atkinson, WI MISA

48060

Watertown-Fort Drum, NY MSA

48100

Wauchula, FL MISA

48140

Wausau, WI MSA

48180

Waycross, GA MISA

48220

Weatherford, OK MISA

48260

Weirton-Steubenville, WV-OH MSA

48300

Wenatchee, WA MSA

48460

West Plains, MO MISA

48540

Wheeling, WV-OH MSA

48580

Whitewater-Elkhorn, WI MISA

48660

Wichita Falls, TX MSA

48620

Wichita, KS MSA

48700

Williamsport, PA MSA

48780

Williston, ND MISA

48820

Willmar, MN MISA

48900

Wilmington, NC MSA

48940

Wilmington, OH MISA

48980

Wilson, NC MISA

49020

Winchester, VA-WV MSA

49080

Winnemucca, NV MISA

49100

Winona, MN MISA

49180

Winston-Salem, NC MSA

49220

Wisconsin Rapids-Marshfield, WI MISA

49260

Woodward, OK MISA

49300

Wooster, OH MISA

49340

Worcester, MA-CT MSA

49380

Worthington, MN MISA

49420

Yakima, WA MSA

49460

Yankton, SD MISA

49620

York-Hanover, PA MSA

49660

Youngstown-Warren-Boardman, OH-PA MSA

49700

Yuba City, CA MSA

49740

Yuma, AZ MSA

49780

Zanesville, OH MISA

49820

Zapata, TX MISA









Housing Price Index Patterns by Metro & State
.. tools & data; view/rank/compare/analyze housing value trends
.. metros/states (here) .. 3-digit ZIP Code .. 5-digit ZIP Code

.. October 2019 .. use the Housing Price Index (HPI) to examine quarterly or annual housing value change by 3 and 5-digit ZIP code, census tract, metro or state. How is housing value appreciation changing among areas of interest? The HPI is calculated in part using home sales price information from Fannie Mae- and Freddie Mac-acquired mortgages. The U.S. all transactions HPI rose 5.45% percent from the 1st quarter of 2018 to the 1st quarter of 2019.

Top & Bottom Ten of Top 100 MSAs -- 2018Q2-2019Q2 HPI Change
.. next update 11/26/19 .. subscribe to updates

| | | | | | |
| --- | --- | --- | --- | --- | --- |
| 2019Q2 Top 10 MSAs | 4QChg | 1QChg | 2019Q2 Bottom 10 MSAs | 4QChg | 1QChg |
| Boise City, ID | 13.6 | 2.6 | New York, NY-NJ | 2.0 | 0.8 |
| Grand Rapids, MI | 9.0 | 1.6 | Honolulu, HI | 1.9 | -0.3 |
| San Antonio, TX | 8.9 | 0.9 | Baton Rouge, LA | 1.7 | 2.4 |
| Austin, TX | 8.5 | 1.8 | Cape Coral, FL | 1.6 | -0.6 |
| Colorado Springs, CO | 8.2 | 2.7 | North Port, FL | 1.4 | -3.3 |
| Akron, OH | 8.1 | 2.7 | Elgin, IL | 1.4 | -1.2 |
| Jacksonville, FL | 8.0 | 2.9 | Baltimore, MD | 1.1 | 0.2 |
| Knoxville, TN | 7.6 | 3.3 | Wilmington, DE | 1.0 | -1.5 |
| Gary, IN | 7.5 | 1.5 | Seattle, WA | 0.6 | 0.1 |
| El Paso, TX | 7.4 | 0.7 | Oxnard, CA | 0.5 | 0.2 |
.. 4QChg -- HPI Change 2018Q2 to 2019Q2; 1QChg -- HPI Change 2019Q1 to 2019Q2

This section provides access to current quarterly HPI data for the U.S., states and metros using the interactive table below. Updates and current data are available to Situation & Outlook Report subscribers.

• Go to HPI interactive table below.
• Subscribe to monthly HPI e-mail update
timed to correspond with most recent monthly HPI & related housing conditions.

Visual Analysis of Quarterly HPI Patterns by Metro
The following graphic shows patterns of housing value appreciation based on the 2019Q1 Housing Price Index (HPI) by 2018 vintage MSA and MSA-MD. Click grpahic for larger view. Expand browser window to full screen for best view. Larger view shows metros labeled with HPI.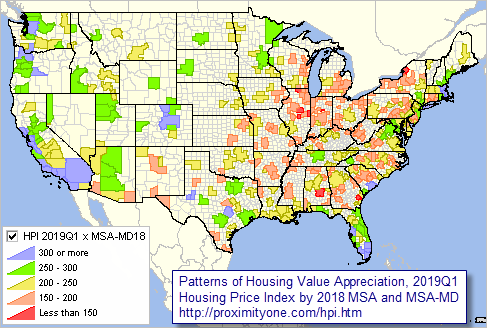 - view developed using CV XE GIS and related GIS project.
- Click graphic for larger view and details.

Using Tools & Data Resources in this Section
Use tools in this section to examine the quarterly HPI from 2018Q1 to 2019Q1. View/rank/compare HPI trends using the interactive table (see below). Use the GIS tools to visually and geospatially analyze patterns and characteristics of interest. Members of the ProximityOne User Group may download the HPI GIS project and use this project and datasets with the CV XE GIS software. Develop variations on maps shown in this section; add your own data.

Use the interactive table below to view/rank/compare the non-seasonally adjusted "all transactions" HPI for the most recent 5 quarters for all Metropolitan Statistical Areas (MSAs), states and the U.S. The ranking table shows the latest quarterly HPI data and preceding quarters for one year earlier. This table will be updated in August 2019, with 2nd quarter 2019 data and related prior quarterly estimates and re-computed quarterly change values (last column).

Housing Price Index Interactive Table - 2018Q1 - 2019Q1
Click column header to sort; click again to sort other direction.
View percent change from same quarter last year (rightmost column).
See related interactive demographic-economic tables


U.S. & States HPI Base 1980, HPI=100.0; Metros HPI Base 1995, HPI=100.0

Housing Market Data & Analytical Resources
The HPI alone provides only partial insights -- based on this one measure. Evaluation of housing markets, and the regional economy, trends and patterns need to use the HPI in combination with many other measures.
• Situation & Outlook database & information resources
• Metro Reports - examine HPI in context of other measures
.. click MSA (HPI only available for MSAs) link in table at right to view metro
.. see HPI in metro table of contents section (5.4.)
• HPI Sections
.. HPI by Metro/State/U.S. quarterly (this section)
.. HPI by 3-Digit ZIP Code quarterly
.. HPI by 5-Digit ZIP Code annual
• 2010-2017 annual population estimates: county, metro, state, U.S.
• ACS demographic-economic tables: metro, state, U.S.
• Housing Unit Time Series, Trends & Patterns
• Housing market conditions
• ProximityOne Data Services: access/integrate these with other data
• Each data resource section has associated GIS project & datasets.
• CVGIS software: data analytics, maps, geospatial analysis
• See related Interactive Tables

Steps to Develop Custom HPI Pattern Analysis Maps (requires Windows computer with Internet connection)
1. Install the ProximityOne CV XE GIS
... run the CV XE GIS installer
... take all defaults during installation
2. Download the HPI GIS project fileset
... requires UserID
... unzip HPI GIS project files to local folder c:\hpigis
3. Open the c:\hpigis\hpi_us1.gis project
... after completing the above steps, click File>Open>Dialog
... open the file named c:\hpigis\hpi_us1.gis
4. Done. The start-up view is shown at top of this section.

About the Housing Price Index ... scroll section


The Housing Price Index (HPI) is a broad measure of the movement of single-family house prices. It serves as a timely, accurate indicator of house price trends at various geographic levels. It also provides housing economists with an analytical tool that is useful for estimating changes in the rates of mortgage defaults, prepayments and housing affordability in specific geographic areas. The HPI is based on data developed by the Federal Housing Finance Agency (FHFA) using data provided by Fannie Mae and Freddie Mac.

The HPI is a measure designed to capture changes in the value of single-family homes in the U.S. by state and metropolitan area. The HPI equals 100 for all MSAs in the first quarter of 1995. States and divisions are normalized to 100 in the first quarter of 1980. The difference in normalization dates has no impact on appreciation rates obtained from the index. HPI data are estimates subject to errors of estimation.

Transactions Covered by HPI
The House Price Index is based on transactions involving conforming, conventional mortgages purchased or securitized by Fannie Mae or Freddie Mac. Only mortgage transactions on single-family properties are included. Conforming refers to a mortgage that both meets the underwriting guidelines of Fannie Mae or Freddie Mac and that does not exceed the conforming loan limit. For loans originated in 2009, the loan limit has been set by the American Recovery and Reinvestment Act of 2009. That Act, in conjuction with prior legislation, allows for loan limits up to $729,750 for one-unit properties in certain high-cost areas in the contiguous United States.

The purchase-only and all-transactions HPI track average house price changes in either repeat sales or refinancings on the same single-family properties. The purchase-only index is based on more than 7 million repeat sales transactions, while the all-transactions index includes more than 50 million repeat transactions (includes refinance appraisals). Both indexes are based on data obtained from Fannie Mae and Freddie Mac for mortgages originated over the past 39 years.

How the HPI is Computed
The HPI is a weighted, repeat-sales index, meaning that it measures average price changes in repeat sales or refinancings on the same properties. This information is obtained by reviewing repeat mortgage transactions on single-family properties whose mortgages have been purchased or securitized by Fannie Mae or Freddie Mac since January 1975. The HPI is updated each quarter as additional mortgages are purchased or securitized by Fannie Mae and Freddie Mac. The new mortgage acquisitions are used to identify repeat transactions for the most recent quarter and for each quarter since the first quarter of 1975.

Comparison to Related Housing Price Measures
Census Bureau Constant Quality House Price Index (CQHPI). The FHFA HPI covers far more transactions than the Census survey. The CQHPI covers sales of new homes and homes for sale, based on a sample of about 14,000 transactions annually, gathered through monthly surveys. The quarterly HPI is based on more than 38 million repeat transaction pairs over 34 years. This gives a more accurate reflection of current property values than the Census index. The HPI also can be updated efficiently using data collected by Fannie Mae and Freddie Mac in the normal course of their business activity.

S&P/Case-Shiller Home Price Index. Both FHFA and C-S HPIs employ the same fundamental repeat-valuations approach, there are a number of data and methodology differences. Among the dissimilarities:
. The S&P/Case-Shiller indexes only use purchase prices in index calibration, while the all-transactions HPI also includes refinance appraisals. The FHFA purchase only series is restricted to purchase prices, as are the S&P/Case-Shiller indexes.
. FHFA valuation data are derived from conforming, conventional mortgages provided by Fannie Mae and Freddie Mac. The S&P/Case-Shiller indexes use information obtained from county assessor and recorder offices.
. The S&P/Case-Shiller indexes are value-weighted, meaning that price trends for more expensive homes have greater influence on estimated price changes than other homes. The FHFA index weights price trends equally for all properties.
. The geographic coverage of the indexes differs. The S&P/Case-Shiller National Home Price Index, for example, does not have valuation data from 13 states. The FHFA U.S. index is calculated using data from all states.



Support Using these Resources [goto top]
Learn more about demographic economic data and related analytical tools. Join us in a Data Analytics Lab session. There is no fee for these Web sessions. Each informal session is focused on a specific topic. The open structure also provides for Q&A and discussion of application issues of interest to participants.

ProximityOne User Group [goto top]
Join the ProximityOne User Group to keep up-to-date with new developments relating to geographic-demographic-economic decision-making information resources. Receive updates and access to tools and resources available only to members. Use this form to join the User Group.

Additional Information
ProximityOne develops geodemographic-economic data and analytical tools and helps organizations knit together and use diverse data in a decision-making and analytical framework. We develop custom demographic/economic estimates and projections, develop geographic and geocoded address files, and assist with impact and geospatial analyses. Wide-ranging organizations use our tools (software, data, methodologies) to analyze their own data integrated with other data. Follow ProximityOne on Twitter at www.twitter.com/proximityone. Contact us (888-364-7656) with questions about data covered in this section or to discuss custom estimates, projections or analyses for your areas of interest.