Housing Price Index Patterns by Metro & State
-- interactive table to view/rank/compare metros & states 2012Q3 - 2013Q3


Decision-Making Information


ProximityOne
information resources & solutions
(888) DMI-SOLN
(888) 364-7656







Visual analysis with ProximityOne tools
click graphic for info; hover to pause




November 2013. The Housing Price Index (HPI), calculated using home sales price information from Fannie Mae- and Freddie Mac-acquired mortgages, continued upward momentum in U.S. house prices remained strong in the third quarter, as prices rose 2.0 percent from the previous quarter. This is the ninth consecutive quarterly price increase in the purchase-only, seasonally adjusted index and it marks the first time since 2009 that the national house price level is higher than it was five years ago. The seasonally adjusted, purchase-only HPI rose in 48 states and in the District of Columbia during the third quarter. Top 5 in annual appreciation: 1) Nevada 2) California 3) Arizona 4) Florida and 5) Washington.

Use the interactive table in this section to view/rank/compare the non-seasonally adjusted "all transactions" HPI for the most recent 5 quarters for all Metropolitan Statistical Areas (MSAs), states and the U.S.

HPI Percent Change 2012Q3-2013Q3 by Metro


Click graphic for larger view and details.

2013Q3 HPI and the New 2013 Metro Designations
This section provides the 2013Q3, and historically revised, HPI data using the 2013 vintage metros. This is the first HPI release for the 2013 vintage metros ...
• 2013 vintage metros & component areas: http://proximityone.com/metros2013.htm
- interactive ranking/query table
• metro principal city demographic-economic characteristics: http://proximityone.com/places.htm
- includes all U.S. cities/places - interactive ranking/query table
• metro component county characteristics: http://proximityone.com/countytrends.htm
- includes all counties - interactive ranking/query table

Situation & Outlook
The Housing Price Index (HPI) provides a measure to examine/analyze housing price levels and variations among metros and states. Use the interactive table in this section to examine the HPI quarter to quarter over the past year by state and metro. The ranking table provides an easy way to rank/compare housing prices for a single metro area or a group of metros.

The HPI alone provides only partial insights -- based on this one measure. Evaluation of housing markets, and the regional economy, trends and patterns need to use the HPI in combination with many other measures. Situation & Outlook reports integrate HPI data with other demographic-economic measures.

Examine Patterns/Characteristics for Areas of Interest. Use S&O demographic-economic profiles to view characteristics of the housing market for geographic areas of interest. Click on a link in the upper right scroll box to view a sample. When the page opens, click on Housing Characteristics link to view details about housing for the comparative analysis areas.

Quarterly Update. The ranking table shows the latest quarterly HPI data (3rd quarter 2013) and preceding quarters for one year earlier. This table will be updated on February 25, 2014, with 4th quarter 2013 data and related prior quarterly estimates and re-computed quarterly change values (last column).

Housing Price Index Interactive Ranking Table - 2012Q3 - 2013Q3
Ranking Tables Main | Metros Main
Click column header to sort; click again to sort other direction.
Slide horizontal scroll bar below table right to view percent change from same quarter last year (rightmost column).

HPI Percent Change 2012Q3-2013Q3 by Metro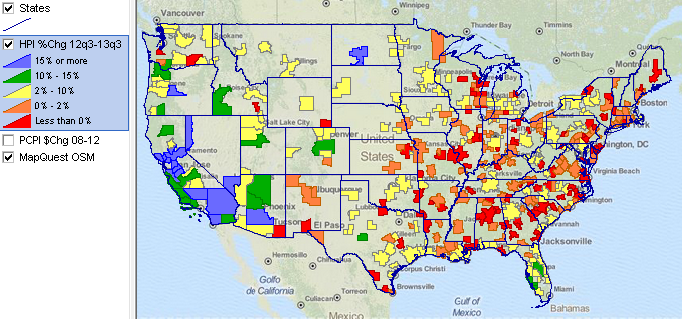 Thematic Pattern Maps
ProximityOne User Group members (join now, no fee) may download the all U.S. metro shapefile with all items shown in the interactive table integrated into the shapefile, ready to use. Create thematic maps using HPI items with pattern settings of interest. The map view presented above was developed using this shapefile with integrated HPI data.

The above map shows metros color-coded by HPI percent change 2012Q3-2013Q3. The legend at left of map shows intervals assigned to each color.

About the Housing Price Index
The Housing Price Index (HPI) is a broad measure of the movement of single-family house prices. It serves as a timely, accurate indicator of house price trends at various geographic levels. It also provides housing economists with an analytical tool that is useful for estimating changes in the rates of mortgage defaults, prepayments and housing affordability in specific geographic areas. The HPI is a measure designed to capture changes in the value of single-family houses in the U.S. as a whole, in various regions and in smaller areas. The HPI is published by the Federal Housing Finance Agency (FHFA) using data provided by Fannie Mae and Freddie Mac.

More About the HPI ... scroll section


The HPI is a measure designed to capture changes in the value of single-family homes in the U.S. by state and metropolitan area. The HPI equals 100 for all MSAs in the first quarter of 1995. States and divisions are normalized to 100 in the first quarter of 1980. The difference in normalization dates has no impact on appreciation rates obtained from the index. HPI data are estimates subject to errors of estimation.

Transactions Covered by HPI
The House Price Index is based on transactions involving conforming, conventional mortgages purchased or securitized by Fannie Mae or Freddie Mac. Only mortgage transactions on single-family properties are included. Conforming refers to a mortgage that both meets the underwriting guidelines of Fannie Mae or Freddie Mac and that does not exceed the conforming loan limit. For loans originated in 2009, the loan limit has been set by the American Recovery and Reinvestment Act of 2009. That Act, in conjuction with prior legislation, allows for loan limits up to $729,750 for one-unit properties in certain high-cost areas in the contiguous United States.

How the HPI is Computed
The HPI is a weighted, repeat-sales index, meaning that it measures average price changes in repeat sales or refinancings on the same properties. This information is obtained by reviewing repeat mortgage transactions on single-family properties whose mortgages have been purchased or securitized by Fannie Mae or Freddie Mac since January 1975. The HPI is updated each quarter as additional mortgages are purchased or securitized by Fannie Mae and Freddie Mac. The new mortgage acquisitions are used to identify repeat transactions for the most recent quarter and for each quarter since the first quarter of 1975.

Comparison to Related Housing Price Measures
Census Bureau Constant Quality House Price Index (CQHPI). The FHFA HPI covers far more transactions than the Census survey. The CQHPI covers sales of new homes and homes for sale, based on a sample of about 14,000 transactions annually, gathered through monthly surveys. The quarterly HPI is based on more than 38 million repeat transaction pairs over 34 years. This gives a more accurate reflection of current property values than the Census index. The HPI also can be updated efficiently using data collected by Fannie Mae and Freddie Mac in the normal course of their business activity.

S&P/Case-Shiller® Home Price Index. Both FHFA and C-S HPIs employ the same fundamental repeat-valuations approach, there are a number of data and methodology differences. Among the dissimilarities:
. The S&P/Case-Shiller indexes only use purchase prices in index calibration, while the all-transactions HPI also includes refinance appraisals. The FHFA purchase only series is restricted to purchase prices, as are the S&P/Case-Shiller indexes.
. FHFA valuation data are derived from conforming, conventional mortgages provided by Fannie Mae and Freddie Mac. The S&P/Case-Shiller indexes use information obtained from county assessor and recorder offices.
. The S&P/Case-Shiller indexes are value-weighted, meaning that price trends for more expensive homes have greater influence on estimated price changes than other homes. The FHFA index weights price trends equally for all properties.
. The geographic coverage of the indexes differs. The S&P/Case-Shiller National Home Price Index, for example, does not have valuation data from 13 states. The FHFA U.S. index is calculated using data from all states.



Additional Information
ProximityOne develops geographic-demographic-economic data and analytical tools and helps organizations knit together and use diverse data in a decision-making and analytical framework. We develop custom demographic/economic estimates and projections, develop geographic and geocoded address files, and assist with impact and geospatial analyses. Wide-ranging organizations use our tools (software, data, methodologies) to analyze their own data integrated with other data. Follow ProximityOne on Twitter at www.twitter.com/proximityone. Contact ProximityOne (888-364-7656) with questions about data covered in this section or to discuss custom estimates, projections or analyses for your areas of interest.