Selected CV XE GIS project/applications focused on the Washington, DC area.
Click toggle in Table of Contents at left to view different geography/applications.
Join in the conversation (click to follow):
| | |
| --- | --- |
| • | accessing, integrating & using geographic, demographic, economic data |
| | |
| --- | --- |
| • | decision-making information resources & solutions. |
This section is focused on integrating Census 2010 TIGER Shapefiles with Census 2010, ACS and related data.
See also Washington, DC Census 2010 and ACS Demographic-Economic Patterns.
Illustrating use of building footprint detail: building polygons
Orange fill pattern: White House & Capitol Building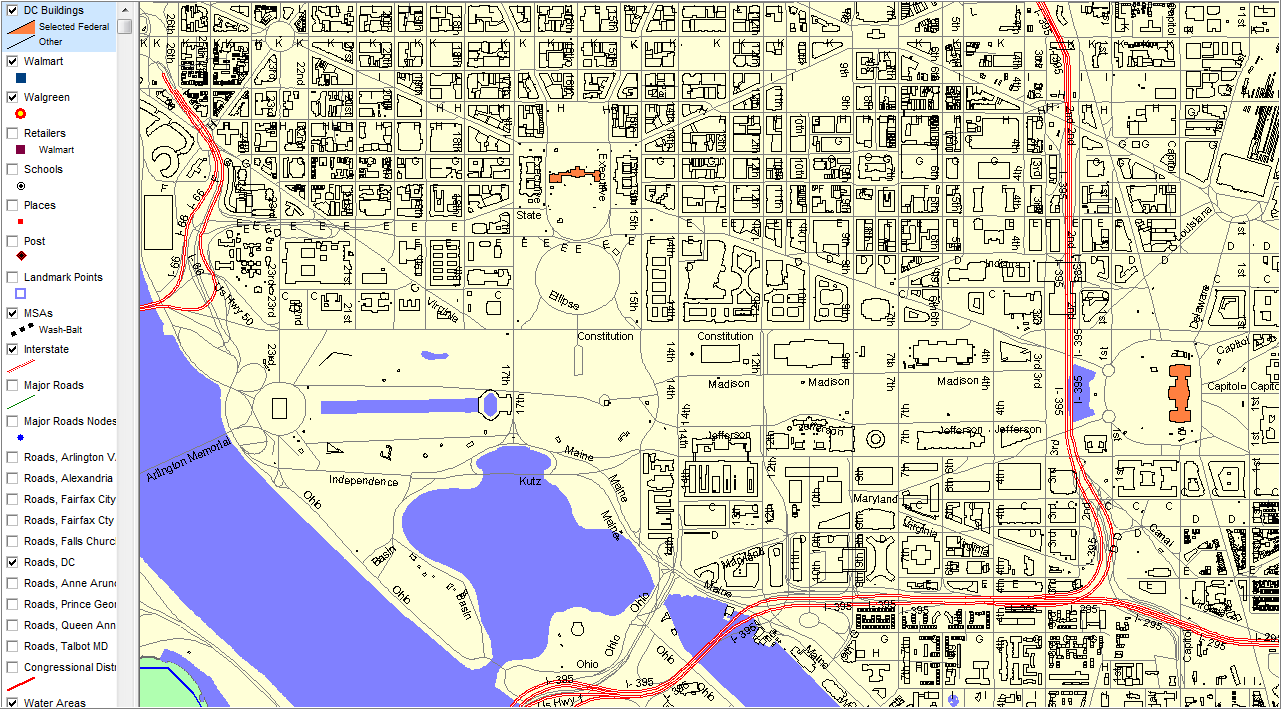 Building data layer developed by District of Columbia Office of the Chief Technology Officer
Washington-Arlington-Alexandria, DC-VA-MD-WV MSA and Baltimore-Towson, MD MSA shown by dotted boundary.
County/county equivalent component areas shown with yellow labels.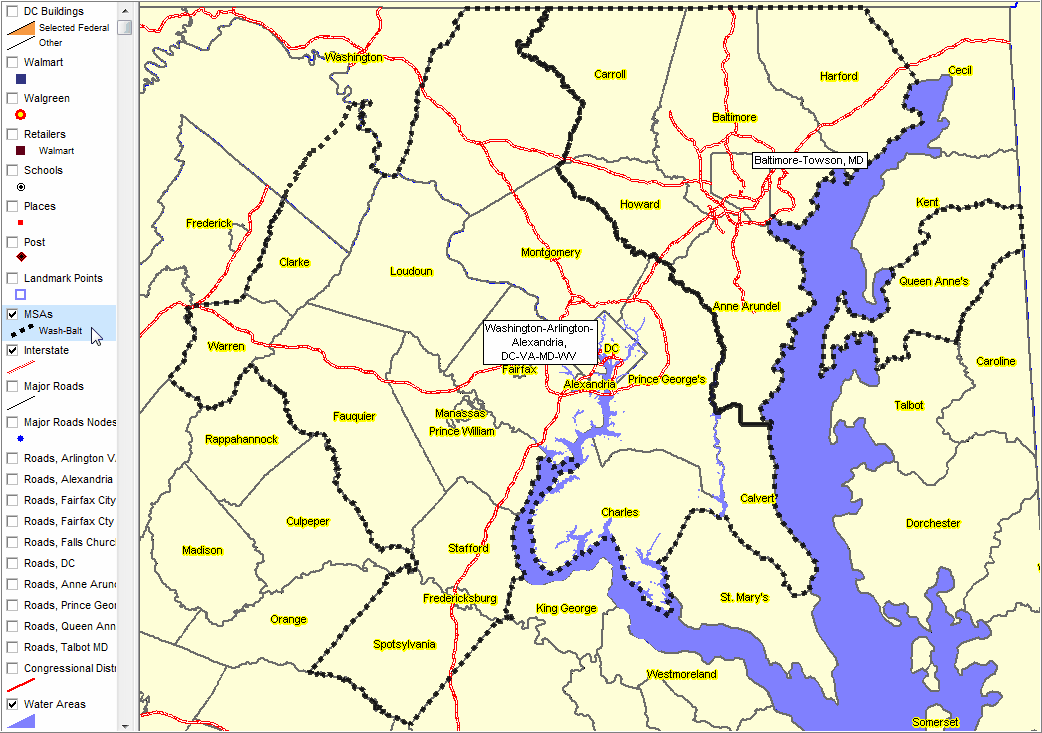 Illustrates DC detailed Roads, regional Interstates, military, water, and landmark areas.
Illustrates thematic pattern view -- median household income by census tract in context of related geography.
Illustrates adding retail store locations for further analysis (circle & square markers)
Symbol/marker pattern to show location of military areas.
Geocoding/Viewing DC Area Top 200 Businesses
CV is used to geocode the list of Washington Post (May 2009) top 200 businesses in the Washington, DC area. The CV FindAddress[batch] is an ideal tool for this task. The list of addresses is simply placed into a text file. The resulting geocoded file is a shapefile that can be added as a layer (to a CV project) enabling viewing the locations on a map. Partial list example:
| | |
| --- | --- |
| AARP | 601 E St. NW, Washington, D.C. 20049 |
| Adventist HealthCare | 1801 Research Blvd., Suite 400, Rockville, Md. 20850 |
| Advisory Board | 2445 M St. NW, Washington, D.C. 20037 |
| AES Corp. | 4300 Wilson Blvd., Arlington, Va. 22203 |
| Ahold USA | 1385 Hancock Street, Quincy, Mass. 02169 |
| Akin Gump Strauss Hauer & Feld | Robert S. Strauss Building, 1333 New Hampshire Ave. NW, Washington, D.C. 20036 |
| Alion Science & Technology | 1750 Tysons Blvd., Suite 1300, McLean, Va. 22102 |
The FindAddress[batch] is started and the text file name supplied. The rest is automatic; a shapefile is created.
The resulting shapefile is added to a project (used to display next view).
Illustrates using a different marker style -- symbol (font symbol) instead of circle for top 200 locations.
White House polygon shown with orange fill pattern.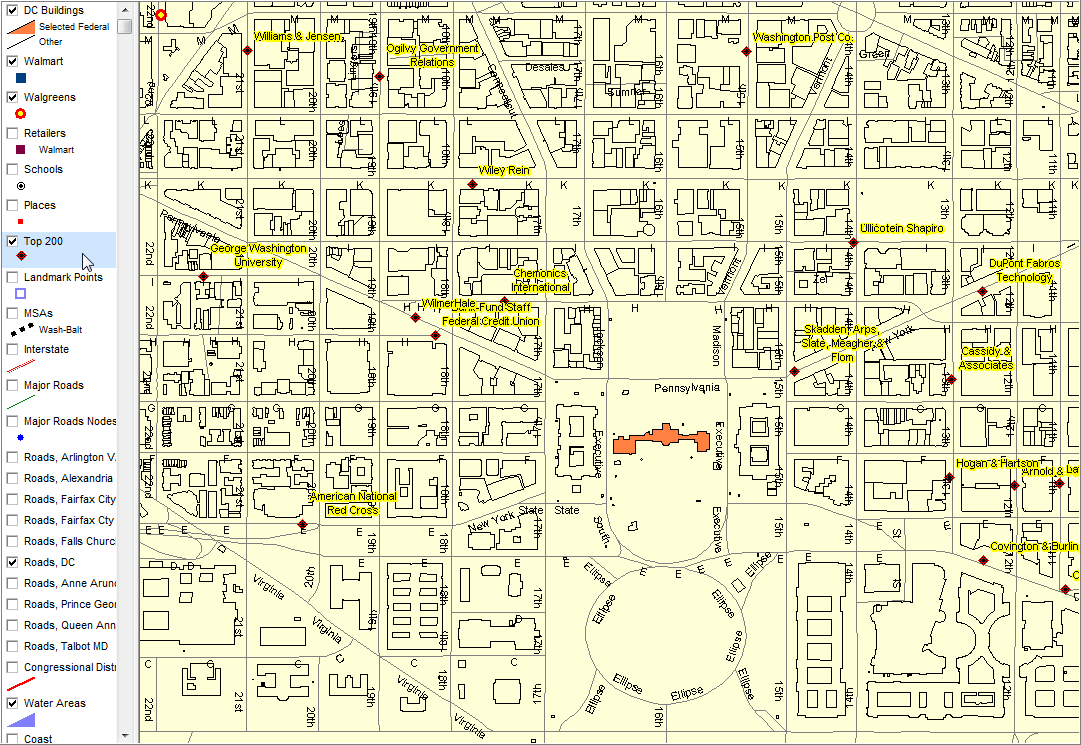 Geocoding & Market Analysis
Walmart: blue box marker; Walgreens: red circle marker. Store locations geocoded using CV then resulting shapefiles added as layers.
MSAs shown with dotted black boundaries.
See more about Major Retail Store Locations data -- http://proximityone.com/mrsl.htm.