Decision-Making Information
ProximityOne
information resources & solutions
(888) DMI-SOLN
(888) 364-7656

What's New & Ahead ...
Use CV XE GIS to perform wide-ranging geospatial analyses and augment essential decision-making information. Identify patterns; collaborate using visual representations of your data. CV XE GIS provides easy to use and advanced GIS and geographic-demographic-economic analytical features to wide-ranging needs.
Kansas Percent Population Change, 2010-2018 by Township/CCD; see legend for colors
- Census developed these data;
.. ProximityOne organizes these data and integrates, integrates them with other data
and puts them into a form that can be effectively, flexibly used.
.. ProximityOne uses these historical data to develop current estimates and projections
what's going to change when, where and by how much .. impact on you?
- There are 1,530 Kansas townships, compared to 1,180 census tracts
.. in many places coterminous
- see more about this GIS project that you can use; related video.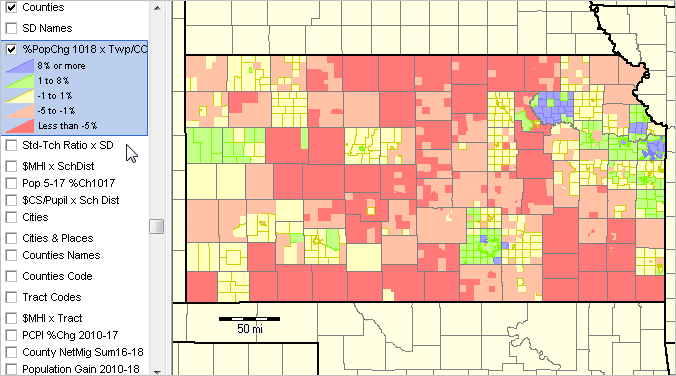 This Guide may be accessed from the ProximityOne home page (http://proximityone.com) under the menu bar "Analytical Tools" section. The Guide may be accessed with CV XE running by clicking Help>Guide on the main menu bar. The Guide may also be accessed from the main CV XE web page http://proximityone.com/cv.htm.
CV XE GIS installer updates are cumulative; e.g. running update on 6/19 includes updates noted for 6/15, etc.
--------------------------------------------
9/26/2020