Welcome to Visual Data Analytics (VDA) Desktop GIS
Updated 11/2/2023
At your fingertips using VDA Desktop GIS, insights into
| | |
| --- | --- |
| • | your business and market characteristics |
| | |
| --- | --- |
| • | healthcare infrastructure; supply & demand |
| | |
| --- | --- |
| • | demographic, social, economic, housing patterns & trends |
| | |
| --- | --- |
| • | K-12 education, schools & school districts |
| | |
| --- | --- |
| • | construction & housing market trends |
| | |
| --- | --- |
| • | congressional district characteristics |
... learn about what else using this Guide.
VDA Desktop (VDAD) and VDA Web (VDAW) GIS have been developed, and are maintained/supported, by ProximityOne/Alexandria, VA USA and Tsukasa Consulting/Osaka, Japan.
Topic of the Week .. two map views illustrating VDAGIS project US1_CDNY08.GIS
New York CD 08 by Congressional Community
.. CD NY08 with CCs labeled with %Majority Minority
New York CD 08 by Congressional Community
.. patterns of $MHI by census tract and CC boundaries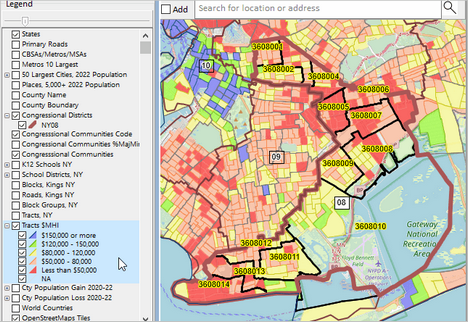 Installing VDA Desktop (VDAD)
.. Click this link for information on Installing VDAD
What else?
As you are completing the installation, the US1 GIS project opens. See about the US1.GIS project here.
You will also have certain features available to you. See about Features here.
You can Login to enable additional features. See about Login here.
See updates. Using 10.31.23 updates recommended.
Using other projects? See VDAGIS Server Projects. See also Mapping Statistical Data projects.
Later on, after VDAD is closed, how to start? What happens?
Start VDAD using the the desktop icon or using explorer click c:\vdagis\1\vdagis.exe.
VDAD starts and will attempt to open the project specified in the "Start-up GIS Project" edit box in the File>Settings form.
.. if that edit box contains a project name/location that is not found, VDAD starts with no project open.
Engaging with VDAD
Maybe a first this to do is to try these getting started steps.
When VDAD is displaying the US1 project map view, key in an address of location in the search bar above the mapview and press enter.
.. consider using "Apple Headquarters" (no quotes).
.. the map view zooms to that location and shows the location with a blue triangle.
.. unchecking the two county layers toward the bottom of the legend panel shows the marker/location in context of the topology.
.. click the checkbox on for the layer "Places 5,000+ 2022 population" (no quotes)
.. the cities boundaries show; see that the marker is in Cupertino, CA.
.. click anywhere in the city (using mouse as select tool). A profile appears.
.. note the 2022 population of Cupertino is 58,578. The 2020 population was 60,363.
Try your location(s) of interest.
Compatibility
The US1.GIS project, and other GIS projects downloaded from ProximityOne, may be used with CV XE GIS or VDAD.
.. some may prefer the layer editor used in CV XE GIS.
.. we build GIS projects using CV XE GIS.
.. in general we recommend otherwise using VDAD. VDAD is more technologically advanced and has very useful features not available in CV XE GIS.
Security
All shapefiles/layers in the US1.GIS project, and other GIS projects downloaded from ProximityOne, use shapefiles that are local on your computer with exception of the OpenStreetMaps ratse graphics layer (which you could remove but not recommended). This affords you maximum security in use of these data -- all local data.
Web Meetings Support
.. join the every Thursday web meeting: GeoSpatial Analytics: Using Geographic Information System Tools/Data
.. for learners at all levels
.. VDA Desktop GIS operations & applications review; discuss your applications; get usage tips
... see more about the Web Sessions
E-mail us or call (888-364-7656) with questions/help.
More about Geographic Information Systems (GIS) in this section and about GIS.
Start-up View .. using the US1 Project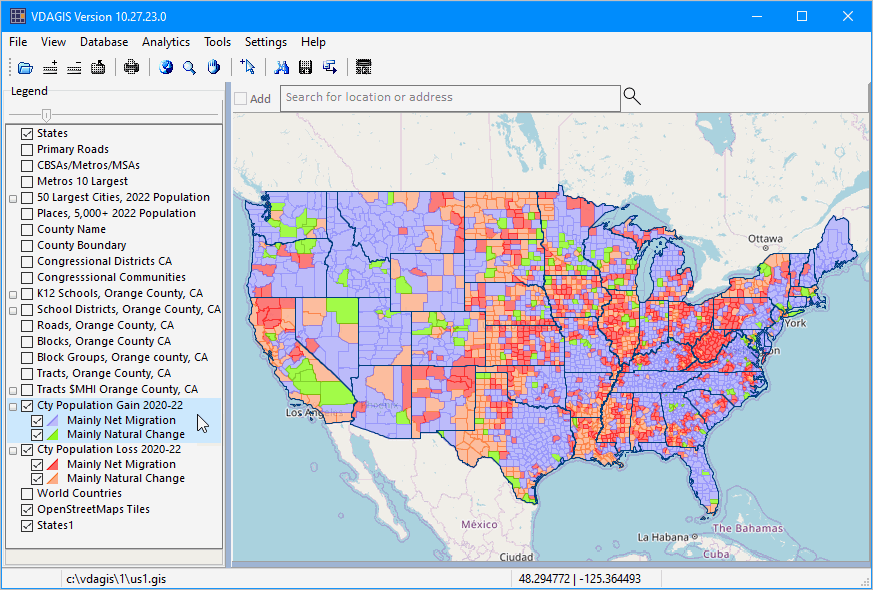 VDA User Interface showing Optional Table/Grid
.. using US1 Project (distributed with installer)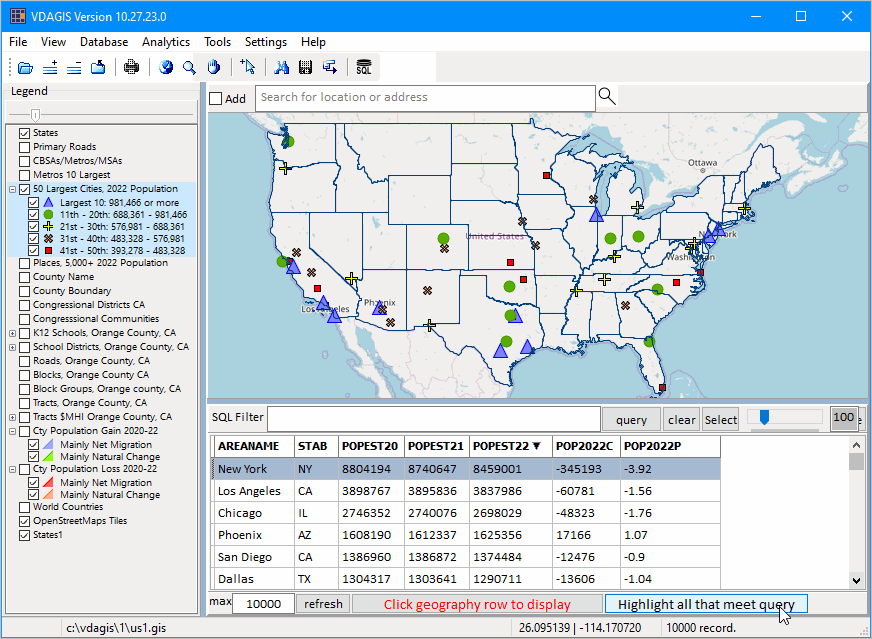 See details about the content, structure and use of this project in the Existing Projects section.
What's happening ...
.. view the News & updates section in the left panel