---
Census 2010
Main Page
Census 2010 Participation Rates
Decision-Making Information
ProximityOne
information resources & solutions
(888) DMI-SOLN
(888) 364-7656

October 25, 2010. 74 percent of households in the United States filled out and mailed back their 2010 Census questionnaire, a significant achievement in a time of declining survey participation worldwide. The results include an additional two percentage points of households that mailed back their forms after the April 27 cut-off that marked the transition to the door-to-door follow up operation. Although received too late to prevent a visit by a census taker, those late- arriving forms were still used for tabulating purposes. Both today's final rate of 74 percent and the 72 percent achieved in April, matched the rates achieved during the 2000 Census.

Mail Participation Rate versus Mail Response Rate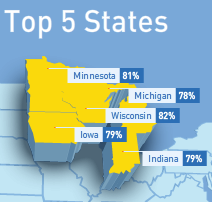 The Mail Participation Rate is the percentage of forms mailed back by households that received them. The Census Bureau developed this new measure in 2010, in part because of the current economy and higher rates of vacant housing. The rate excludes households whose forms were returned by the U.S. Postal Service as "undeliverable," strongly suggesting the house was vacant.

The Mail Participation Rate is a higher number than the Mail Response Rate used over the last decade, but it is a better measure of actual participation and therefore an easier goal to achieve when residents mail back their forms. In 2000, the national Mail Response Rate was 67% and the comparable national Mail Participation Rate was 72%.

State & County Census 2010 Mail Participation Rates
Interactive ranking table -- view, sort, compare areas of interest.
Click column header to sort; click again to sort other direction.
See related Ranking Tables Main Page; see related similar ranking table for metros

Usage:
• Click on column header to sort on that column; click column header again to sort in other direction.
• Click ShowAll button to show all areas and restore full set of data view.
• Click State to view areas in a selected state (click ShowAll between selections).
• Find by Name: key in partial area name in text box to right of Find-in-Name button
then click button to locate all matches (case sensitive).
• See related ranking tables.

Additional Information
Proximity develops geodemographic-economic data and analytical tools and helps organizations knit together and use diverse data in a decision-making and analytical framework. We develop custom demographic/economic estimates and projections, develop geographic and geocoded address files, and assist with impact and geospatial analyses. Wide-ranging organizations use our tools (software, data, methodologies) to analyze their own data integrated with other data. Contact Proximity (888-364-7656) with questions about data covered in this section or to discuss custom estimates, projections or analyses for your areas of interest.