Hispanic Population by Specific Origin
-- distribution by county & census tract

Decision-Making Information


ProximityOne
information resources & solutions
(888) DMI-SOLN
(888) 364-7656






Visual analysis with ProximityOne tools
click graphic for info; hover to pause









Decision-Making Information Blog
Examining Neighborhood Change

Support & Technical Assistance
help using these resources






As of 2012, the total U.S. Hispanic origin population was estimated to be 60 million based on ACS2012. The U.S. Hispanic population is a mosaic of many different specific origins (e.g., Costa Rica, Nicaragua, Panama, among many others reviewed below). This section is focused on resources to analyze the distribution of the Hispanic population by specific origin. These data, and insights from their analysis, can help groups, associations and other stakeholders better understand the distribution and characteristics of specific origin Hispanic populations to provide support and care services. The data can assist government agencies better communicate with specific Hispanic origin groups by understanding the distribution by specific origin and identify special needs by geography. They can help businesses better supply the types of products and services that might be needed and in demand for people of specific origins by geographic area.

Interactive Tables & GIS/Geospatial Analysis
Use the interactive table in this section to view, rank, compare the distribution of the Hispanic population by specific origin for the U.S. by state and county. Use the U.S. by county and/or census tract shapefile with integrated Hispanic population by specific origin data to view pattern maps and geospatially analyze the specific origin populations with GIS tools. See more about the Hispanic by Specific Origin (HSO) U.S. by County GIS Project.

Visual Analysis of Hispanic Population by Specific Origin
Scroll section -- click graphic for larger view and details.
Selected areas: U.S., Houston, Los Angeles, Washington ...


Percent Population Mexican Origin by County; 2012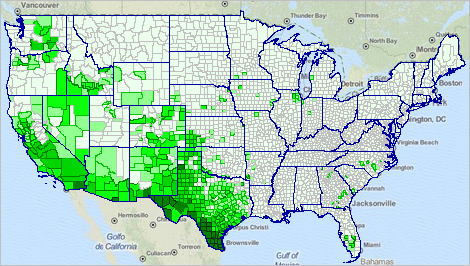 Percent Population Mexican Origin -- Harris County, TX Area by Tract; 2010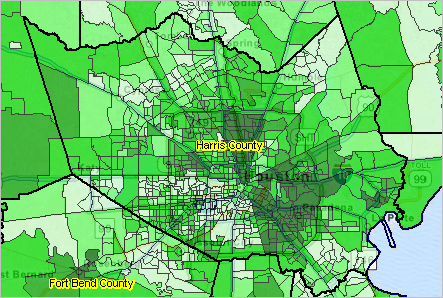 Percent Population Mexican Origin -- Los Angeles Area by Tract; 2010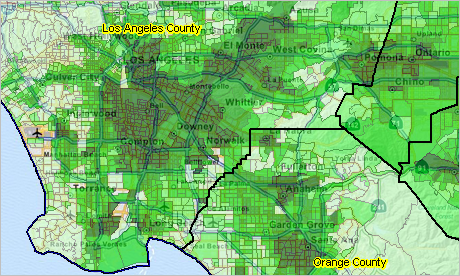 Percent Population Hispanic Origin -- Washington DC Area by Tract; 2010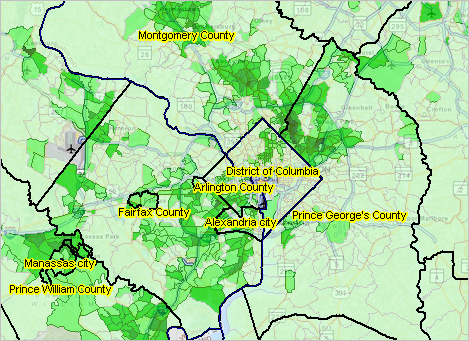 Map views developed using CV XE GIS software and custom developed GIS projects.

Hispanic Population by Specific Origin
ACS 1-year estimates; 2012; see 2010, 2011, 2012, and change 2010-2012 estimates

| | | | |
| --- | --- | --- | --- |
| Item | Origin | Population 2012 | 2012% |
| 001 | Total: | 313,914,040 | 100.00 |
| 002 | Not Hispanic or Latino | 260,953,023 | 83.13 |
| 003 | Hispanic or Latino: | 52,961,017 | 16.87 |
| 004 | Mexican | 34,038,599 | 10.84 |
| 005 | Puerto Rican | 4,970,604 | 1.58 |
| 006 | Cuban | 1,957,557 | 0.62 |
| 007 | Dominican (Dominican Republic) | 1,656,960 | 0.53 |
| 008 | Central American: | 4,760,337 | 1.52 |
| 009 | Costa Rican | 140,152 | 0.04 |
| 010 | Guatemalan | 1,241,560 | 0.40 |
| 011 | Honduran | 753,532 | 0.24 |
| 012 | Nicaraguan | 405,601 | 0.13 |
| 013 | Panamanian | 183,743 | 0.06 |
| 014 | Salvadoran | 1,992,754 | 0.63 |
| 015 | Other Central American | 42,995 | 0.01 |
| 016 | South American: | 3,148,370 | 1.00 |
| 017 | Argentinean | 248,823 | 0.08 |
| 018 | Bolivian | 103,296 | 0.03 |
| 019 | Chilean | 140,045 | 0.04 |
| 020 | Colombian | 1,039,923 | 0.33 |
| 021 | Ecuadorian | 662,633 | 0.21 |
| 022 | Paraguayan | 20,461 | 0.01 |
| 023 | Peruvian | 594,418 | 0.19 |
| 024 | Uruguayan | 60,178 | 0.02 |
| 025 | Venezuelan | 249,153 | 0.08 |
| 026 | Other South American | 29,440 | 0.01 |
| 027 | Other Hispanic or Latino: | 2,428,590 | 0.77 |
| 028 | Spaniard | 717,287 | 0.23 |
| 029 | Spanish | 530,484 | 0.17 |
| 030 | Spanish American | 26,663 | 0.01 |
| 031 | All other Hispanic or Latino | 1,154,156 | 0.37 |

Hispanic Population by Specific Origin 2010: U.S., State and County -- Interactive Table
Click ShowAll button between Find/Queries.
Use mouseover on column header to view column description.
See ranking table usage notes below ranking table. See related ranking tables -- http://proximityone.com/rankingtables.htm.
Chrome or Firefox recommended.


Usage Notes
• All items are estimates centric to mid-2010.
• Click ShowAll button between specific area queries.
• Cells with -1 value could not be estimated (for this geography and this time frame).

Hispanic Population by Specific Origin
ACS 1-year estimates; 2010, 2011, 2012 and change 2010-2012

| | | | | | | | | |
| --- | --- | --- | --- | --- | --- | --- | --- | --- |
| Origin | Population 2010 | 2010% | Population 2011 | 2011% | Population 2012 | 2012% | Population 2010-12 | 2010-12% |
| Total: | 309,349,689 | 100.00 | 311,591,919 | 100.00 | 313,914,040 | 100.00 | 4,564,351 | 1.45 |
| Not Hispanic or Latino | 258,609,600 | 83.60 | 259,652,003 | 83.33 | 260,953,023 | 83.13 | 2,343,423 | 0.90 |
| Hispanic or Latino: | 50,740,089 | 16.40 | 51,939,916 | 16.67 | 52,961,017 | 16.87 | 2,220,928 | 4.19 |
| Mexican | 32,929,683 | 10.64 | 33,557,922 | 10.77 | 34,038,599 | 10.84 | 1,108,916 | 3.26 |
| Puerto Rican | 4,691,890 | 1.52 | 4,885,294 | 1.57 | 4,970,604 | 1.58 | 278,714 | 5.61 |
| Cuban | 1,873,585 | 0.61 | 1,891,014 | 0.61 | 1,957,557 | 0.62 | 83,972 | 4.29 |
| Dominican (Dominican Republic) | 1,508,871 | 0.49 | 1,554,819 | 0.50 | 1,656,960 | 0.53 | 148,089 | 8.94 |
| Central American: | 4,434,426 | 1.43 | 4,623,170 | 1.48 | 4,760,337 | 1.52 | 325,911 | 6.85 |
| Costa Rican | 130,697 | 0.04 | 130,507 | 0.04 | 140,152 | 0.04 | 9,455 | 6.75 |
| Guatemalan | 1,156,861 | 0.37 | 1,214,076 | 0.39 | 1,241,560 | 0.40 | 84,699 | 6.82 |
| Honduran | 730,227 | 0.24 | 695,761 | 0.22 | 753,532 | 0.24 | 23,305 | 3.09 |
| Nicaraguan | 383,896 | 0.12 | 387,104 | 0.12 | 405,601 | 0.13 | 21,705 | 5.35 |
| Panamanian | 172,950 | 0.06 | 180,462 | 0.06 | 183,743 | 0.06 | 10,793 | 5.87 |
| Salvadoran | 1,829,798 | 0.59 | 1,977,657 | 0.63 | 1,992,754 | 0.63 | 162,956 | 8.18 |
| Other Central American | 29,997 | 0.01 | 37,603 | 0.01 | 42,995 | 0.01 | 12,998 | 30.23 |
| South American: | 3,049,280 | 0.99 | 3,071,280 | 0.99 | 3,148,370 | 1.00 | 99,090 | 3.15 |
| Argentinean | 236,558 | 0.08 | 240,195 | 0.08 | 248,823 | 0.08 | 12,265 | 4.93 |
| Bolivian | 114,345 | 0.04 | 105,215 | 0.03 | 103,296 | 0.03 | -11,049 | -10.70 |
| Chilean | 139,245 | 0.05 | 145,422 | 0.05 | 140,045 | 0.04 | 800 | 0.57 |
| Colombian | 961,223 | 0.31 | 994,583 | 0.32 | 1,039,923 | 0.33 | 78,700 | 7.57 |
| Ecuadorian | 650,348 | 0.21 | 655,300 | 0.21 | 662,633 | 0.21 | 12,285 | 1.85 |
| Paraguayan | 20,683 | 0.01 | 24,933 | 0.01 | 20,461 | 0.01 | -222 | -1.08 |
| Peruvian | 598,671 | 0.19 | 566,541 | 0.18 | 594,418 | 0.19 | -4,253 | -0.72 |
| Uruguayan | 60,184 | 0.02 | 62,238 | 0.02 | 60,178 | 0.02 | -6 | -0.01 |
| Venezuelan | 242,120 | 0.08 | 244,124 | 0.08 | 249,153 | 0.08 | 7,033 | 2.82 |
| Other South American | 25,903 | 0.01 | 32,729 | 0.01 | 29,440 | 0.01 | 3,537 | 12.01 |
| Other Hispanic or Latino: | 2,252,354 | 0.73 | 2,356,417 | 0.76 | 2,428,590 | 0.77 | 176,236 | 7.26 |
| Spaniard | 694,494 | 0.22 | 704,700 | 0.23 | 717,287 | 0.23 | 22,793 | 3.18 |
| Spanish | 482,072 | 0.16 | 518,924 | 0.17 | 530,484 | 0.17 | 48,412 | 9.13 |
| Spanish American | 48,810 | 0.02 | 43,974 | 0.01 | 26,663 | 0.01 | -22,147 | -83.06 |
| All other Hispanic or Latino | 1,026,978 | 0.33 | 1,088,819 | 0.35 | 1,154,156 | 0.37 | 127,178 | 11.02 |

Using the Hispanic by Specific Origin (HSO) U.S. by County GIS Project
Members of the ProximityOne User Group (join now, no fee) may download and use the Hispanic by Specific Origin (HSO) GIS project. Develop thematic pattern maps showing the distribution of any of the specific origin categories. Zoom-in to counties or regions of interest. Add labels for geography or subject matter. Add other geography and layers. Shown specific origin data as population or as percent of a related data item. View the data contained in the shapefile dbf in a tabular/spreadsheet format. Perform queries on the table and export selected data. The CV XE GIS HSO project start-up view is shown by the graphic presented below.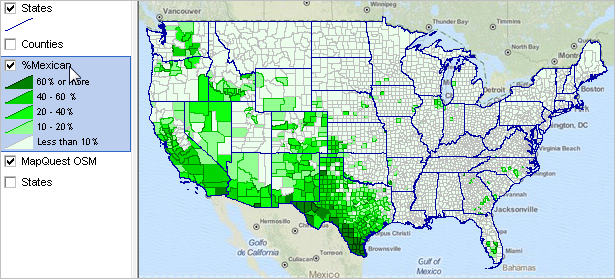 Support Using these Resources
Learn more about accessing and using ACS data integrated with other data; examine characteristics and patterns for your study areas and applications. Join us in a Decision-Making Information Web session. There is no fee for these one-hour Web sessions. Each informal session is focused on a specific topic. The open structure also provides for Q&A and discussion of application issues of interest to participants.

Additional Information
ProximityOne develops geographic-demographic-economic data and analytical tools and helps organizations knit together and use diverse data in a decision-making and analytical framework. We develop custom demographic/economic estimates and projections, develop geographic and geocoded address files, and assist with impact and geospatial analyses. Wide-ranging organizations use our tools (software, data, methodologies) to analyze their own data integrated with other data. Follow ProximityOne on Twitter at www.twitter.com/proximityone. Contact us (888-364-7656) with questions about data covered in this section or to discuss custom estimates, projections or analyses for your areas of interest.