Health Data Analytics

Is the market served by your clinic, hospital or professional practice defined by who shows up at the door? Understanding healthcare market dynamics is one way these entities can improve their bottom line by using Health Data Analytics. Professionals skilled with Health Data Analytics can help their organization, or clients, better achieve their vision and improve performance. Health Data Analytics (HDA) are about more than individual clinics, hospitals and professional practices, or their composites. HDA tools and methods help knit together disparate data and knowledge to facilitate community planning and decision-making. Communities include traditional cities/places, neighborhood groups, sets of organizations working together and other frameworks.

Examining Hospital Locations in Context of Changing Demographics
Analyze health care facilities using VDA Web GIS for your areas of interest. This graphic shows hospital locations (square markers) in the downtown Los Angeles area in context of census tract population change since 2010. Choose your own geography (such as block groups, ZIP Codes, counties) and your own subject matter (such as hospitalizations incidence by type; e.g., COVID). Easily zoom to an area of interest using the Find Address feature as illustrated in upper right. Start using VDA now.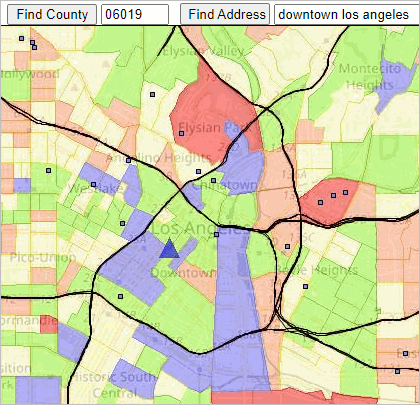 Connect on Health GeoStatistics Development, Access, Analysis
International Conference on Health Policy Statistics .. join in
.. integrated access to augmented Federal geostatistics using VDA Web GIS
.. how practitioners, stakeholders and policymakers benefit
.. Scottsdale, Arizona -- January 9-11, 2023

Types of questions answered through the use of Health Data Analytics:
• How does patient load match-up with staff and facility characteristics?
• How is the geographic area of the market served best defined?
• What will be the impact of change over the next 5 years?
• Does the business model adequately meet patient needs and business goals?
• How to improve private & public insurance claims and claims processing?
• What is the competitive position; how is it changing?
• Are staffing & facility requirements in line with performance needs?
• What is the availability of staff in key occupations over the next several years?

Health Data Analytics are broader than clinic, hospital, professional practice operations. While they do not apply to every situation, they include enabling the ability to:
• access key data resources required for planning & decision-making.
• conduct, analyze and interpret statistical surveys.
• develop, analyze and interpret model-based estimates and projections.
• examine market demographic-economic conditions, patterns & outlook.
• examine occupational & industry employment.
• examine pharmaceutical & other related businesses/industries.
• examine retailing operations closely associated with healthcare.
• examine health/healthcare educational opportunities and facilities.
• integrate multi-sourced data to examine related subject matter.
• use Geographic Information System (GIS) tools & geospatial analysis.
• effectively communicate analytical findings.
• effectively support actionable steps based on analyses.

These sections provide more information about Health Data Analytics.
• Geographic Information Systems & Geospatial Analysis
-- market & infrastructure analysis
• Healthcare Decision-Making Information
• Healthcare Industry Composition
• County Health Patterns
• Health Insurance Coverage
• Disability Status by Gender & Age
• Life Expectancy by County

ProximityOne User Group
Join the ProximityOne User Group to keep up-to-date with new developments relating to metros and component geography decision-making information resources. Receive updates and access to tools and resources available only to members. Use this form to join the User Group.

Support Using these Resources
Learn more about accessing and using demographic-economic data and related analytical tools. Join us in a Data Analytics Lab session. There is no fee for these one-hour Web sessions. Each informal session is focused on a specific topic. The open structure also provides for Q&A and discussion of application issues of interest to participants.

Additional Information
ProximityOne develops geodemographic-economic data and analytical tools and helps organizations knit together and use diverse data in a decision-making and analytical framework. We develop custom demographic/economic estimates and projections, develop geographic and geocoded address files, and assist with impact and geospatial analyses. Wide-ranging organizations use our tools (software, data, methodologies) to analyze their own data integrated with other data. Follow ProximityOne on Twitter at www.twitter.com/proximityone. Contact us (888-364-7656) with questions about data covered in this section or to discuss custom estimates, projections or analyses for your areas of interest.