Health Data Analytics
-- using Geographic Information Systems & Geospatial Analysis

Is the market served by your clinic, hospital or professional practice defined by who shows up at the door? Understanding healthcare market dynamics is one way these entities can improve their bottom line by using Health Data Analytics. Professionals skilled with Health Data Analytics (HDA) can help their organization, or clients, better achieve their vision and improve performance. See the HDA main section for a summary of related topics and sections.

This section is focused on analyzing healthcare markets an infrastructure using Geographic Information System (GIS) tools and related data resources. Participants in the Certificate in Data Analytics may optionally use the tools and resources described here. The Data Analytics Methods Guide provides extended detail on use of these tools, data and development of applications to meet participant interests.

Analyzing Healthcare Markets & Infrastructure
Analyzing healthcare markets involves examining characteristics of healthcare facilities in context of competitive position and market potential. Geographic Information System (GIS) tools can be used to knit together geographic, demographic, economic and business data to perform these analyses. This document makes use of the Atlanta area to illustrate applications. In an actual study, the geographic focus could be a city, county, metro, state or some combination, anywhere in the U.S., or the U.S. overall.

Understanding Needs and Visions
A first step involves an assessment of your situation -- your needs, visions and data that you have to work with. The results of this assessment and data that you provide help develop/frame a market study in context of GIS project(s).

Framing a Market/Infrastructure Analytical Framework
Here is an example of framing a market study for the Atlanta area. The following graphic shows the start-up view of the Atlanta area HCMS GIS project. This is a proxy/example for the GIS project that would be developed to meet your needs/application focus.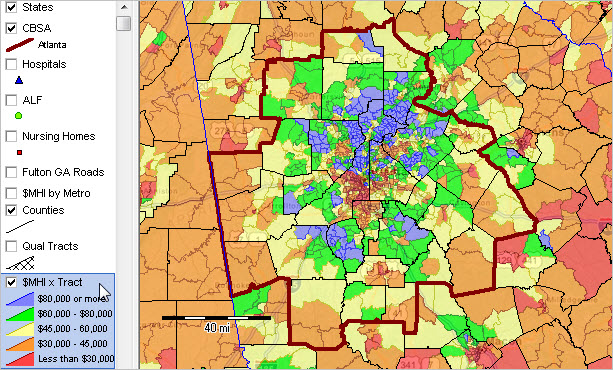 The above view shows a thematic pattern of median household income by census tract (averaging 4,000 population). Pattern analysis helps you visualize demographic-economic characteristics by census tract -- in this example you can easily see patterns of economic prosperity. This example uses median household income; we can draw upon hundreds of subject matter items and depict other types of patterns

Counties are easily identified by adding county name labels: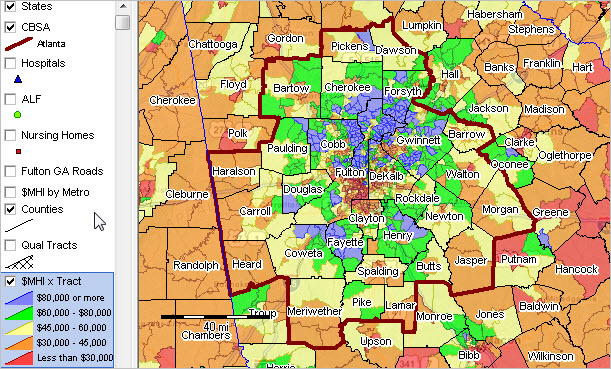 Examining the Healthcare Infrastructure
The graphic below shows selected types of healthcare facilities.
See legend to the left of map:
• Hospitals - blue triangle markers
• Assisted Living Facilities (ALF) - green circle markers
• Nursing Homes - red square markers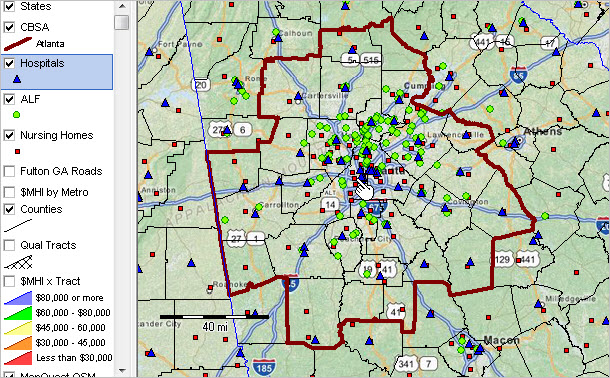 The next graphic shows a zoom-in to the area shown near pointer in the above view.
Note that the "qualified tracts" layer (see in legend to left of map) appears in the map.
Zooming to this level of geography is required to analyze characteristics of the market served.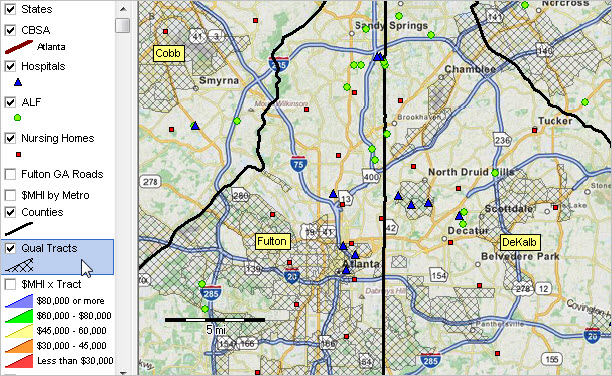 Site Analysis -- Examining Characteristics of Healthcare Facilities
The yellow circle marker shows the hypothetical location of a prospective new facility.
5-mile radius around yellow marker -- selecting existing nursing homes; characteristics of the competition.
Nursing homes show as cross-hatched; circular area is study zone.



Display of the 9 facilities selected above.




Site Analysis -- Examining Characteristics of Market/Service Area
5-mile radius around yellow marker -- size of market; tracts in market area; might be 15 miles rather than 5.
Tracts selected show as cross-hatched; circular area is study zone.



Display of the selected 133 tracts by attribute.



Demographic-Economic Characteristics of the Study Area
The analytical framework needs to draw on extensive data resources and adapt them to the needs of the study.
• Atlanta Metro Profile (available for each metro)
• Atlanta City Profile (available for each city)
• Census Tracts: General Demographics .. Social Characteristics .. Economic Characteristics .. Housing Characteristics
• Outlook 2020 -- demographic projections by county and tract
• .. among many others such as more detailed data about the work force.

Health Data Analytics GIS Project
1. Install CV XE GIS software
... Install package -- Windows 32/64
... Start-up Readme
... Optional settings -- enable a wider set of features
- add your CV XE UserID to the Key edit box in Settings (more information).
Next steps:
2. Run the Health Data Analytics GIS Project/Datasets Installer
... requires Data Analytics UserID provided separately.
... http://proximityone.com/data_analytics/1/hda_installer.exe
... the data installer will guide you through installation step by step.
3. Initial start-up
... after completing the above steps and with CV XE running (use desktop icon)
... use File>Open>Dialog to open the project file named c:\hda\hda1.gis
... the view shown below should appear.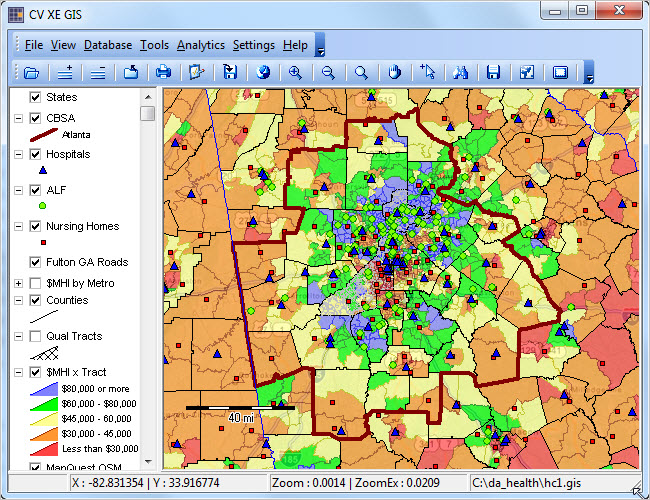 Click graphic for larger view

Census Tract Data
The U.S. national scope census tract shapefile with integrated demographic-economic data are common to all GIS projects described above. See the Census Tract Analysis section for more information about the structure, content and use of these data.

ProximityOne User Group
Join the ProximityOne User Group to keep up-to-date with new developments relating to metros and component geography decision-making information resources. Receive updates and access to tools and resources available only to members. Use this form to join the User Group.

Support Using these Resources
Learn more about accessing and using demographic-economic data and related analytical tools. Join us in a Data Analytics Lab session. There is no fee for these one-hour Web sessions. Each informal session is focused on a specific topic. The open structure also provides for Q&A and discussion of application issues of interest to participants.

Additional Information
ProximityOne develops geodemographic-economic data and analytical tools and helps organizations knit together and use diverse data in a decision-making and analytical framework. We develop custom demographic/economic estimates and projections, develop geographic and geocoded address files, and assist with impact and geospatial analyses. Wide-ranging organizations use our tools (software, data, methodologies) to analyze their own data integrated with other data. Follow ProximityOne on Twitter at www.twitter.com/proximityone. Contact us (888-364-7656) with questions about data covered in this section or to discuss custom estimates, projections or analyses for your areas of interest.