---

Census Blocks Main



Situation & Outlook
- S&O Profiles|Reports
> Comparative
> Narrative
> Site Analysis

CVXE GIS Tools

Data Resources Guide
- projections to 2060

Related Sections
- Applications Gallery
- States
- Metros
- Congressional District
- School Districts
- Counties
- Cities/Places
- Tracts/Neighborhoods
- Block Groups
- Census Blocks

- ZIP Codes
- Urban Areas

Demographic-Economic
Estimates-Projections

GIS Thematic Mapping
Visual Analysis Tools

Ranking Tables
National Scope
Demographic Change
2000-2010
- States
- Metros
- Congressional District
- School Districts
- Counties
- Cities/Places
- Census Tracts




Decision-Making Information
ProximityOne
information resources & solutions
(888) DMI-SOLN
(888) 364-7656

What's New & Ahead




Visual analysis with ProximityOne tools
click graphic for info; hover to pause








Census 2010 Census Block GeoDemographics
-- using the census block demographic profile dataset

Census 2010 Census Block GeoDemographic resources include census block shapefiles for mapping and geospatial analysis, census block demographic datasets and shapefiles with integrated demographics. There are more than 11 million Census 2010 census blocks covering the U.S. wall-to-wall. Census blocks are the smallest geographic areas for which decennial census data are tabulated and are the smallest/lowest-level building blocks for most other Census legal and statistical area geography.

This section extends on the Census 2010 census block main section. It is focused on illustrative applications using census blocks. Looking at this geographic level allows you to examine custom-defined areas as shown below and visually convey insights to your team/clients. Access/analyze these data using the ProximityOne CV XE GIS or your own software.

Illustrative Application using Census Blocks
The view in the graphic shown below uses a GIS project focused on Washington DC. Using the CV SiteAnalysis tool, the view shows three selected census blocks (cross-hatched). Characteristics of three selected blocks are summarized at right in "Selection Summary". The total/aggregate population is 241 which can be visually verified by summing the label (population) values shown in yellow on each selected block. Any or all fields from the Census 2010 Census Block Demographic Profile dataset could be used; Any set of blocks could be selected. In this example the fields P0030001 through P0030008, Census 2010 population by race, are shown in the selection summary panel. The field names are shown with description in the dataset description.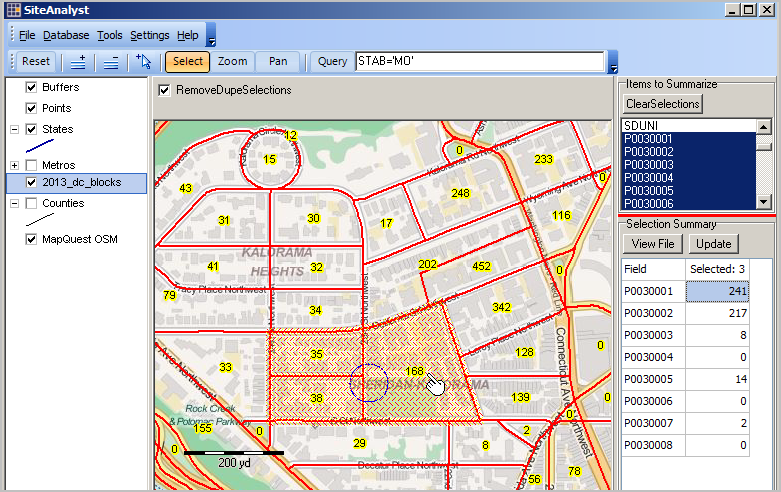 Click the "View File" button in "Selection Summary" box at right in above view. Characteristics of these 3 blocks is shown in a tabular manner; optionally exported to a file. In the tabular grid view below, there is a record/row for each selected census block. The last row is for census block 11-001-041000-1001 and shows the "P0030001" (total population) has the value of 168. See the block labeled with this value in the map graphic above.



Item descriptions
P0030001 Total Population
P0030002 White alone
P0030003 Black or African American alone
P0030004 American Indian and Alaska Native alone
P0030005 Asian alone
P0030006 Native Hawaiian and Other Pacific Islander alone
P0030007 Some Other Race alone
P0030008 Two or More Races

Census Block Demographic Profile Washington, D.C. GIS Project
View this application on your computer.
... Install CV XE GIS
... More download the blocks application and expand to folder c:\cvxe\1.
... With CV XE GIS running, use File>Open>Dialog and open the GIS project c:\cvxe\1\2013_dc_dp.gis.

Additional Information
ProximityOne develops geographic-demographic-economic data and analytical tools and helps organizations knit together and use diverse data in a decision-making and analytical framework. We develop custom demographic/economic estimates and projections, develop geographic and geocoded address files, and assist with impact and geospatial analyses. Wide-ranging organizations use our tools (software, data, methodologies) to analyze their own data integrated with other data. Follow ProximityOne on Twitter at www.twitter.com/proximityone. Contact ProximityOne (888-364-7656) with questions about data covered in this section or to discuss custom estimates, projections or analyses for your areas of interest.