ProximityOne CVGIS
-- Visual Analysis & Business Intelligence
-- Resources & Solutions

... using CVGIS you can corral your data ... those ever growing data nuggets that have been challenging to access, organize and use. Collect the data, integrate it, visualize it, analyze it. Store the data so that it recallable, updatable and usable by others. Develop insights, stories and more. We start by helping you locate, sift through and associate data from the Federal statistical system. Add your data as we get underway.

Answer questions as fast as you can think of them with ProximityOne CVGIS.
... at your fingertips:
• market characteristics
• K-12 education, schools & school districts
• healthcare infrastructure; supply & demand
• construction & housing market trends
• congressional district characteristics
... learn about what else ...

ProximityOne CVGIS is business intelligence software that helps you see and understand your data.
• Fast Analytics
.. Connect and visualize your data in minutes.
• Ease of Use
.. Anyone can analyze data with intuitive drag & drop. Instant insight.
• Big Data, Any Data
.. From spreadsheets to databases to cloud services, explore any data.
• Smart Dashboards
.. Combine multiple views of data for richer insight.
• Update Automatically
.. Fresh data with live connection to your data.
.. Get automatic scheduled updates.
• Share in Seconds
.. Publish results with a few clicks. Share it live on the web and on any devices.

CVGIS Start-up View
The CVGIS start-up view shows patterns of economic prosperity by neighborhood for the Dallas metro area. Learn more about using the ready/easy-to-use GIS mapping tool. Learn how you can use CVGIS to develop similar maps showing your data for your geography. Learn more about CVGIS key features described below the graphic.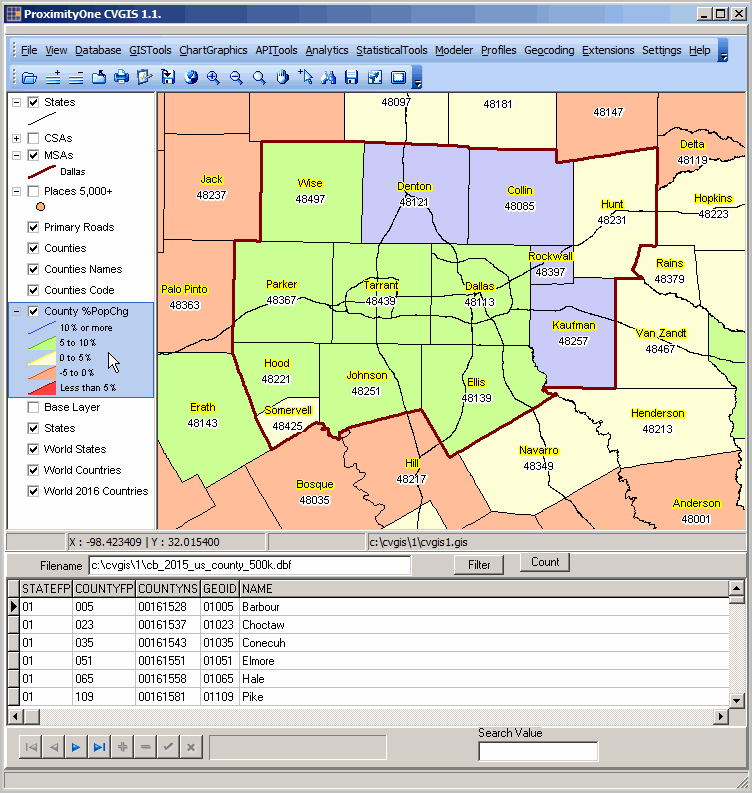 ... view the whole world -- zoom-in to any part of it using the same CVGIS project.
... the world awaits.

• GIS .. Geographic Information System tools & ready-to-use applications
.. mapping, geospatial analysis, geographic reference data.
• Database
.. tools to manage your data; structure, integrate, update, view
• Worksheet
.. create, use, publish worksheets; import/export Excel
• Chartgraphics
.. create population pyramids and other market analysis views
.. create wide-ranging graphics
• APITools
.. access statistical data using APIs; save data in a form you can use.
.. access geographic data using APIs.
• Statistics
.. create custom estimates using crosstabs with microdata
.. perform statistical analyses; examine data relationships
• Modeler
.. create model-based estimates & projections
.. assess impact of change on your situation
• Profiles
.. create comparative analysis profiles; link multi-sourced data into a form you can use.
• Geocoding
.. convert addresses to geocodes; assign census block codes; create point shapefiles.
.. assign census block and other geocodes to your latitude-longitude data.
• Utilities
.. use zip/unzip, scripting, text editor and publishing tools.

Get Started with CVGIS Data Analytics Package ...
Place your order to start using CVGIS. You will receive a confirmation email and installation details.

CVGIS Data Analytics Package Single User .. $995 each person



Data Analytics Certificate Course
Register for the companion Data Analytics Certificate Course. Start the program within the week ahead - or whenever its works for you. Set your own pace; proceed through the course on your own schedule. Complete the registration form below to get started. You will receive a confirmation email and session start-up details.

Data Analytics Certificate Course .. $1,495 each person



ProximityOne User Group
Join the ProximityOne User Group to keep up-to-date with new developments relating to metros and component geography decision-making information resources. Receive updates and access to tools and resources available only to members. Use this form to join the User Group.

Support Using these Resources
Learn more about accessing and using demographic-economic data and related analytical tools. Join us in a Data Analytics Lab session. There is no fee for these one-hour Web sessions. Each informal session is focused on a specific topic. The open structure also provides for Q&A and discussion of application issues of interest to participants.

Additional Information
ProximityOne develops geodemographic-economic data and analytical tools and helps organizations knit together and use diverse data in a decision-making and analytical framework. We develop custom demographic/economic estimates and projections, develop geographic and geocoded address files, and assist with impact and geospatial analyses. Wide-ranging organizations use our tools (software, data, methodologies) to analyze their own data integrated with other data. Follow ProximityOne on Twitter at www.twitter.com/proximityone. Contact us (888-364-7656) with questions about data covered in this section or to discuss custom estimates, projections or analyses for your areas of interest.