Establishment Database and Information System

Of the approximate 7.5 million business establishments in the U.S., 1.1 million are retail trade establishments. Determining where these establishments exist, and analyzing demographic-economic characteristics of establishment locations and markets, requires specialized data.

The ProximityOne Establishment Database and Information System (EDIS) continues to expand the scope of coverage of retail establishments included as well as adding other types of establishments. Learn more about business establishments by metro by high level economic sector. Examine quarterly trend data on the number of establishments, employment and earnings -- for your metros of interest. See about related sections/resources below.

Establishment Locations in Context of Market Characteristics
The following graphic shows Starbucks locations (red markers) in context of patterns of median household income ($MHI) by census tract.
See $MHI interval - pattern settings in legend panel at left of map window.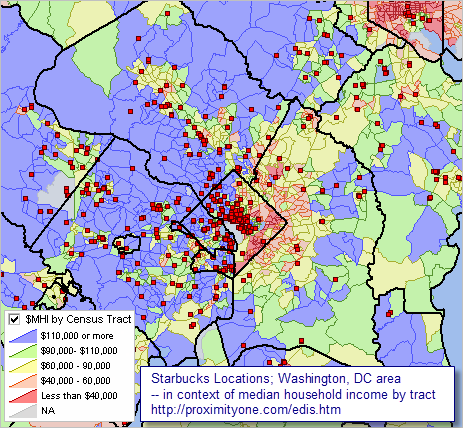 .. view developed with CV XE GIS and related GIS project.

EDIS Resources
• Use EDIS data on your computer with CV XE GIS or your own software.
• Use establishment data with Situation & Outlook demographic-economic projections.
• Analyze major retail store locations in the context of your data.
• Learn where these stores are located in your areas of interest.
• The very accurately coded geographic locations of the stores make these data unique.
• View store locations in the context of streets and associated small area demographics.
• See how areas of interest to you are changing by using these continuously updated data.

Location/Market Area Analysis
Updated continuously, view/analyze store locations and attributes of market served. Use our unique Location-Market Index, calculated at the block group (BG) level (217,000 geographic areas covering the U.S. wall-to-wall), to examine the combined Location-Market Index with demographics for the immediate area or your custom defined site area. The Location-Market Index is computed by assigning an index to each BG reflecting the concentration of Big Box stores in or near the specific block group.

Connecting the Dots
EDIS is integrally connected with the 80+ million segment Digital Map Database (DMD) roads database and shapefiles. Establishment locations are accurately located on the correct left-right side of address-coded road segment. EDIS establishment locations also associate with/within shopping centers. Shopping centers are carried in DMD as landmark shapefiles. Associate/analyze establishments with block group demographics.

Related Resources/Sections
• Situation & Outlook Database & Information System
.. Metro S&O Reports .. example: Dallas MSA
• Business Establishment Characteristics by ZIP Code
• County Quarterly Establishments, Employment, Earnings by NAICS

Support Using these Resources
Learn more about accessing and using demographic-economic data and related analytical tools. Join us in a Data Analytics Lab session. There is no fee for these one-hour Web sessions. Each informal session is focused on a specific topic. The open structure also provides for Q&A and discussion of application issues of interest to participants.

ProximityOne User Group
Join the ProximityOne User Group to keep up-to-date with new developments relating to geographic-demographic-economic decision-making information resources. Receive updates and access to tools and resources available only to members. Use this form to join the User Group.

Additional Information
ProximityOne develops geographic-demographic-economic data and analytical tools and helps organizations knit together and use diverse data in a decision-making and analytical framework. We develop custom demographic/economic estimates and projections, develop geographic and geocoded address files, and assist with impact and geospatial analyses. Wide-ranging organizations use our tools (software, data, methodologies) to analyze their own data integrated with other data. Follow ProximityOne on Twitter at www.twitter.com/proximityone. Contact ProximityOne (888-364-7656) with questions about data covered in this section or to discuss custom estimates, projections or analyses for your areas of interest.