South Carolina COG Regional Data Analytics
-- examining regional demographic-economic characteristics & trends
-- population & components of change by COG by county -- 2010-15

Regional Data Analytics (RDA) is an integrated software and database system focused on managing, accessing and using geographic, demographic, economic and related subject matter data. RDA is companion to the ProximityOne CV XE GIS that supports wide-ranging GIS, mapping and geospatial analysis applications. RDA provides integrated access to ProximityOne Situation & Outlook demographic-economic estimates and projections. This section illustrates use of RDA with applications focused on South Carolina Councils of Government and component county areas. See related sections:
• RDA role and scope
• RDA operations
• Appalachia region applications

The focus of this section is on use of "Population Estimates & Components of Change" data. RDA provides access to multi-sourced data, includes wide-ranging subject matter, uses standardized data structures and provides for data integration. See below.

South Carolina Demographics at Mid-Decade & Change since 2010
This section provides Population Estimates & Components of Change reports for each South Carolina Council of Government. Annual data are provided for the period 2010-2015. For each COG (see links below), the following 8 tables are presented for each COG county component and a COG summary.
• Table 1 - total population
• Table 2 - births
• Table 3 - deaths
• Table 4 - natural change
• Table 5 - international migration
• Table 6 - domestic migration
• Table 7 - net migration
• Table 8 - group quarters population
See more about the scope of these data and access to a national scope interactive table. Compare any county to peer group counties based on population size using the table.

Each report also provides a link to the corresponding ProximityOne Situation & Outlook Report for the corresponding metro. Metro S&O reports provide a unique and comprehensive set of multi-sourced demographic-economic characteristics for each metropolitan area. Access/view each/all metro S&O reports, frequently updated, via this interactive table.

South Carolina Councils of Government
The graphic presented below shows each South Carolina councils of government area by color pattern. Links to view RDA reports in HMTL format are listed below the map. Click graphic for larger view; expand browser window for best quality view.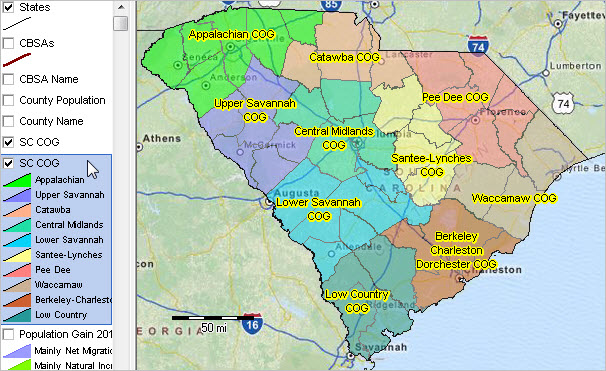 View developed with CV XE GIS software.

South Carolina COG Population & Components of Change Reports
Click left link to view RDA report; click right link to visit the COG home page.

1. Appalachian COG Report .. COG Website
2. Upper Savannah COG Report .. COG Website
3. Catawba COG Report .. COG Website
4. Central Midlands COG Report .. COG Website
5. Lower Savannah COG Report .. COG Website
6. Santee-Lynches COG Report .. COG Website
7. Pee Dee COG Report .. COG Website
8. Waccamaw COG Report .. COG Website
9. Berkeley-Charleston-Dorchester COG Report .. COG Website
10. Low Country COG Report .. COG Website

Multi-sourced data, standardized data structures & data integration ...
There are many types of subject matter supported by RDA -- pre-packaged, updated and ready-to-use. See summary in separate page/section. The ability to associate these separately sourced data is an important feature of RDA. For example, analysis of the housing market requires data about the housing inventory by age, condition and other attributes and market dynamics data on tenure, migration, prices, geography/distribution and other factors. RDA provides access to a wide range of related subject matter, organized in a database structure. RDA can help eliminate the time consuming, expensive and error prone processes (often duplicated by others focused on separate geographic regions), of developing linkages between separately sourced data.

Support Using these Resources
Learn more about accessing and using demographic-economic data and related analytical tools. Join us in a Data Analytics Lab session. There is no fee for these one-hour Web sessions. Each informal session is focused on a specific topic. The open structure also provides for Q&A and discussion of application issues of interest to participants.

ProximityOne User Group
Join the ProximityOne User Group to keep up-to-date with new developments relating to metros and component geography decision-making information resources. Receive updates and access to tools and resources available only to members. Use this form to join the User Group.

Additional Information
ProximityOne develops geodemographic-economic data and analytical tools and helps organizations knit together and use diverse data in a decision-making and analytical framework. We develop custom demographic/economic estimates and projections, develop geographic and geocoded address files, and assist with impact and geospatial analyses. Wide-ranging organizations use our tools (software, data, methodologies) to analyze their own data integrated with other data. Follow ProximityOne on Twitter at www.twitter.com/proximityone. Contact us (888-364-7656) with questions about data covered in this section or to discuss custom estimates, projections or analyses for your areas of interest.