---





Situation & Outlook

CV XE GIS Tools

Data Resources Guide
- projections to 2060

Related Sections
- Applications Gallery
- States
- Congressional District
- School Districts
- Counties
- Cities/Places
- Tracts/Neighborhoods
- Block Groups
- Census Blocks

- Urban Areas

Demographic-Economic
Estimates-Projections

GIS Thematic Mapping
Visual Analysis Tools

Ranking Tables
National Scope
Demographic Change
2000-2010
- States
- Metros
- Congressional District
- School Districts
- Counties
- Cities/Places
- Census Tracts

Largest School Districts: Demographic-Economic Characteristics

This section provides demographic-economic data for each unified school district having population 65,000 or more and included as a tabulation area in the American Community Survey (ACS 2013). There are approximately 800 school districts in this group. Use the interactive table below to query, rank compare districts. Examine district relationships within peer groups using tools below table.

The ACS 2013 data are the most recent general demographic-economic data available. New ACS 1-year estimates (only available for areas of 65,000 population or more) are released annually. The ACS 2014 data become available September 17, 2015.

Largest School Districts (population 65,000 or more)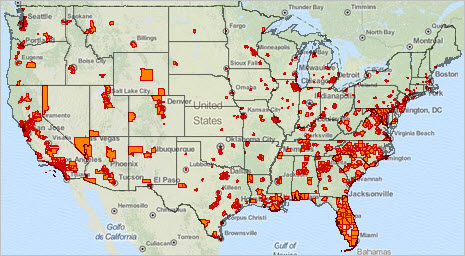 -- view developed using CV XE GIS; click graphic for larger view

Extended Demographic-Economic Profiles
Click the link in the school district row to view an extended demographic-economic profile for the district. The extended demographic-economic profile shows characteristics of the district based on Census 2010, ACS 2012 1-year estimates and ACS 2013 1-year estimates. Similarly structured profiles are available for sub-district geography and county, city and higher level geography. See about these profiles for other types of geographic areas.

Unified School Districts having Population 65,000 or more Population
Click column header to sort; click again to sort other direction.
See usage notes below table. See related Ranking Tables Main Page

Usage Notes
• Use Select by Name to select by part or full school district name.
- Click ShowAll button first.
- Key in any part of name and click Select by Name button.
- Search will filter for any name with that exact, case sensitive, spelling.
- Chicago is used as an example.
• Click ShowAll button between specific queries.
• Right-click row to copy to clipboard, then choose Copy.
- Paste copied content to text editor or spreadsheet.

Column Headers
• School District Name
• State
• State FIPS Code
• District Code (within state)
• State-District Code -- click link to view profile
• Population -- Census 2010
• Population -- ACS 2013
• Population Change 2010-2013
• Population % Change 2010-2013
• K-12 Enrollment ACS 2013

Notes about these data:
• No adjustment is made in possible district boundary change 2010 to 2013.
• 2010 population data are from Census 2010.
• 2013 population data are from ACS 2013 1-year estimates.
• Enrollment data are from ACS 2013 1 year estimates
.. for population enrolled in grades K-12.

ProximityOne User Group
Join the ProximityOne User Group to keep up-to-date with new developments relating to metros and component geography decision-making information resources. Receive updates and access to tools and resources available only to members. Use this form to join the User Group.

Support Using these Resources
Learn more about accessing and using demographic-economic data and related analytical tools. Join us in a Data Analytics Lab session. There is no fee for these one-hour Web sessions. Each informal session is focused on a specific topic. The open structure also provides for Q&A and discussion of application issues of interest to participants.

Additional Information
ProximityOne develops geodemographic-economic data and analytical tools and helps organizations knit together and use diverse data in a decision-making and analytical framework. We develop custom demographic/economic estimates and projections, develop geographic and geocoded address files, and assist with impact and geospatial analyses. Wide-ranging organizations use our tools (software, data, methodologies) to analyze their own data integrated with other data. Follow ProximityOne on Twitter at www.twitter.com/proximityone. Contact us (888-364-7656) with questions about data covered in this section or to discuss custom estimates, projections or analyses for your areas of interest.