Relating Census Tracts to Congressional Districts
- interactive equivalence table

December 2018. .. use the interactive table in this section to equivalence/relate Census 2010 census tracts to 115th Congressional Districts. Congressional districts, averaging over 700,000 population, often cover a large and meandering geographic area comprised of very diverse neighborhoods. Census tracts provide a neighborhood level drill down geography enabling examination of demographic-economic characteristics for congressional district component geography. While most of the 73,056 census tracts are entirely contained within congressional districts, many tracts are split by CD boundaries.

Relating Census Tracts to Congressional Districts
The following view, focused on Orange County, CA, illustrates tract-CD relationships. The bold black boundary by the pointer separates CD CA47 and CA48. The census tract (06-059-099602) with the bold red boundary is split between CA47 and CA48. Tract 06-059-099601, to the right of 06-059-099602 is wholly contained within CA47.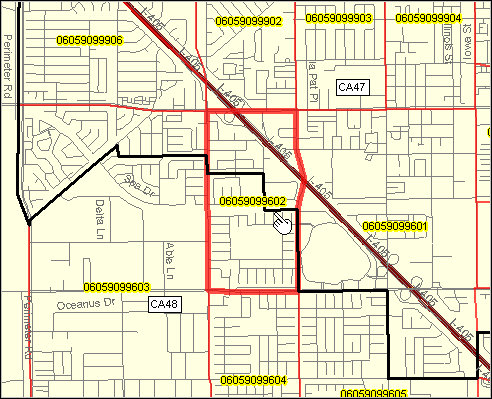 - view developed with CV XE GIS software.

2010 Census Tract to 115th Congressional District Interactive Relationship Table .. goto top
Use mouseover on header column to view extended item/column name.
Click ShowAll button between Find/Queries. See usage notes below table.
See related geographic, demographic, economic interactive tables.



Usage Notes
• There is a row in the table for each census tract or part census tract intersecting with a congressional district.
• Item descriptions are provided below.
• Click ShowAll button between queries; this resets the table.
• Click on a column header to sort on that column; click column header again to sort in other direction.
• Click State to select on geographies in a selected state (click ShowAll between selections).
• Viewing all tracts in a CD:
.. click ShowAll button; reset to default view.
.. key in state abbreviation + CD code in text box to right of Find CD> button
.. the default value CA48 is for CA CD 48 in Orange County, CA
.. for the U.S. or a state, the "county code" is 000; for example, Texas is 48000 and Illinois is 17000
.. click Find CD> to display all tracts this CD.
• Viewing all occurrences tract:
.. click ShowAll button; reset to default view.
.. key in 11 character tract code in text box to right of Find Tract> button
.. the default value is 06059099602 (used in the map view example at top of page)
.. click Find Tract> to display all occurrences of this tract.
- for tracts that are not split, only one row is displayed.

Application Example
This example extends on the map example shown at the top of this section.
• All tract in a district:
.. Click ShowAll; Click Find CD> CA48
.. table refreshes listing 161 intersecting tracts.
• Where is tract 06059099602 (enter your code):
.. Click ShowAll; Click Find Tract> 06059099602
.. table refreshes listing that tract in two CDs.

Items Included in the Table
- Tract GeoID --
- St -- State USPS abbreviation
- StAbCD -- State+CD number
- StCty -- State FIPS code + County FIPS code
- Tract Code -- short tract code
- CD115 -- 115th CD code within state
- ZIP -- an orientation ZIP code for this tract
- Pop 2010 -- Census 2010 population in this split part of the census tract in this CD
- TractPart -- percentage of Pop 2010 in this tract part
whole tract attributes
- Land SqMi -- land area in square miles
- Water SqMi -- water area in square miles
- Pop ACS 2016 -- ACS 2016 5-year total population estimate (for entire tract, split or not)
- $MHI ACS 2016 -- ACS 2016 5-year median household income (for entire tract, split or not)

Support Using these Resources .. goto top
Learn more about accessing and using demographic-economic data and related analytical tools. Join us in a Data Analytics Lab session. There is no fee for these one-hour Web sessions. Each informal session is focused on a specific topic. The open structure also provides for Q&A and discussion of application issues of interest to participants.

ProximityOne User Group
Join the ProximityOne User Group to keep up-to-date with new developments relating to geographic-demographic-economic decision-making information resources. Receive updates and access to tools and resources available only to members. Use this form to join the User Group.

Additional Information
ProximityOne develops geographic-demographic-economic data and analytical tools and helps organizations knit together and use diverse data in a decision-making and analytical framework. We develop custom demographic/economic estimates and projections, develop geographic and geocoded address files, and assist with impact and geospatial analyses. Wide-ranging organizations use our tools (software, data, methodologies) to analyze their own data integrated with other data. Follow ProximityOne on Twitter at www.twitter.com/proximityone. Contact ProximityOne (888-364-7656) with questions about data covered in this section or to discuss custom estimates, projections or analyses for your areas of interest.