Census Tract Change 2010 - 2020
... equivalencing Census 2010 & Census 2020 census tracts
... learn how tracts of interest have changed
... analytical tools and services

Census tract geography and demographics are used in many public and private sector applications, such as housing, banking, property management, income, education and many other areas. There has been significant change in census tract geography and demographics so you need to be informed to stay competitive.

Illustrative Analytics of 2010 and 2020 Tracts in Madera County, CA
The following graphic illustrates how selected tracts changed between 2010 and 2020 in Madera County, CA. The hatched area is 2010 tract 06039000800 (white label by pointer). That 2010 tract was split into two 2020 tracts 06039000801 and 06039000802 (yellow labels). For Census 2020 and throughout the 2020s, tract 06039000800 no longer exists.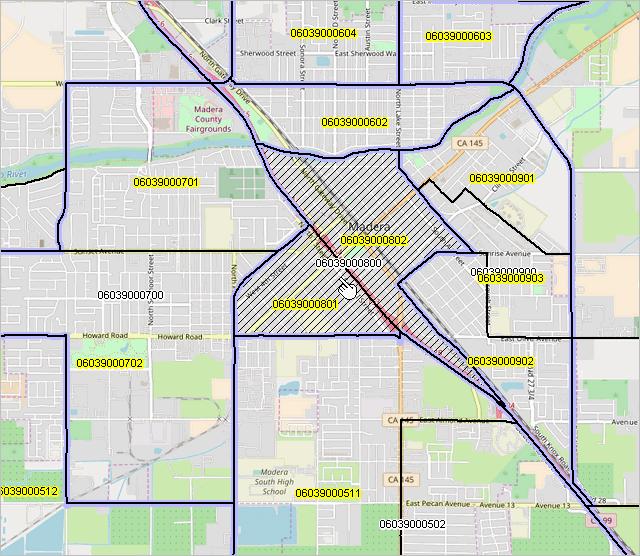 Use VDA Web GIS to examine 2010 and 2020 tract relationships -- find out what has changed.

Census Tract 2010-2020 Equivalence Interactive Table .. goto top
The interactive table below shows how California tracts have changed between 2010 and 2020. Each row shows an interesting part of 2010 and 2020 vintage tracts. The first 3 columns are for the 2010 tract; the second three columns are for the 2020 tracts. The remaining columns are about the intersecting area.

Using the Table. Clicking the Find GEOID10 button below the table, see that the 2010 tract 06039000800 equivalences to four 2020 tracts. Actually two of these 2020 tracts have almost no area and actually reflect minor changes when the 2020 tracts were redrawn.

- 2010 tract 06039000800 is 1.08 square miles and has 2020 population 7,027
- it intersects with four 2020 tracts
- see the total SqMi for each tract in column E and total population in column F
- the intersecting SqMi is shown in Column G
- based on geographic area, the intersecting population is shown in column H



ProximityOne User Group
Join the ProximityOne User Group to keep up-to-date with new developments relating to metros and component geography decision-making information resources. Receive updates and access to tools and resources available only to members. Use this form to join the User Group.

Support Using these Resources
Learn more about census tract demographic economic data and related analytical tools. Join us in a Data Analytics Lab session. There is no fee for these one-hour Web sessions. Each informal session is focused on a specific topic. The open structure also provides for Q&A and discussion of application issues of interest to participants.

Additional Information
ProximityOne develops geographic-demographic-economic data and analytical tools and helps organizations knit together and use diverse data in a decision-making and analytical framework. We develop custom demographic/economic estimates and projections, develop geographic and geocoded address files, and assist with impact and geospatial analyses. Wide-ranging organizations use our tools (software, data, methodologies) to analyze their own data integrated with other data. Follow ProximityOne on Twitter at www.twitter.com/proximityone. Contact ProximityOne (888-364-7656) with questions about data covered in this section or to discuss custom estimates, projections or analyses for your areas of interest.